YouTube Music is one of the best music platform apps available for iOS and in my opinion even better than Spotify. In the free AppStore version, there are definitely too many ads and most importantly you can't listen to the music in the background. YouTube Music Reborn tweak fixes these issues.
---
What is YouTube Music Reborn tweak?
YouTube Music Reborn is a free jailbreak tweak created by @SarahH12099 offering high-demand features. The add-on can activate natively some premium features without paying a recurring subscription fee. The tweak installs a dedicated preference pane in the Settings app. Works also with the latest iOS 13.5.
From here you can configure the YouTube Music Reborn tweak. The main features of the add-on include an option to disable ads, enable background playback, enable double-tap to skip, disable hints, age check, content check, and overlay autohide. You can also enable the audio-only mode.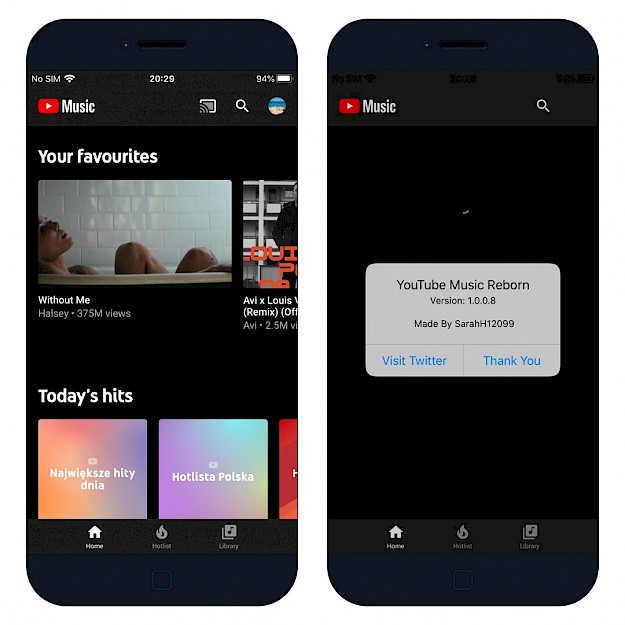 At the top right of the preference pane, an apply button is provided for users to save any changes to the YouTube Music Customizer. You can install the tweak for free from the Twickd repository via your preferred package manager. YouTube Music Reborn tweak supports iOS 9, 10, 11, 12, and 13 firmware.
YouTube Music Reborn tweak offers all functions available in the original YouTube Music app. The only feature that is not available in the tweaked version is the option to download music for offline playback. Moreover, stream the audio to supported DLNA devices like Samsung TV's, or Apple TV.
This is a great alternative for YouTube Music++ for iOS (can be installed also without jailbreak) for all jailbroken devices. The developer is updating the tweak regularly to work with the latest AppStore version of the app. From the same repository, you can also download a tweak for YouTube app.
YouTube Music Reborn Repo
The tweak works on both unc0ver and checkra1n jailbreak tools running on iOS 13 - iOS 9. Add YouTube Music Reborn Repository to your list of Cydia Sources.
Step 1. Open the Cydia app on your device.
Step 2. Tap Sources → Edit → Add the official YouTube Music Reborn Repo.
Step 3. Switch to Search Tab and enter YouTube Music Reborn.
Step 4. Tap the Install button.
Step 5. The tweak can be configured from Settings → YouTube Music Reborn.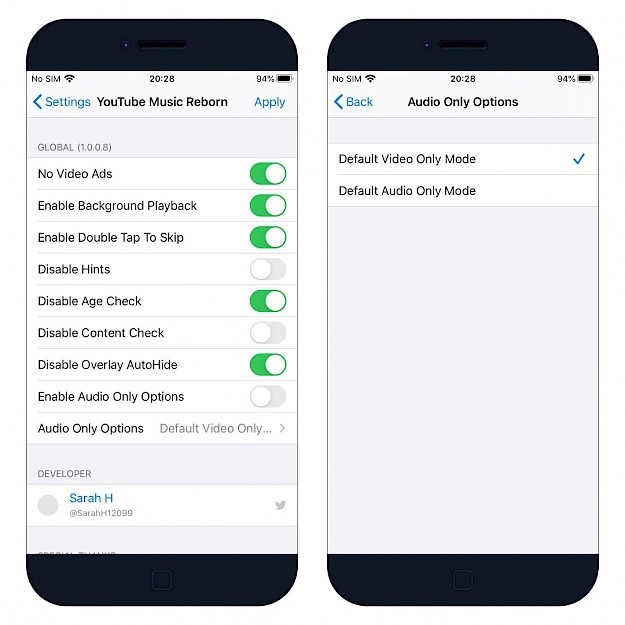 Use YouTube Music Reborn tweak to activate YouTube Music Premium features for free on iOS 13. Feel free to leave a comment if you have any questions regarding the tweak. This is definitely my favorite YouTube Music tweak that I recommend to install on any jailbroken device.
Available settings
No Video Ads
Enable Background Playback
Enable Double Tap to skip
Disable hints
Disable age restrictions
Disable Content Check
Disable Overlay AutoHide
Enable Audio Only option
Set Audio Only Option
Changelog
Version 1.0.0.8
Fixed the popup reappearing after every app launch
Version 1.0.0.6
Removed the upgrade button in the tab bar
Completely redesigned the entire settings page
You might also like