WhatsApp Watusi is a powerful mod for popular messaging app adding a lot of useful features including dark mode, hide visible last time, protect chats with passwords, and more. Download and install WhatsApp Watusi IPA on any iOS 12, or iOS 13 device without a computer.
---
What is WhatsApp Watusi?
Watusi provides the best all in one tweak for WhatsApp Messanger on iPhone, iPad, or iPod. Using the tweak you can hide read receipts, remove the status character restriction (256 characters), change font sizes and colors, removed typing indicator, record calls, or customize WhatsApp's interface.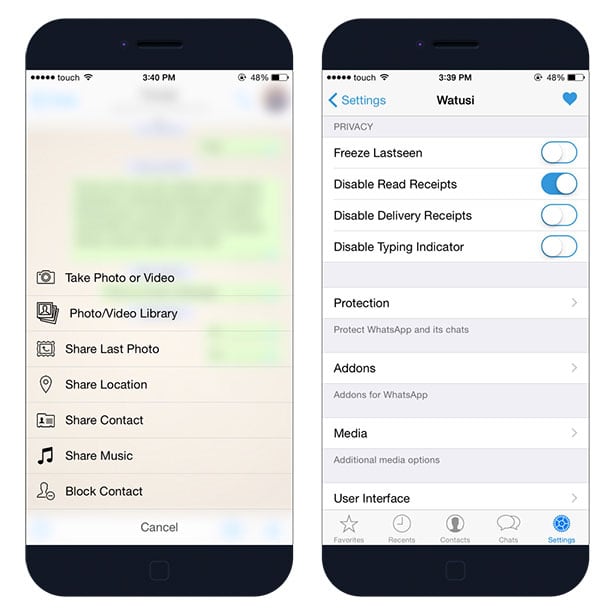 Moreover, adjust and crop profile images, use unlimited images to send in a chat, and avoid accidental calls. WhatsApp Watusi iOS is packed with a lot of useful add-ons like a built-in call and voice messages recorder, view contacts' status change date, pin your favorite chats on top, lock chats in an archive, show all groups in a single page, add confirmation for call buttons, open links in an In-App browser.
Watusi offers also an option to view group members profile picture in chat, open contact's picture on cell image tap, replace mark as a read swipe with contact info, long left swipe to delete a chat, open a new chat using a phone number, and select all contacts when creating a broadcast.
Download IPA
How to install Watusi IPA
AltStore can install almost any IPA on your iPhone using the free certificate. Every 7 days after installing WhatsApp Watusi, you need to resign the app and send it to the AltServer (running on PC or Mac), which installs the resigned app back to your device using iTunes WiFi sync (works also using a USB cable).
Step 1. Download AltStore and install the app on your PC or Mac.
---
Or use any other Cydia Impactor alternative for Windows or macOS.
---
Step 2. Open Safari and download Instagram WhatsApp Watusi IPA (85 MB).
Step 3. Select the downloaded IPA file (GitHub repository) version v2.20.71 to install.
Step 4. Tap on the share button available in the right corner.
Step 5. Select "Copy to AltStore" from available options.
Step 6. AltStore will start installing Instagram WhatsApp Watusi app.
Step 7. The WhatsApp Watusi app will be available from your home screen.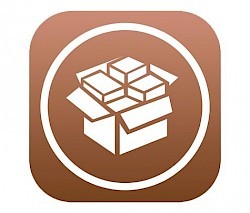 Add Repository
You are just a few steps from installing the tweak from Cydia Sources. To add WhatsApp Watusi Repo to your list of Cydia Sources follow our step-by-step guide.
Step 1. Open the Cydia app on your device.
Step 2. Tap Sources → Edit → Add the official WhatsApp Watusi Repo.
Step 3. Switch to Search Tab and enter WhatsApp Watusi.
Step 4. Tap the Install button.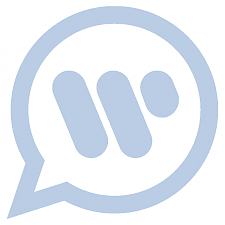 Install WhatsApp Watusi iOS without a computer
If you don't own a computer you can install Instagram WhatsApp Watusi with web links. This method uses an enterprise certificate that can be revoked. It means that the tweak will stop opening. If the links are not working, try again in the next 24h.
Click on the direct download links from Safari to install WhatsApp Watusi.
Download WhatsApp Watusi via TopStore
Download WhatsApp Watusi via iOS Ninja
Download WhatsApp Watusi via AppValley
Open Settings → General → Device Management and trust the Certificate.
Changelog
Version 1.3
Created a new Watusi project with a lot of internal clean-up and improvements
Added a new feature to continue listening to voice messages anywhere with a custom playback speed. Activate it from the Chats Add-ons section.
You can now add and organize more controls to the Control Center toggle, you can access its settings from Control Center settings.
Added a new Help section to answer most of your frequently asked questions.
Support upcoming WhatsApp 2.20.70
Enabled Export Chat feature for all countries (It was disabled in Germany).
Hopefully fixed the Message Scheduler feature for everyone, let me know if you're still facing issues.
Fixed Opening a new chat with Phone Number crashing for some users by using WhatsApp's URL Scheme
Added Archive Lock button to Context Menu on iOS 13 instead of a long press gesture.
Removed WatusiKit library that used to inject into UIKit.
You might also like