Viper tweak brings to the iPhone's Home Screen and Lock Screen interfaces interactive widgets, an App Drawer for faster app access, and a more informative Weather and time information on Lock Screen interface with optional OLED mode. Install Viper for $2.99 via Chariz Repository and add widgets to the stock interfere.
---
What is Viper?
Viper tweak provides a beautifully designed widget into the iOS home screen. It redesigns the default home screen and lock screen into a simple, yet more informative interface. After installing the tweak adds a new preference pane to the Settings app where you can configure all options to your liking.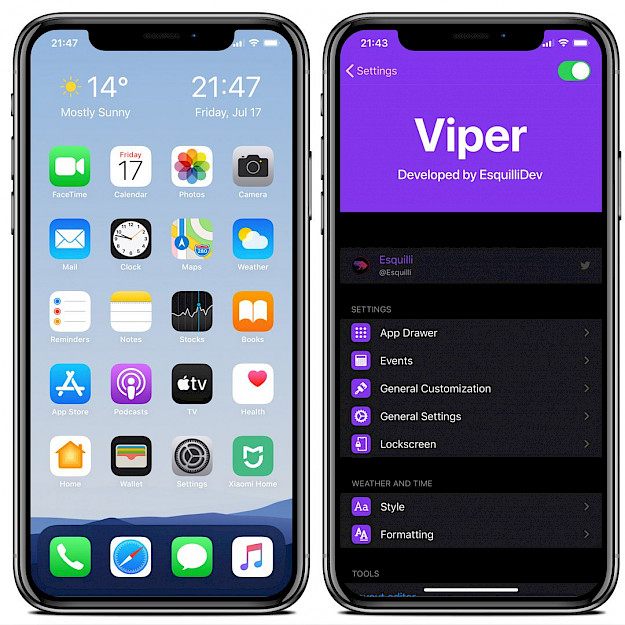 Viper is compatible with only with iOS 13 and up and was tested to work on all iPhones. 4, 4s, 5S, 5C, SE, 6, and 6S devices have limited compatibility due to screen size. The tweak is not optimized for iPad, yet. Jailbreak required.
The tweak can be customized in almost every aspect. Choose your style, formatting, calendars, label size, background appearance, app drawer gesture, etc. What's more, it comes with an app drawer that shows a list of all installed apps in one place with an optional search bar. It can be easily invoked from anywhere using the provided gestures or by an Activator action.
Viper is packed also with a built-in layout editor to adjust your home screen icon layout. If you use any different layout editors such as HomePlus, Sprintomize, Boxy, etc. Moreover, Viper lets you switch between different user-selected time zones.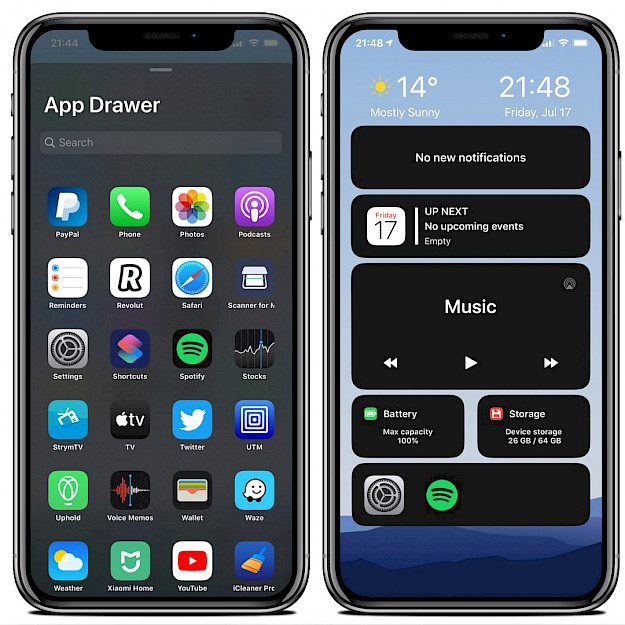 Take advantage of OLED screens, and activate the OLED mode that will enable only a handful of elements at the lock screen with a true black display. Viper tweak can be installed from Cydia Repository via jailbroken iOS 13 devices.
Add Repository
The tweak works on both unc0ver and checkra1n jailbreak tools running on iOS 13. Add Viper tweak Repository to your list of Cydia Sources.
Step 1. Open the Cydia app on your device.
Step 2. Tap Sources → Edit → Add the official Viper Repo.
Step 3. Switch to Search Tab and enter Viper.
Step 4. Tap the Install button.
Step 5. The tweak can be configured from Settings → Viper.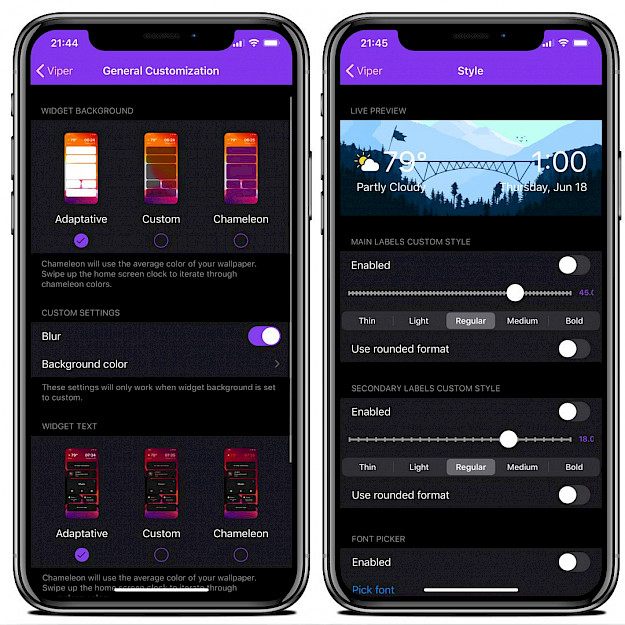 Available Settings
Primary preference pane
Toggle Viper on or off on demand
Configure the Viper App Drawer
Configure Viper Events
Configure Viper's General Customization
Configure Viper's General Settings
Configure the Viper Lock Screen
Configure Weather and Time Styles
Configure Weather and Time Formatting
Tinker with the layout editor
Reset preferences to their defaults
Respring to save any changes made
App Drawer preference pane
Toggle the App Drawer on or off on demand
Hide or show app icon labels
Automatically display the keyboard to search
Enable a Dock gesture
Choose an invoke gesture
Configure an Activator action
Events preference pane
Include Calendar events in the Up Next widget
Include Reminders events in the Up Next widget
Choose the calendars you want to use
Birthdays
Calendar
Siri Suggestions
US Holidays
Configure a time ahead for fetching events
General Customization preference pane
Adaptive
Custom
Chameleon
Enable a blur effect
Choose a background color
Choose a widget text type
Color app elements
Choose a custom text color
General Settings
General Settings preference pane
Enable custom layout
Choose a default media player
Choose a gesture for interacting with widgets:
Single tap
Force Press
Lock Screen
Lock Screen preference pane
Enable or disable the Viper clock
Enable OLED mode
Style preference pane
View a live preview of their changes
Enable or disable main label custom styling
Enable rounded format
Enable secondary labels custom styling
Configure a size
Choose a font style
Enable rounded format
Enable or disable font picker and choose a custom font
Formatting preference pane
Enable and configure a custom time format
Enable and configure a custom date format
Enable and configure a secondary time format
Enable and configure a secondary date format
Enable and configure a secondary time zone
You might also like