unc0ver jailbreak is a trendy jailbreak tool for iOS 11 - iOS 13 allowing users to install Cydia and amazing tweaks on Apple devices. pwn20wnd app works stable on A7/A8/A9/A10/A11/A12/A13 64-bit ARM-based systems with full support on iPhones, iPads, and iPods Touch. iOS 13.5 is supported on all devices. Download unc0ver from web links without a computer or sideload the IPA with AltStore.
---
Download unc0ver jailbreak
If you don't own a computer you can install unc0ver app with web links. This method uses an enterprise certificate that is regularly revoked by Apple. It means that the jailbreak tool will stop opening. We provide for you a few direct download links for unc0ver 5.3 jailbreak. If the links are not working, try again in the next 24h.
Click on the direct download links from Safari to install unc0ver jailbreak.
Download unc0ver via AppValley
Download unc0ver 5.3.1 via IPA-Apps
Download unc0ver 5.3.1 via EonHub
Download unc0ver 5.3.1 via Jailbreaks App
Download unc0ver 5.3.1 via PandaHelper
Download unc0ver 5.3.1 via CokernutX
Download unc0ver 5.3.1 via iOS Ninja
Download unc0ver 3.8 via PandaHelper
Download unc0ver 5.3.1 via TopStore
Download IPA
How to jailbreak iOS using unc0ver
unc0ver jailbreak is a semi-untethered that requires an on-device app to start the jailbreak process. All supported iDevice can be easily jailbroken with unc0ver. Full tutorial taken from Webopedia.
Step 1. Backup your iPhone with your favorite tool, just in case.
Step 2. Install unc0ver from a web browser (or sideload the IPA file).
Step 3. The app icon will appear on the home screen.
Step 4. Navigate to Settings → General → Device Management.
Step 5. Find the newly installed Enterprise App Certificate.
Step 6. Click on the certificate name.
Step 7. Trust apps from the developer to run on your iPhone.
Step 8. Allow access to your data and tap Trust.
Step 9. Run unc0ver app from your home screen.
Step 10. Tap on "Jailbreak" button to start.
Step 11. Once done, the device will respring and Cydia app will be installed.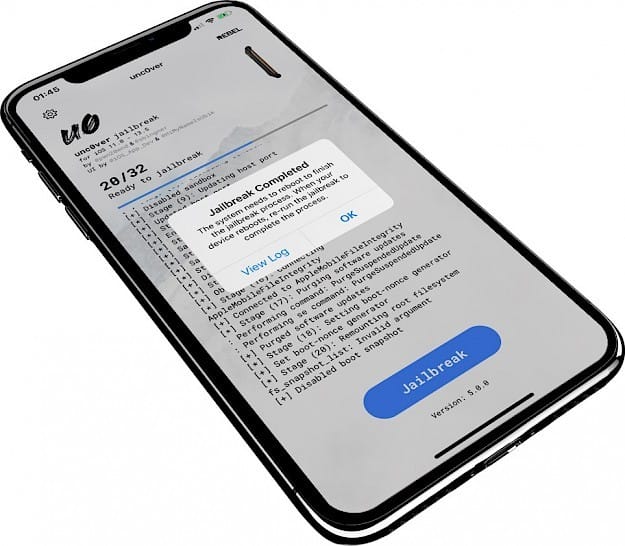 How to install the IPA
unc0ver IPA can be always installed on the iDevice using AltStore. Every 7 days after installing unc0ver, you need to resign the app and send it to the AltServer (running on PC or Mac), which installs the resigned jailbreak tool back to your device using iTunes WiFi sync (works also using a USB cable).
Step 1. Download AltStore and install the app on your PC or Mac.
---
Or use any other Cydia Impactor alternative for Windows or macOS.
---
Step 2. Open Safari and download unc0ver IPA (36 MB).
Step 3. Lunch AltStore and navigate to "My Apps" section.
Step 4. Tap on the + button available form the left-right corner.
Step 5. Select downloaded unc0ver.IPA version 5.3.1 to install.
Step 6. AltStore will start installing unc0ver jailbreak.
Step 7. The unc0ver app will be available from your home screen.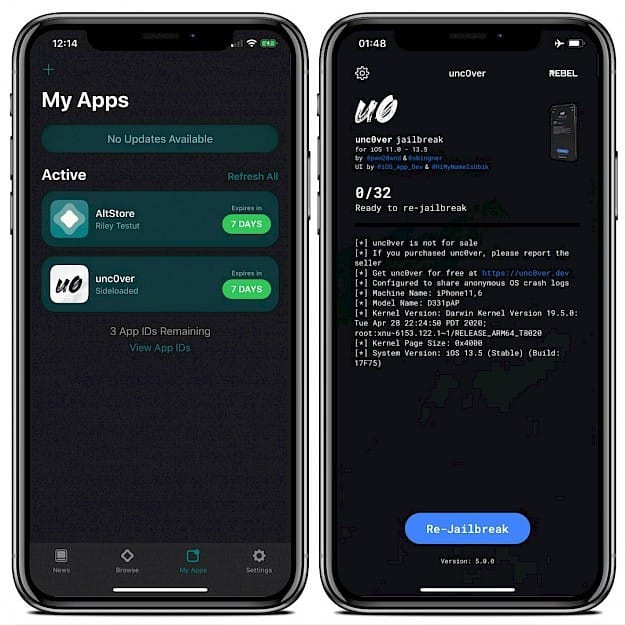 To prevent unc0ver from expiring, AltStore can refresh the app in the background when using the same WiFi network. After jailbreak, you can also install ReProvision app, an alternative to the computer version of Cydia Impactor, which allows you to sideload the newest updates of unc0ver IPA without using a computer.
What is unc0ver jailbreak?
unc0ver jailbreak is one of the most popular tools to jailbreak iOS 11 and iOS 13.3 developed by hacker hid by name @pwn20wnd. The app works now really stable and offers a lot of useful features including the option to install Cydia, disable app revokes, and turn off auto-updates.
This update was verified to work on iOS 11.1.1, 11.1.2, 11.2.1, 11.2.5, 11.3.1, 11.4, 11.4.1, 12.0, 12.1.1, 12.1.2, 12.1.3, 12.1.4, 12.2, 12.4, 13, 13.5, and 13.5.5~b1. The unc0ver update significantly improves the stability and the performance of the entire system, stable and performant, and adds support for switching from other iOS 12 jailbreaks.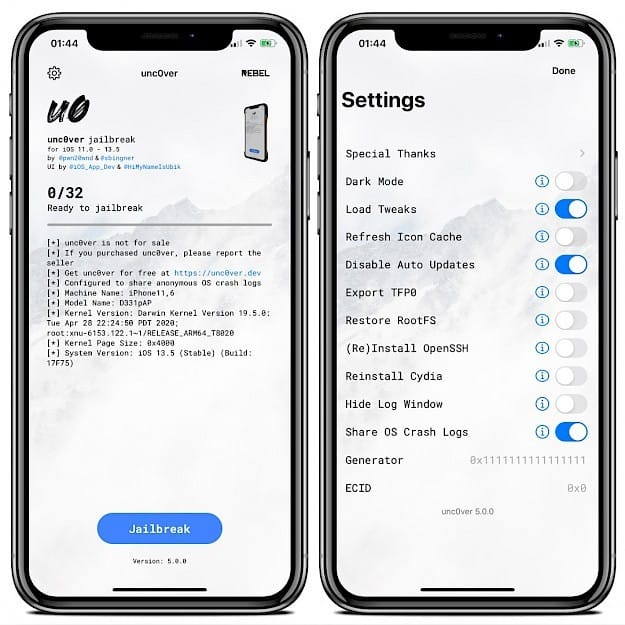 Supported devices
iPhone XS and XS Max
iPhone XR
iPad Mini (2019)
iPad Air (2019)
iPhone X (only iOS 12)
iPhone 8 Plus
iPhone 8
iPhone 7 Plus
iPhone 7
iPhone 5S
iPhone 6s Plus
iPhone 6s
iPhone 6 Plus
iPhone 6
iPhone SE
iPhone 5s
iPhone 11 Pro
iPhone 11
iPhone 11 Pro Max
iPhone XR
iPhone XS Max
iPhone XS
iPad Mini (5th generation)
iPad Air 1
iPad Air (2019, 3rd generation)
From version 3.2 unc0ver jailbreak offers a brand new user interface featuring dark and light mode. Moreover, all Settings in the app are available with proper description informing users what selected option actually does, and version of system and architecture that is compatible. And since version 5.0 the jailbreak adds full-fledged support for A12-A13 devices on iOS 13.0-13.5.
Other features packed in unc0ver jailbreak tool include options to load tweaks, load daemons, dump APTicket, refresh icon cache, overwrite Boot Notice, export TFP0, increase memory limits, install OpenSSH, reinstall Cydia, reload system daemons, reset Cydia cache, enable get-task-allow, set CS_DEBUGGED, select kernel exploit, copy device ECID, or even restore RootFS (rec0ver).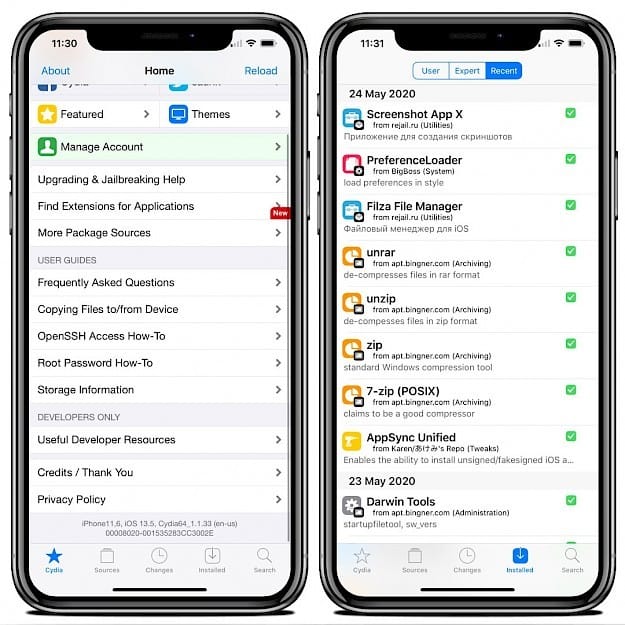 unc0ver uses Cydia Substrate, the powerful code modification platform behind Cydia. Substrate makes it easy to modify software, even without the source code. From Cydia package manager you can install tweaks, hacks, libraries, and apps from so-called repositories.
After each restart of your iPhone, iPad, or iPod device you will need to re-jailbreak iOS using unc0ver jailbreak. You can also unjailbreak iOS using restore RootFS option available from app preferences.
What features offer unc0ver jailbreak?
Access file system
Download Cydia tweaks and enhancements
Disable system updates
Install Cydia Package Manager
Disable app revokes
Install OpenSSH
Max memory limit
Install not signed IPA files
How to remove unc0ver jailbreak
If you are not happy with the jailbreak of your device you can uninstall unc0ver from iOS 11 or iOS 13.5 in easy steps. Remove unc0ver jailbreak by manually deleting all tweaks installed on your Apple device.
Step 1. Open Cydia from home screen.
Step 2. Navigate to the Installed tab and delete all tweaks installed on your iPhone.
Step 3. Open the unc0ver jailbreak app and go to Settings.
Step 4. Toggle the Restore RootFS (rec0ver) and Refresh Icon Cache options.
Step 5. Press Jailbreak or Re-jailbreak on the main screen.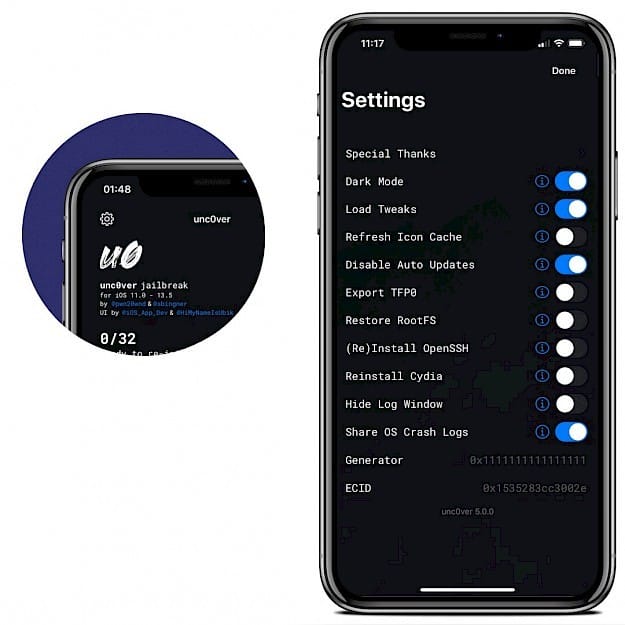 It should take no more than 10-12 minutes to restore the root filesystem on your device. If the process will take longer please wait and let unc0ver do the work and don't hard reset or reboot your iPhone. Tap OK, when the app displays the "RootFS has been successfully restored" message.
Succession app is a different solution for jailbroken devices to restore your iOS device back to stock. Succession (unlike iTunes) does this without updating the device so that after the restore, you are still able to jailbreak your device. Moreover, Succession does not require SHSH blobs.
If you've been wondering how you can use iOS apps like procreate or movies on pc, then Fileproto has a very in-depth step-by-step tutorial on the same.
Changelog
unc0ver's full release notes with download links for all previous releases are available via the official GitHub branch. Download from the link older version of Undecimus IPAs and jailbreak your device using the preferred version of unc0ver.
unc0ver 5.3.0
Added jailbreak support for iPhone 5S, iPhone 6 and iPad Air 1 models running the latest available version of iOS 12.4.8
unc0ver 5.2.1
Fixes jailbreaks errors on A7 and A8 devices
unc0ver 5.2.0
Added support for iOS 13.5.5~b1
Fixes the logic bug in disable auto updates
unc0ver 5.0.1
First version with support for iOS 13.5 on all Apple devices!
Full-fledged support for all devices on iOS 11.0-13.5 with Cydia and tweak injection
Enable unrestricted storage access to jailbreak applications for sandbox backwards compatibility
unc0ver 4.3.1
Bumped version to 4.3.1 due to a GitHub bug causing an older file to be temporarily available
Add support for rebooting the userspace for the first time in a jailbreak
Add support for injecting to the entire userspace
Add support for looking up or registering services from the sandbox with the cy: prefix for developers
Reboot the userspace after jailbreaking
Make major design changes to preserve stock system performance
Fix random reboots, freezes, memory issues and any known problem that affected system services or apps
Fix persistent software update blocker on iOS 13 (Works in the jailed state too)
Fix a design problem that affected the Succession restore tool
Automatically re-enable software updates when restoring RootFS
unc0ver 4.0.1
Full-fledged support for A12-A13 devices on iOS 13.0-13.3 with Cydia and system-wide tweak injection
Fixed AppStore, push notifications and improves reliability on A12-A13
You might also like