Download unc0ver jailbreak for iOS without Impactor
kuba - Monday, 9 March 2020
unc0ver jailbreak tool for iOS 11.0 - iOS 13.3 official release is available. pwn20wnd tool provides support for A7/A8/A9/A10/A11/A12 with full Cydia support on iPhones, iPads, and iPods Touch. Download unc0ver IPA file on your device for free. iOS 12.4 support for A7-A12 devices.
---
Download unc0ver jailbreak
You are just a few steps from installing the unc0ver jailbreak tool on an iOS device without Cydia Impactor. Follow our step-by-step guide to download the app. No jailbreak required.
Install unc0ver without Cydia Impactor
Recently Cydia Impactor 0.9.52 is broken by a server-side change at Apple on 7 October 2019 (related to Xcode 7.3 error). This means you can't install unc0ver IPA using this tool on Windows, Linux, or Mac.
Also, the web links aren't working all the time because the certificates are revoked. You can try to install unc0ver without a computer but it can happen that it will not work for some time.
There is one working solution available for Windows to install unc0ver app without Cydia Impactor.
Step 1. Download 3uTool for Windows and open the app.
Step 2. Install iTunes drivers. The app will ask you for that if required.
Step 3. Connect your device via USB to the computer.
Step 4. Trust this computer on your iPhone.
Step 5. Click Flash & JB from the menu and next Jailbreak tab.
Step 6. Select iOS 11.4 - iOS 13.3 from available options.
Step 7. Click Jailbreak to start.
Step 8. unc0ver will be installed on your device.
Step 9. Trust the new certificate in Settings → General → Device Management.
Download unc0ver jailbreak without a computer
There is also an option to download unc0ver jailbreak without a PC. If you don't own a computer you can use those links to download unc0ver app directly on your device. When you see a message that the app can't be installed try a different mirror. If links are down, try again later.
Step 1. Click Install unc0ver from your browser.
(mirrors: iOS Ninja (4.3.1), AppValley (4.2.1), CoreJB (4.1.1), PandaHelper, iHubApp, IgnitionApp)
Step 2. Tap Install on message prompt "ignition.fun would like to install unc0ver".
Step 3. unc0ver app Icon will appear on your Home Screen.
Step 4. Navigate to Settings → General → Device Management.
Step 5. Find the newly installed Enterprise App Certificate.
Step 6. Click on the certificate name.
Step 7. Trust apps from the developer to run on your iPhone.
Step 8. Allow access to your data and tap Trust.
Step 9. Run unc0ver app.
Now you can run the jailbreak tool like any other installed app. If the application will not work, it can be related to certificate revoked by Apple. Basically, it means that you need to reinstall the app to make it work again. Go again through all steps or use an alternative method to install unc0ver app.
Download unc0ver IPA
Download unc0ver 4.2 IPA file and sign it using Cydia Impactor and sideload the app to iOS. We provide a full step-by-step guide on How to use Cydia Impactor to install IPA files on iOS. We provide a full tutorial on how to jailbreak iPhone. It doesn't work always so it's better to use Impactor.
Step 1. Download Cydia Impactor (broken), and unzip the file.
---
Alternatively, sign the IPA using AltDeploy on Mac or any Cydia Impactor alternative for Windows.
---
Step 2. Download unc0ver.IPA (36 MB).
Step 3. Open Cydia Impactor and navigate to Device → Install Package.
Step 4. Select the Undecimus-v4.3.1.ipa file to install.
Step 6. Enter your AppleID and app-specific password to sign apps not provided by Apple.
Step 7. Add the certificate to trusted from Settings → General → Device Management.
Sideloading the IPA file has some major downsides. If you didn't buy the Apple Developer Certificate, the free one allows you to sing up to 3 apps per device and the certificate is valid only for 7 days. The application will be not revoked but after 7 days it is required to re-sing the file again.
What is unc0ver jailbreak?
unc0ver jailbreak is one of the most popular tools to jailbreak iOS 11 and iOS 13.3 developed by hacker hid by name pwn20wnd. The app works now really stable and offers a lot of useful features including the option to install Cydia, disable app revokes and turn off auto-updates.
This update was verified to work on iOS 11.1.1, 11.1.2, 11.2.1, 11.2.5, 11.3.1, 11.4, 11.4.1, 12.0, 12.1.1, 12.1.2, 12.1.3, 12.1.4, 12.2, 12.4, 13, and 13.3. The unc0ver update significantly improves the stability and the performance of the entire system, stable and performant and adds support for switching from other iOS 12 jailbreaks.
Supported devices
iPhone XS and XS Max
iPhone XR
iPad Mini (2019)
iPad Air (2019)
iPhone X (only iOS 12)
iPhone 8 Plus
iPhone 8
iPhone 7 Plus
iPhone 7
iPhone 6s Plus
iPhone 6s
iPhone 6 Plus
iPhone 6
iPhone SE
iPhone 5s
iPhone 11 Pro
iPhone 11
iPhone 11 Pro Max
iPhone XR
iPhone XS Max
iPhone XS
iPad Mini (5th generation)
iPad Air (2019, 3rd generation)
From version 3.2 unc0ver jailbreak offers a brand new user interface featuring dark and light mode. Moreover, all Settings in the app are available with proper description informing users what selected option actually does, and version of system and architecture that is compatible.
Other features packed in unc0ver iOS jailbreak tool include options to load tweaks, load daemons, dump APTicket, refresh icon cache, overwrite Boot Notice, export TFP0, increase memory limits, install OpenSSH, reinstall Cydia, reload system daemons, reset Cydia cache, enable get-task-allow, set CS_DEBUGGED, select kernel exploit, copy device ECID, or even restore RootFS (rec0ver).
unc0ver uses Cydia Substrate, the powerful code modification platform behind Cydia. Substrate makes it easy to modify software, even without the source code. From Cydia package manager you can install tweaks, hacks, libraries, and apps from so-called repositories.
After each restart of your iPhone, iPad or iPod device you will need to re-jailbreak iOS using unc0ver jailbreak. You can also unjailbreak iOS using restore RootFS option available from app preferences.
What features offer unc0ver jailbreak?
Access file system
Download Cydia tweaks and enhancements
Disable system updates
Install Cydia Package Manager
Disable app revokes
Install OpenSSH
Max memory limit
Install not signed IPA files
How to jailbreak iOS using unc0ver
unc0ver is a semi-untethered that requires an on-device app to start the jailbreak process. If you own a supported iDevice you are closer to jailbreaking the iOS system.
Step 1. Backup your iPhone with your favorite tool, just in case.
Step 2. Download unc0ver link from a web browser.
Step 3. The app icon will appear on the home screen.
Step 4. Navigate to Settings → General → Device Management.
Step 5. Find the newly installed Enterprise App Certificate.
Step 6. Click on the certificate name.
Step 7. Trust apps from the developer to run on your iPhone.
Step 8. Allow access to your data and tap Trust.
Step 9. Run unc0ver app from your home screen.
Step 10. Tap on "Jailbreak" button to start.
Step 11. Once done, the device will respring and you'll find Cydia on the home screen.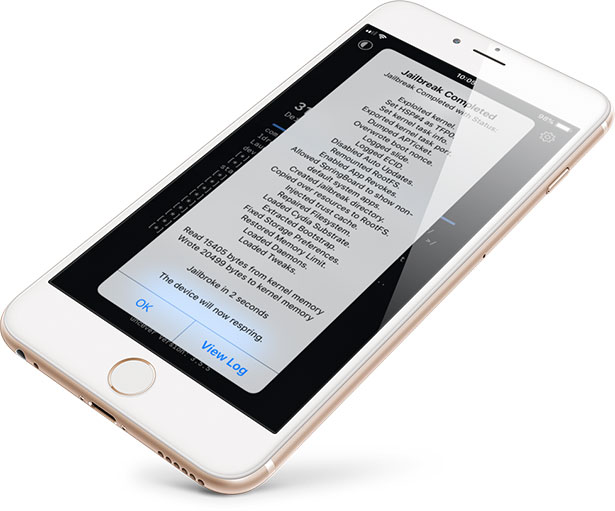 Open the Cydia app and install the desired tweaks and jailbreak packages. After jailbreak, install ReProvision app, an alternative to the computer version of Cydia Impactor, which allows you to sideload the newest updates of unc0ver IPA without PC.
How to remove unc0ver jailbreak
If you are not happy with the jailbreak of your device you can uninstall unc0ver from iOS 11 or iOS 12 in easy steps. Remove iOS jailbreak by manually deleting all tweaks installed on your Apple device.
Step 1. Open Cydia from home screen.
Step 2. Navigate to the Installed tab and delete all tweaks installed on your iPhone.
Step 3. Open the unc0ver jailbreak app and go to Settings.
Step 4. Toggle the Restore RootFS (rec0ver) and Refresh Icon Cache options.
Step 5. Press Jailbreak or Re-jailbreak on the main screen.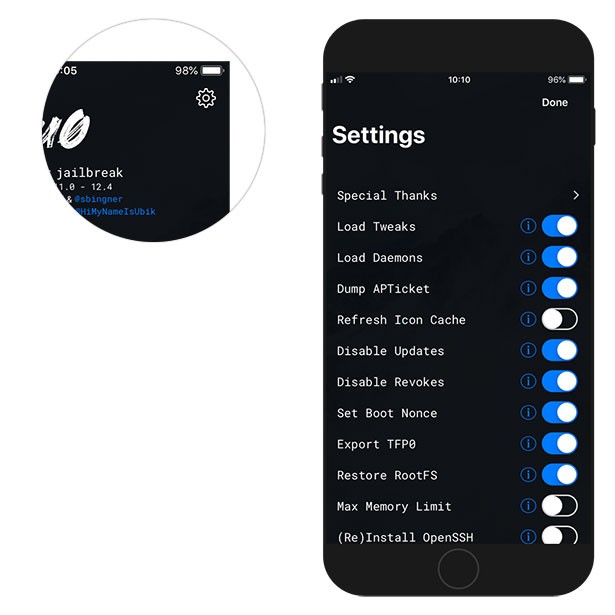 It should take no more than 10-12 minutes to restore the root filesystem on your device. If the process will take longer please wait and let unc0ver do the work and don't hard reset or reboot your iPhone. Tap OK, when the app displays the "RootFS has been successfully restored" message.
Succession app is a different solution for jailbroken devices to restore your iOS device back to stock. Succession (unlike iTunes) does this without updating the device so that after the restore, you are still able to jailbreak your device. Moreover, Succession does not require SHSH blobs.
Bypass unc0ver jailbreak detection
You can be surprised that some AppStore apps and games will not work when you will jailbreak your device using unc0ver. Fortnite, Call of Duty Mobile, Snapchat, PayPal, bank apps will crash when you try to run them on a jailbroken iOS device. Bypass jailbreak detection on unc0ver jailbreak. tsProtector tweak will block selected apps to access the system. TweakRestrictor is a free jailbreak tweak to disable code injection in apps. The two tweaks work on iOS 12 and iOS 13.
Changelog
Undecimus 4.3.1
Bumped version to 4.3.1 due to a github bug causing an older file to be temporarily available
Add support for rebooting the userspace for the first time in a jailbreak
Add support for injecting to the entire userspace
Add support for looking up or registering services from the sandbox with the cy: prefix for developers
Reboot the userspace after jailbreaking
Make major design changes to preserve stock system performance
Fix random reboots, freezes, memory issues and any known problem that affected system services or apps
Fix persistent software update blocker on iOS 13 (Works in the jailed state too)
Fix a design problem that affected the Succession restore tool
Automatically re-enable software updates when restoring RootFS
Undecimus 4.0.1
Full-fledged support for A12-A13 devices on iOS 13.0-13.3 with Cydia and system-wide tweak injection
Fixed AppStore, push notifications and improves reliability on A12-A13
Undecimus 3.8 b1
Add iOS 12.4.1 support for A12 iPhones (iPads not supported at this time)
Undecimus 3.7 b4
Update bundled Cydia to prompt for network access on China devices
Rename the bundled mobilesubstrate to match other jailbreaks
Update the bundled substitute to 0.1.0
Adds support for A12 devices (iPhone XS and XS Max, iPhone XR, iPad Mini 2019, iPad Air 2019)
Undecimus 3.6
Completely redesign and rewrite all jailbreak patches from scratch
Make the jailbreak patches static and not dynamic--Meaning that the system stability will be completely stock after the jailbreak
Fix the app crashing on launch when signed with provisioning profiles with non-ASCII characters
Internally prepare jailbreak patches for full-fledged A12-A12X support
Make the jailbreak significantly and noticeably more reliable and faster to run
Add the SockPort 3.0 exploit for improved reliability on iOS 12.4 and devices with low RAM
Fix SSH support for arm64e devices running iOS12.0-12.1.2
Make it possible to jailbreak with corrupted SystemVersion.plist on iOS 12.4
Make the jailbreak perform proper clean up to preserve system stability in case of a failure
Fix the jbctl command-line utility
Switch to a new technique for setting the system boot nonce generator that works on all arm64e devices running iOS12.0-12.4 (Thanks to @0x7ff for the idea)
Fix a bug with the initial Cydia installation getting stuck sometimes
Significantly speed up the initial Cydia installation process
Internally prepare upcoming stable substitute support
Internally prepare Cydia and its resources for full-fledged arm64e support
Undecimus 3.5.4
With SSH support and more for A12-A12X devices on iOS 12.1.3-12.4
Fix for instant or random reboots on A7-A12X devices on iOS 11.0-12.4 with SockPuppet
Undecimus 3.5.3
Adds WIP partial support for A12-A12X devices on iOS 12.1.3, 12.1.4, 12.2 and 12.4.
Undecimus 3.5.2
exploit for Mini 4 and iPad Air 2
Undecimus 3.5.1
Add the updated SockPuppet 3.0 exploit by @umanghere
Remove the SockPort and SockPort2 exploits
Update system-memory-reset fix to fix random reboots
Add Apple to the credits section for development
Fix error at stage 2 when jailbreaking after updating from a lower firmware while preserving the app data
Fix the app crashing up on stared up on iOS 11
Undecimus 3.5.0
iOS 12.4 support for A7-A11 devices (no support for iOS 12.3).
Undecimus 3.4.2
Added support for iOS 12.3 Beta 1
Undecimus 3.4.1
Fix the sandbox swap error
Fix RootFS Remount error on some iOS 12.2 betas
Improve reliability when initially using SockPuppet2
Add back SockPort(2)
Attempt to fix reliability on A7 with SockPuppet2
Undecimus 3.3.8
Use the rewritten SockPort 2.0 exploit, support for all devices on iOS 11.0-12.2 (12.1.3-12.2 on A12-A12X excluded)
Fix the jailbreak on iOS 12.2 iPhones and iPods
Undecimus 3.3.4
Added sock port exploit for iOS 11.0-12.1.4 on A7-A9X devices
Undecimus 3.3
Add the Sock Puppet exploit for iOS 12.0 - iOS 12.2 support on A7-A11 devices
Remove the empty_list and multi_path exploits
Replace the kernel exploit segmented switch with picker view
Add code substitution platform picker view
Undecimus 3.2.0
Redesign the user interface
Add dark mode for the user interface
Add info buttons for the options
Increase the reliability of jailbreak with the machswap and machswap2 exploits
Update jailbreak-resources to fix an issue with the CS_DEBUGGED option
Undecimus 3.0.1
Iterate the proc list with proper data locks in Unrestrict to fix a possible race condition in the kernel (Important stability fix)
Add iOS 12.1.3 - 12.2 support for the restart button
You can find full release notes with links for all unc0ver jailbreak releases on official GitHub. Download from the website older version of Undecimus IPA and jailbreak your device.
Unc0ver Settings
Load Tweaks
This option makes Substrate load extensions that are commonly referring to tweaks in newly started processes. Support: iOS11 - 12.1.2 on arm64 SoCs (A7-A11).
Load Daemons
Load and lunch jailbreak daemons located in /Library/LunchDaemons and execute files located in /etc/rc.d. Support: iOS 11.0 - 12.1.2 on arm64/arm64e SoCs (A7-A12X).
Dump APTicket
Create a copy of the system APTicked located in /System/ Library/ Caches/ apticket.der at its Documents directory which is accessible via iTunes File Sharing. Compatibility: iOS 11.0 - 12.1.2 on arm64/arm64e SoCs (A7-A12X).
Refresh Icon Cache
Regenerate SpringBoard system application cache to cause newly installed .app bundles to appear on the icon list. Support: iOS 11.0 - 12.1.2 on arm64/arm64e SoCs (A7-A12X).
Disable Updates
The jailbreak will effectively disable system software updates mechanism to prevent iOS from automatically upgrading to the latest firmware version which can be not supported by jailbreak. Compatibility: iOS 11 - 12.1.2 (A7-A12X).
Disable Revokes
Turn off the system's online certificate status protocol system to prevent enterprise certificates to be revoked. Support: iOS 11.0 - 12.1.2 arm64 SoCs (A7-A11).
Set Boot Nonce
This option makes the jailbreak set the persistent com.apple.system.boot-nonce veritable in non-volatile random access memory (NVRAM) which may be required to downgrade to unsigned iOS firmware. Support: iOS 11-12.1.2 arm64/arm64e SoCs (A7-A12X).
Export TFP0
Use this option to modify the host-port to grant any process access to the host-priv-port. This option effectively grants any process to access the kernel tasks port (TFP0) and allows re-jailbreaking without exploiting again. Support: iOS 11-12.1.2 arm64/arm64e SoCs (A7-A12X).
RestoreFS
This setting makes the jailbreak to restore the root filesystem (RootFS) to the snapshot which is created by the system when the device is restored. Use this feature to remove jailbreak without losing data. Compatibility: iOS 11.0-12.1.2 on arm64/arm64e SoCs (A7-A12X).
Max Memory Limit
Modify the jetsam configuration file to increase the memory limit that is enforced upon processes by Jetsam to the maximum value to effectively bypass the mechanism. Compatibility: iOS 11-12.1.2 (A7-A11).
(Re)Install OpenSSH
Reinstall the openssh package. Compatibility: iOS 11-12.1.2 on arm64 SoCs (A7-A11).
Reinstall Cydia
This option makes jailbreak to reinstall the cydiainstaller package. Support: iOS 11.0-12.1.2 (A7-A11).

Reload Daemons
The jailbreak reloads all running system daemons to make Substrate extensions (tweaks) load in them. Compatibility: iOS 11-12.1.2 (A7-A11).
Hide Log Window
Hide the jailbreak log console from the main window.
Reset Cydia Cache
Regenerate Cydia cache and the repository list. Useful when Cydia needs a reset. Support: iOS 11.0-12.1.2 (A7-A11).

SSH Only
Start SSH on 127.0.0.1 on port 22 via dropbear and skip installing Cydia and Substrate. Compatibility: iOS 11.0-12.1.2 arm64/arm64e SoCs (A7-A12X).

Set get-task-allow
Dynamically enable the get-task-allow entitlement for a new process. This option makes dyld treat the processes unrestricted. Support: iOS 11.0-12.1.2 (A7-A11).

Set CS_Debugged
The jailbreak will dynamically set the CS_DEBUGGED codesign flag for every new process. This option makes the kernel allow processes to run with individual executable pages. Compatibility: iOS 11.0-12.1.2 on arm64 SoCs (A7-A11).

Auto Respring
Automatically restart the SpringBoard without confirmation after the jailbreak process is completed. Compatibility: iOS 11.0-12.1.2 (A7-A11).
Read-Only RootFS
This option makes the jailbreak skip remounting the root filesystem as read-write when combined with the SSH-Only option.