How many times did you think that this would be a blessing to have a Picture-in-Picture mode on your iPhone? Titan tweak brings PiP support for iPhone, iPad, and iPod touch running on iOS 13.0 - iOS 13.5.1. Access the restricted feature to certain models of iPad on all devices. Download the tweak from Chariz Repo for $1.99.
---
What is Titan tweak?
Titan is an amazing tweak created by iOS developer SaltDev1 that brings true iPadOS style Picture-in-Picture mode support to jailbroken iPhones and iPod touches running iOS 13. Just like on iPad, PiP mode will be started with animation when exiting an application, opening a notification, etc.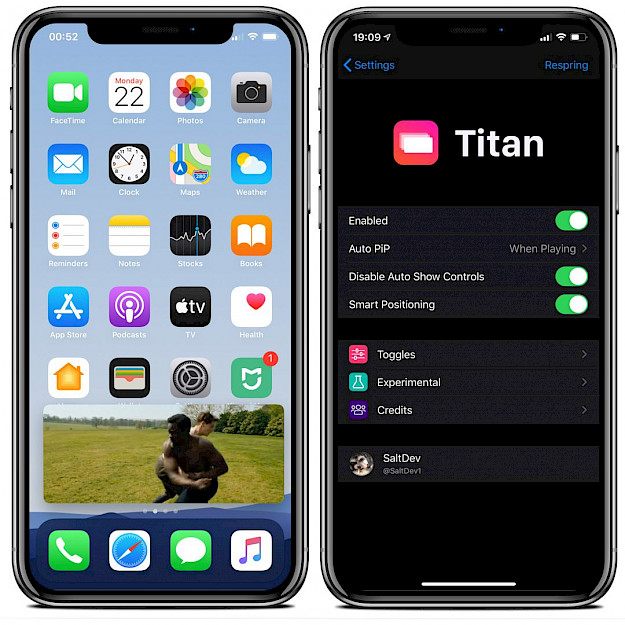 The tweak works out of the box with a colorful variety of video apps, including Netflix, YouTube, Hulu, Twitch, Disney+, Prime Video, Plex, and others. Titan is packed with Smart Positioning feature that will position the Picture-in-Picture floating window such that it won't get in your way for e.g. when you will if use the keyboard.
What's more, Titan tweak allows you to take advantage of Activator or in-house toggle options. You can set any activator action to toggle PiP for those apps that do not include a button. Titan also comes with two similar toggles included if you don't wish to use activator. Add true picture in picture support for all favorite apps.
The Picture-in-Picture mode is activated automatically when you close a video app that is currently playing video or tapping on a notification while you're watching a video. Titan automatically collapses the video frame into a Picture-in-Picture window on your SpringBoard. It works with almost every video player.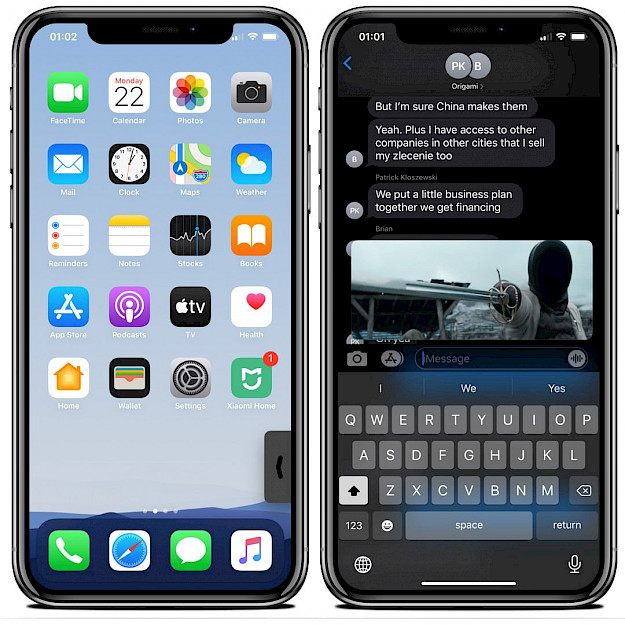 Moreover, you have full control over the floating video player. Move the Picture-in-Picture window out off to the side of the screen and minimalize the interface. Click the arrow to bring back the video player view when needed, or change the window size and position. After installing Titan a dedicated preference pane is added to the Setting app where you can configure the tweak for your liking.
After changing the tweak settings it's required to respring the device. If you wish to use Picture-in-Picture mode on your iPhone purchase Titan tweak for $1.99 from the Chariz Repository via any package manager. Titan supports only jailbroken iOS 13 devices. On older devices try tweaks like ForceInPicture or MilkyWay 2.
Add Titan tweak Repo
The tweak works on both unc0ver and checkra1n jailbreak tools running on iOS 13. Add Titan tweak Repository to your list of Cydia Sources.
Step 1. Open the Cydia app on your device.
Step 2. Tap Sources → Edit → Add the official Titan Repo.
Step 3. Switch to Search Tab and enter Titan.
Step 4. Tap the Install button.
Step 5. The tweak can be configured from Settings → Titan.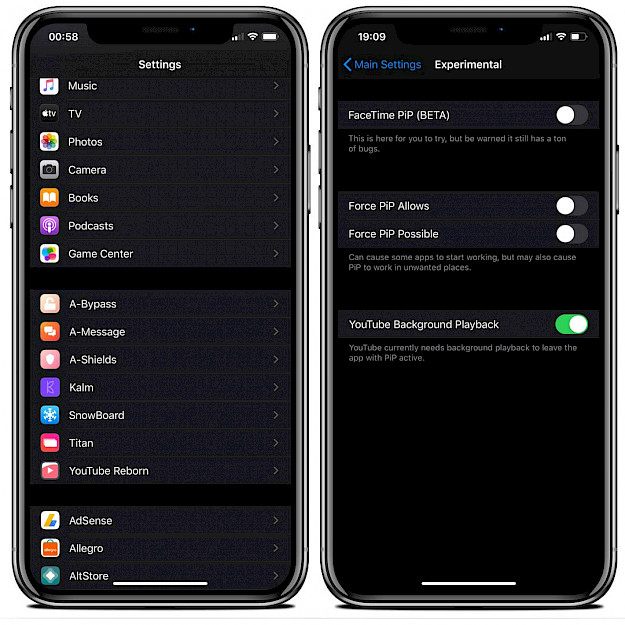 Tweak Settings
Toggle Titan tweak on or off on demand
Configure automatic Picture-in-Picture behaviors
Disable the automatic showing of video controls in the Picture-in-Picture mode
Enable Smart Positioning for the Picture-in-Picture window
Configure your preferred method of toggling Titan tweak
Adjust some experimental options like YouTube background playback
Changelog
Version 1.0.1
You might also like