If you are a macOS user you probably know the Stickies app that allows you to stick to the desktop screen note-like windows with a short reminder. StickyNote tweak brings this feature to iOS allowing users to add a sticky note to the lock screen. Download StickyNote tweak for free from the official Cydia Repository.
---
What is StickyNote tweak?
StickyNote tweak is a free jailbreak add-on that installs a sticky note on your device's lock screen. When you unlock the device it's the first thing you see and is always a swipe away when your device is unlocked. When you install the StickyNote tweak a dedicated preference pane is added to the Settings app where you can configure the options to your liking. Works also on iOS 13.5.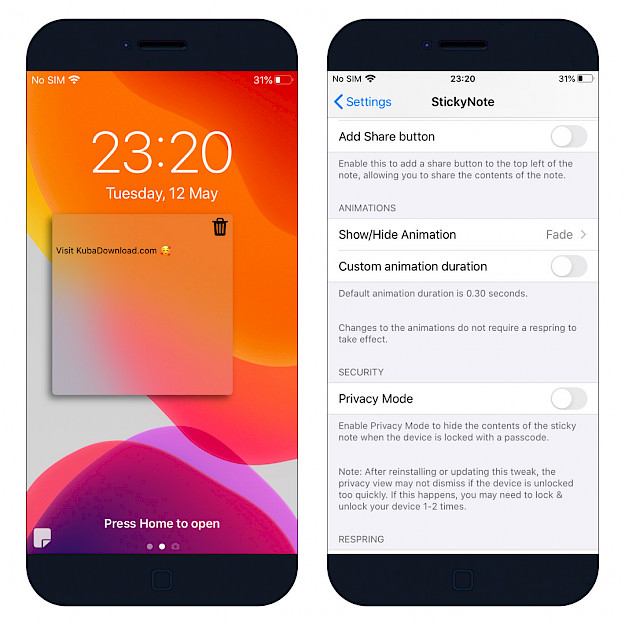 Hide the sticky note using the show/hide button to view your notifications without distraction. Sticky notes are fully customizable. Change colors, fonts, sizing, animations, and more. There is also an option to hide the sticky note until you unlock your device using Face ID or Touch ID.
Stickies app on macOS lets you create lists or thoughts directly on your desktop for easy reference later on. Gabriel Siu created a new and free jailbreak tweak StickyNote that adds these features to iOS devices.
StickyNote tweak looks and behaves just like the Stickies app and it offers more colorization options and even a privacy-guarding lock feature.
Download the tweak from the Twickd Repo via your favorite package manager. StickyNote was released as an open-source project vie the GitHub page.
StickyNote tweak Repo
The tweak works on both unc0ver and checkra1n jailbreak tools running on iOS 13. Add StickyNote Repo to your list of Cydia Sources.
Step 1. Open the Cydia app on your device.
Step 2. Tap Sources → Edit → Add the official repo StickyNote Repo.
Step 3. Switch to Search Tab and enter Prysm.
Step 4. Tap the Install button.
Step 5. Go to Settings → StickyNote to configure the tweak.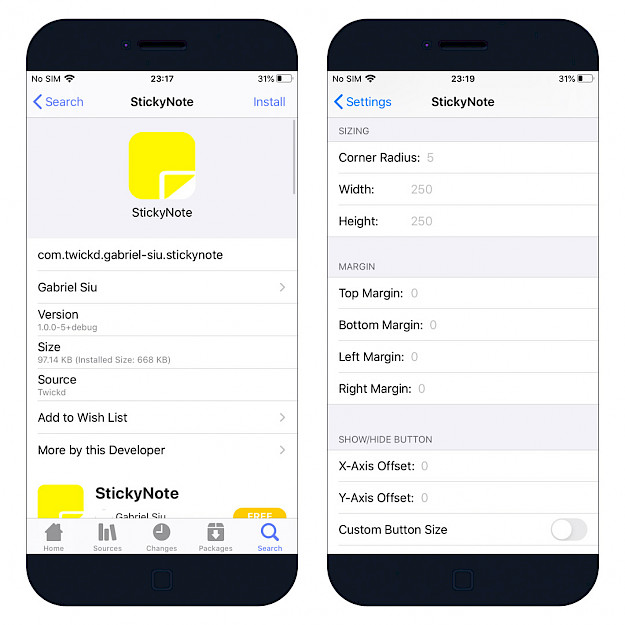 Available Settings
Toggle StickyNote on or off on demand
Enable a blur effect
Enable a note shadow
Enable and configure custom note color
Enable and configure custom icon & font color
Enable and configure the custom alpha level
Enable and configure a custom font size
Enable and configure a custom corner radius, width, and height
Configure custom margins on all four sides
Configure custom X and Y offset amounts
Enable and configure a custom button size
Automatically hide top buttons
Enable a share button
Choose a custom show/hide animation:
Fade
Curl
Flip from left
Flip from right
Flip from top
Flip from bottom
Enable and configure a custom animation duration
Enable privacy mode
Respring button to save applied changes.
You might also like