Sonus12 is a minimalistic jailbreak tweak allowing you to replace the default volume hud available on iPhone. It is optimized to run on iOS 12 and offers a lot of customizable options in settings. This beautiful Volume HUD tweak is available from Packix Repository for $1.75. Change iPhone's Volume HUD on iOS.
---
What is Sonus12?
Sonus12 tweak is an amazing volume HUD replacement (compatible with iOS 10 - 12) with appearance, animation, size, and position customization options. Change the height and width of the slider/bar, vertical position (x-position), horizontal position (y-position), overlay padding, and overlay margin.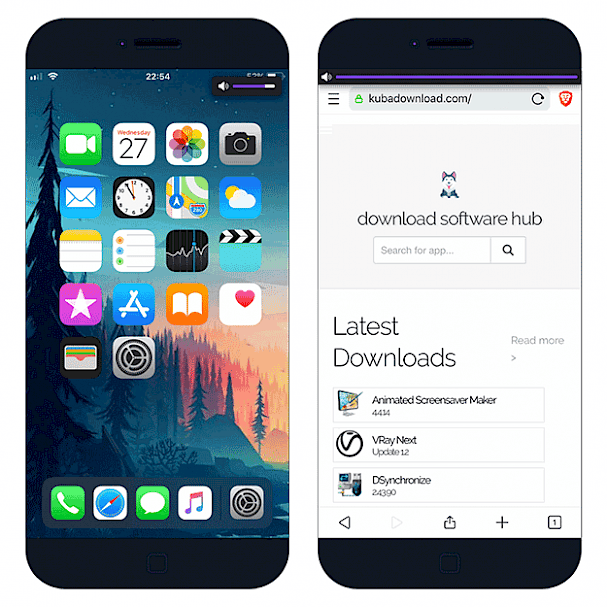 You have full control of the volume tweak. You can change slider colors, disable overlay backdrop, overlay color, overlay shadow, overlay blur, overlay border-radius, show volume percentage, hide ringer indicator icon, display media indicator icon, display only one or change indicator icon color.
This volume HUD iOS replacement tweak is packed with some additional and useful features. Hide carrier, time, battery, or completely the status bar from the home screen. Moreover, you can also take control of the Sonus12 iOS Volume Hud animation and haptics. Melior is a free alternative tweak.
Add Repository to Cydia
You are just a few steps from installing the tweak from Cydia Sources. Add Sonus12 Repository to your list of Cydia Sources.

Step 1. Open the Cydia app on your device.
Step 2. Tap Sources → Edit → Add the official repo Sonus12 Repo for Cydia.
Step 3. Switch to Search Tab and enter Sonus12.
Step 4. Tap the Install button.
Step 5. The tweak can be configured from Settings → Sonus12.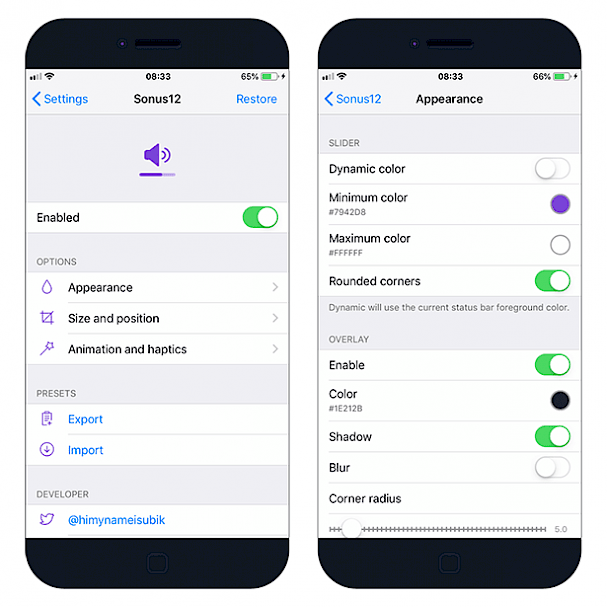 Tweak Settings
Toggle Sonus12 on or off on demand
Customize tweak appearance
Customize tweak size and position
Customize tweak animations
Appearance pane
Toggle Dynamic colorization for the volume HUD slider on or off on demand
Configure a custom color for the volume HUD slider
Toggle "overlay: mode on or off
Configure a color for the overlay
Toggle the drop shadow on or off
Toggle the overlay blur on or off
Adjust the corner radius of the interface via slider
Display the volume percentage in the Sonus12 interface
Show only one indicator
Display the ringer indicator
Display the media indicator
Configure a custom indicator and percentage text color
Hide the time from the Status Bar
Hide the carrier text from the Status Bar
Hide the battery level from the Status Bar
Hide the Status Bar entirely
Hide the time from the Status Bar
Size and position pane
Customize height
Customize width
Toggle full-width on or off on demand
Choose the alignment for the interface
Display Sonus12 at the bottom of the display instead of the top
Adjust the Portrait orientation
Adjust the Landscape orientation
Adjust the Portrait orientation
Adjust the Landscape orientation
Adjust the Y position in Portrait orientation
Adjust the Y position in Landscape orientation
Adjust the margin-left/right in Portrait orientation
Adjust the margin-left/right in Landscape orientation
Animation pane
Enable or disable the Fade animation
Adjust how long the volume HUD appears on the display
Adjust how long the animation endures for
Adjust the slider duration via slider
Changelog
Version 1.2.0-1
Added presets to share and backup your settings
Added option to toggle the rounded corners of the volume bar
Optimized status bar toggling
Reduced the number of notification centers used in apps for status bar items modification
Reorganized status bar preferences
Version 1.1.1-2
Fixed background activity icon showing while in-call on iPhone X status bars
Fixed small issue with a post notification that would break dynamic colors
Fixed another issue with getting the status bar colors with Eclipse and Noctis installed
Removed another useless background check for getting the status bar color
Optimized images used for indicators
Removed unused base64 images in code
You might also like