ShortLook is an amazing jailbreak tweak that adds an awesome full-screen notification system designed to make your notifications pop on your iPhone. The tweak displays incoming notifications as customizable glyphs that are then centered on a black screen. ShortLook tweak supports iOS 11.0 to 13.5.
---
What is ShortLook?
ShortLook tweak shows a full-screen notification on Lock Screen while your iPhone's display is turned off. It offers support for system applications, such as Messages and Mail, and 3rd party apps like Instagram, Snapchat, Facebook, Twitter, etc. Lock Screen is accessible immediately when the device is raised or tapped. Download the tweak from Dynastic Repository for $2.49.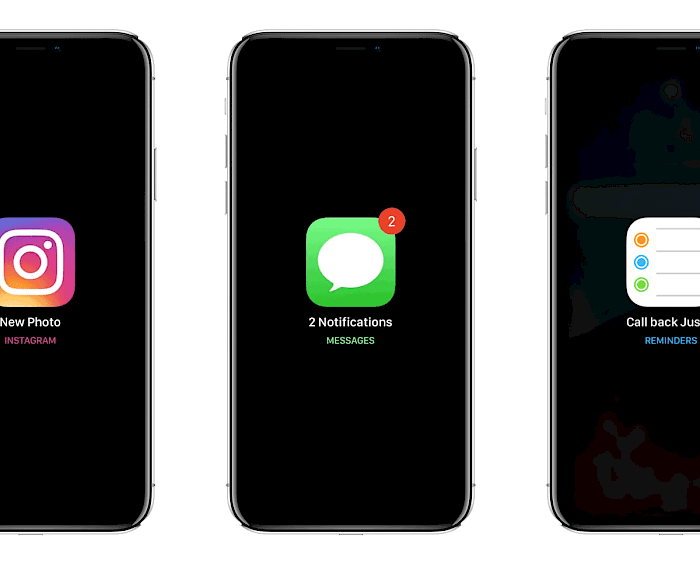 The tweak was designed to handle from a single email to the most annoying of group chats. It automatically groups notifications from the same app with a badge indicator. When a notification from another app is received, it switches to the new notifications. This is so far one of the top tweaks I'm using every day.
The design is absolutely beautiful. On iPhone X and newer, ShortLook takes advantage of the amazing OLED display and shows apps notifications on a pure black background to save battery life. What's more, you can switch to the dark blurred translucent background to display apps notifications on.
After installing ShortLook a new preference pane will be available in the Settings app where you can configure the tweak. Define timeout (from 1s to 10s) to wait before automatically dismissing a notification, send test notification, deactivate contact photos, turn off the tweak, and more.
By default, the notification system shows contact photos when displaying notifications, but you can install extensions to add support for profile pictures from Apollo, Discord, Instagram, Kik, Messenger, Pinterest, Reddit, Skype, Steam, Tumblr, Tweetbot, Twitter, WhatsApp, YouTube, and Snapchat Bitmoji.
Add Repository to Cydia
You are just a few steps from installing the tweak from Cydia Sources. Add ShortLook Repository to your list of Cydia Sources.
Step 1. Open Cydia on your iPhone.
Step 2. Tap Sources → Edit → Add the URL ShortLook Repo.
Step 3. Switch to Search Tab and enter ShortLook.
Step 4. Tap the Install button.
Step 5. Go to Settings → ShortLook to configure the app.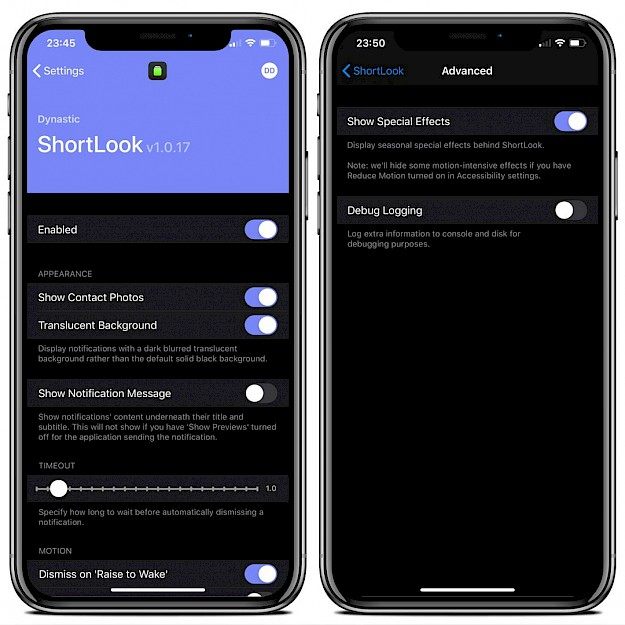 Tweak Settings
Main panel
Toggle ShortLook tweak on or off on demand
Display contact photos in ShortLook notifications
Enable translucent background instead of OLED black
Display notification content underneath the title
Configure a timeout period after which the ShortLook notification disappears
Dismiss ShortLook notifications after raising your device to wake it
Return to sleep after displaying a notification that isn't acknowledged
Show notifications even when you're connected to Apple Watch
Utilize Anemone icons
Advanced
Turn on Show Special Effects
Enable Debug Logging
Changelog
Version 1.0.17
Fixed intermittent crashing for some users on iOS 11.
More fun under the hood changes.
Version 1.0.15.3
Version 1.0.15.2
Fixed an issue experienced by unc0ver users with A12(X) devices on iOS 12.4.
Fixes an issue where some settings would not apply immediately.
You might also like