Prysm changes the look of Control Center interface on jailbroken devices running on OS 11, iOS 12, and iOS 13. The tweak supports most control center tweaks right out of the box. All additional toggle modules can be managed in the toggle cluster under the control center. Get Prysm for $3.49.
---
What is Prysm tweak?
Prysm is a tweak by @LaughingQuoll for quick access to the control center configuration. It supports all small toggle modules. Any modules not placed in the quick access module can be found by swiping up on the Prysm control center. Most Prysm modules offer support for Haptic Touch.
To activate the control center swipe up from the bottom corners of your iPhone or enable the stock gesture to access Prysm like the regular control center. An indicator cluster (iOS 13+) and battery widget are placed above the Prysm card exactly like on the screenshot below.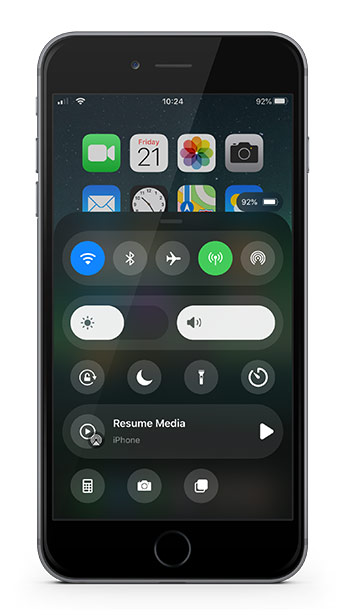 Prysm supports all jailbroken devices running iOS 11 or later. Enable Connectivity toggles, Brightness and, Audio sliders, Quick access toggles, Media widget, or Weather conditions. Prysm tweak moves the control center to the bottom of the display, making it much easier to use with just one hand.
The interface was designed by @thetimeloop and it looks absolutely amazing with horizontal brightness and volume sliders and a rounded aesthetic with a new battery level indicator that feels like native iOS 13 interface. Prysm supports BioProtect, Magma Evo and Gesto tweaks.
Prysm tweak Repo
The tweak works on both unc0ver and checkra1n jailbreak tools running on iOS 13. To add Prysm Repository to your list of Cydia Sources follow our step-by-step guide.
Step 1. Open the Cydia app on your device.
Step 2. Tap Sources → Edit → Add the official repo Prysm Repo.
Step 3. Switch to Search Tab and enter Prysm.
Step 4. Tap the Install button.
Step 5. The tweak doesn't offer any options to configure.
Will you install Prysm tweak on your iOS device? Discuss what do you like and what would you change about it in the comments. Below you can find the release notes from the latest releases.
Changelog
Version 1.5
Added all new Power Module.
Added option to swap volume and brightness.
Added option for continuous corner radii.
Added option to disable RealCC behaviour.
Added support for BioProtect for Low Power Mode toggle.
Fixed dismiss with present from top enabled.
Version 1.4.1
Added new toolbar mode (BETA).
Fixed respring button crash.
Fixed disable on lockscreen.
Fixed hearing toggle not appearing.
Fixed empty expanded modules.
Improved battery widget responsiveness
Removed redundant phone indicator.
Version 1.2
Added swipe on media player to change progress.
Added option to fully expand.
Added option to change various corner radii
Fixed CCModules Pro blank contact image.
Fixed home button instant dismiss.
Fixed positioning on some toggles after expansion.
You might also like