Panda Helper iOS is an alternative AppStore from where you can install for free paid apps, games, hacks, tweaks, ++ apps on any iPhone and iPad. What's more, PandaHelper offers an option to download IPA files and use a signature service that allows you to sign your own IPAs directly on your device.
---
What is Panda Helper iOS?
Panda Helper iOS is a free AppStore platform with access to popular games and applications. The main purpose of the store is to offer its users an option to download paid apps and games for free on mobile devices. Moreover, PandaHelper is packed with a variety of hacks, tweaks, ++ apps for iOS.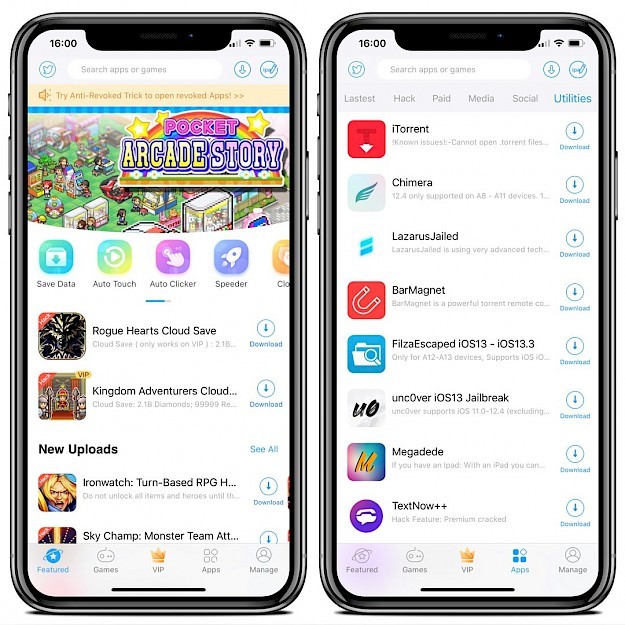 The most important feature of the AppStore is the ability to install cracked apps without jailbreak or using a computer. The built-in download manager helps you to track all actual tasks and downloaded files. Navigate through the software and game list and install everything you like on your iOS 14.
Additionally, Panda Helper app features a cleanup tool available from the Manage section. Clean junk displays actual storage usage and storage capacity. When junk files are detected you can start cleaning the system and free up some space on the device. Removing useless files takes about 2 min.
Panda Helper iOS was designed to work with iOS 8, iOS 9, iOS 10, iOS 11, iOS 12, iOS 13, and the newest iOS 14. The App Store works stable on all iOS platforms. Signing platform uses a public enterprise certificate to install apps therefore, Apple may revoke all installed apps from time to time. The developer will restore the apps for free.
Download Panda Helper iOS
Panda Helper iOS can be downloaded on your iPhone without a computer. Install Panda Helper Regular or Panda Helper Lite (free version). The Lite version offers a limited number of apps but in exchange offers an option to download IPAs.
Step 1. Click Install Panda Helper iOS to download the AppStore on your device.

Install Panda Helper Lite for iOS with an option to download IPA files of popular apps and games.

Step 2. Click Install on the message: tbsq.tongbu.com would like to install "pandahelper free2.0.5".
Step 3. Review the profile in the Settings app and install it.
Step 4. Navigate to Settings → General → Device Management.
Step 5. Find the newly installed Panda Helper installation Profile.
Step 6. Click on the profile name.
Step 7. Install the profile from the developer to run it on your iPhone.
Step 8. Open the app and download the 2nd new profile.
Step 9. Run Panda Helper App from Home Screen.
Open revoked apps on Panda Helper
There is a new method to run revoked apps installed from Panda Helper iOS without the need to re-download the apps and lose all saved settings. This technique works on all iOS versions including the newest iOS 14, and there is no need to jailbreak your iPhone. This is great news for all users.

---
This method was tested on iOS 13 after revoke and the solution is 100% successful. Be aware that this doesn't remove the revoke. You can only run the app and it will be revoked again when you leave or close the app. To make it run again simply repeat the steps. Works also with jailbreak tools.
---
Clear history and website data
Step 1. Activate Airplane mode on your device.
Step 2. Navigate to Safari pane preferences in Settings app.
Step 3. Click on Clear History and Website data.
Step 4. Open the revoked app installed with Panda Helper.
Step 5. Turn off the Airplane mode.
Step 6. Return to the revoked app.
Save app data before reinstalling
If Apple will revoke Panda Helper iOS certificate on your iPhone, iPad, iPod Touch all downloaded apps will crash and you will need to install them from scratch. The biggest downside of this situation is the fact that you will lose all saved settings.
Before you will delete them make sure to create a backup using Tongbu Assistant.
After the backup was created you can safely delete all apps installed using PandaHelper. Before you will restore the save app data click (Backup & Restore from Tongbu Assistant) you need to re-download all apps from Panda Store.
Tweaked apps
Tweaked versions of apps provided by PandaHelper offers access to additional or premium features. Activate paid premium accounts, remove adds, or add tweaks to applications for free.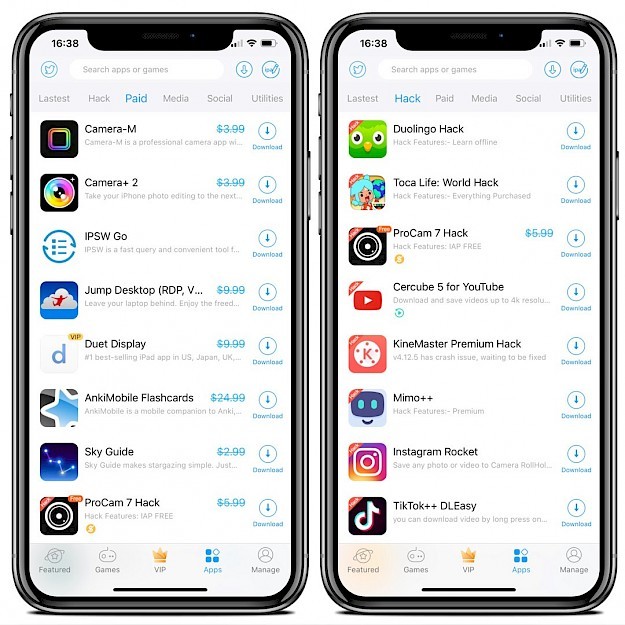 Download ++ apps directly from PandaHelper including YouTube++, Facebook++, Instagram++, YouTube Music++, kirakira++, VK++, PokémonGO++, Snapchat++, Twitter++, Vine++, Whatsapp++ and more. To download tweaked apps you need to search for them within the app.
How to install games from PandaHelper
With this App Store, you can install game hacks allowing you to access unlimited lives, coins, money, and more. There is an option to download standard games from PandaHelper as well.

Step 1. Open PandaHelper app and start typing in the search box for app or game you looking for.
Step 2. On the list, you will find all results indexed by the app.
Step 3. Navigate to the description and click Install Now to start downloading the app.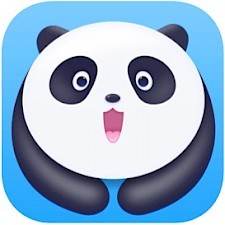 Best Panda Helper alternatives for iOS
You can also access a lot of useful apps, tweaks, jailbreak tools installing Panda Helper AppStore alternatives on your iPhone, iPad, and iPod Touch. There is no need to jailbreak your iOS device. Simply install the apps for free and gain access to all packages.
1. Ignition:
Ignition App is the best place to find Tweaked Apps, Hacked Apps, Emulators, Jailbreaks for iOS. Access the library of hundreds of apps for iOS 11 and iOS 12. Install Ignition Store from the official source without a computer. No jailbreak required as well.
2. AppValley:
AppValley is a platform to download and install applications on iOS 8, iOS 9, iOS 10, iOS 11, iOS 12, and the newest version iOS 13. It doesn't require a PC to install AppValley on your iPhone. Go through the step-by-step guide to install the Panda Helper iOS alternative on your device.
3. CyrusHub:
CyrusHub Mist is a new platform to install apps, tweaks, emulators, jailbreak tools on your iPhone, iPad, iPod devices without jailbreak. You can find here a few packages available in Cydia Repositories and install them on jailbreak free iOS 12. No computer required.
4. TweakBox:
TweakBox app is a free Panda Helper alternative allowing you to download and install tweaked apps. Tweaked versions of apps allow you to use them without limitation and adds some additional features. Install TweakBox on iPhone, iPad, iPod Touch for free, and sign apps on iOS.
5. CokernutX:
CokernutX is a free platform allowing users to download and install popular paid apps and games available in AppStore for free. The software works without Jailbreak, and you are just a few steps to install the PandaHelper AppStore alternative on your iOS device.
Panda Helper VIP
Panda Helper VIP is available for 19.99 USD. The license is valid for 1 year and can be used only per one device. There are no refunds available. The license is valid per device, and if you change it it will be not moved to a new device. Be aware of this downside before you make payment.
Other advantages of the VIP edition are Panda Cheat Engine allowing you to activate cheat in games, Panda Speeder to speed up gameplay, Panda Auto Clicker to automatically tap on the screen, and Panda Cloner to run up to 3 copies of the app. Only supported apps can access those features.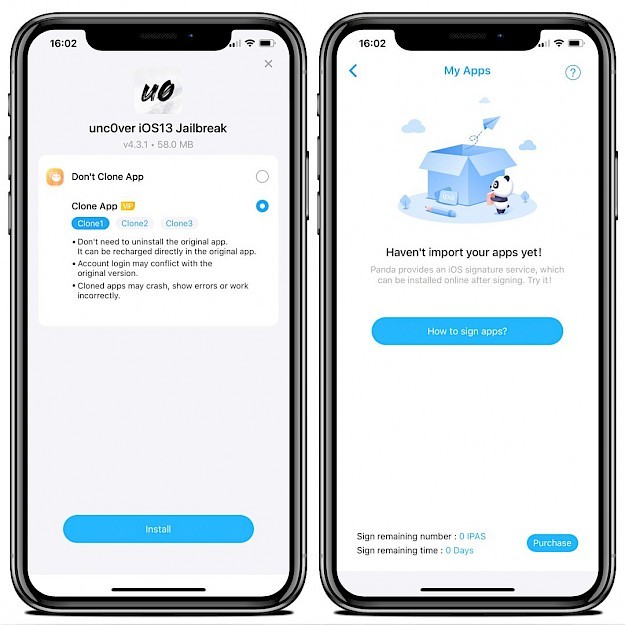 Moreover, Panda Helper iOS provides a builtin signature service allowing you to sign IPA files directly on your device. App Signer is available exclusively for Panda VIP members and can sign only one IPA at a time. Panda can't sing encrypted IPA files and supports iOS 11, iOS 12, and iOS 13.
Panda Helper iOS offers two options to install apps. The default method requires removing the original app installed from AppStore before you will download it from Panda Store. Clone App feature allows you to create a separate copy of the app without the need to uninstall the original version.
From December 2018 users with access to the VIP version can install apps and games without displaying ads. The ads are only displayed when the developer puts them into the app.
Frequently Asked Questions
Is Panda Helper safe?
Panda Helper iOS is free and absolutely 100% safe to use the app. It doesn't require Jailbreak or Apple ID to work, it will not spy your activity. The only downside is displays ads in apps. You can install the app without any negative effect on the iOS system.
Is Panda Helper legal?
PandaHelper is a legal software offering access to most popular apps, and software not available in AppStore like MovieBox, Popcorn Time iOS, iPlayTV, and more. Using the app is legal but, it offers also an option to download paid apps and games for free and this is illegal.
How does PandaHelper work?
PandaHelper is using the Apple Developer Enterprise Program to create and distribute proprietary enterprise iOS apps for internal use. PandaHelper is signing all premium apps and games allowing you to install them for free. The PandaHelper user experience is similar to AppStore.
How to update Panda Helper apps?
To update apps or games in Panda Helper you need to open the App Store from the Home Screen. Next, search for an app and install it once again. There is no auto-update feature available in Panda Helper, and you need to upgrade apps manually.
Why Panda Helper is not working?
If Panda Helper is not opening or the icon in gray because Apple did revoke the certificate. You need to be patient, all apps and games available via Panda Helper should work in the next 48 hours. Come back in the next few hours and everything should be fine.
How to avoid Panda Helper revokes?
The only option to avoid apps revokes on iOS is to jailbreak your device. Otherwise, it is required to reinstall all apps and games after certificate revoke.
You might also like