Panda Helper download. Install iOS apps and games
kuba - Friday, 12 October 2018
Panda Helper 1.0.8 is a free App Store where you can sign app allowing you to download paid and hacked apps with no need of Jailbreak or Apple ID. Install Panda Helper on iPhone, iPad, iPod Touch for free. Sign paid apps and hacked apps on iOS.
What is Panda Helper?
Panda Helper is a free platform where users can download games and applications for free on iOS system. You can also install the app on Android devices. The app allows users to download paid App Store apps for free.
The most important feature of the software is the ability to do it without Jailbreak or providing Apple ID. You can navigate through software and game list and install everything you like on you iOS. The iOS version is available for free download.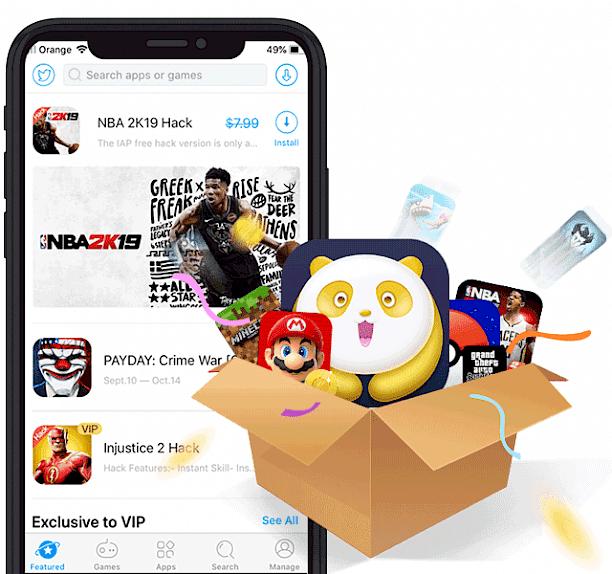 Is Panda Helper safe?
Panda Helper iOS is a free and absolutely 100% safe to use app. It doesn't require Jailbreak or Apple ID to work, it will not spy your activity. The only downside is displays ads in apps. You can install the app without negative affect on the iOS system.
Is Panda Helper legal?
PandaHelper is a legal software offering access to most popular apps, and software not available in AppStore like MovieBox, Popcorn Time, CotoMovies, iPlayTV, and more. Using the app is legal but, it offers also option to download paid apps and games for free.
How to install Panda Helper?
Panda Helper can be installed on your iPhone, iPad, iPod Touch device with no need of Jailbreak or Apple ID. Moreover, the software doesn't require a PC or Mac to be installed. To install the app proceed with our step-by-step guide.
1. Navigate to pandahelp.vip webpage from your iOS device.
2. Switch from VIP to Regular and click Download Free Version.
3. Click Install on the small window with message: tbsq.tongbu.com would like to install "pandahelper free1.0.6".
4. After the app is installed on your system an icon will reveal on the iPhone Home Screen.
5. Navigate on your iPhone to the Settings app and next to General -> Device Management.
6. Click on the Enterprise Apps the developer name, and Tap "Trust" twice.
Save app data before reinstalling
If Apple will revoke Panda Helper certificate on your iPhone, iPad, iPod Touch all downloaded apps will crash and you will need to install them from scratch. You will lose all saved settings.
Before you will delete them make a backup using Tongbu Assistant.
After the backup was created you can delete apps, and use PandaHelper to install them again. To restore the save app data click Backup & Restore from Tongbu Assistant.
Tweaked apps
Tweaked versions of apps provided by PandaHelper offers access to additional or premium features for free. You can download ++ apps directly from PandaHelper including YouTube++, Facebook++, Instagram++, YouTube Music++, kirakira++, VK++, PokémonGO++, Snapchat++, Twitter++, Vine++, Whatsapp++ and more. To download tweaked apps you need to search for them within the app.
Game Hack
With this App Store you can install game hacks allowing you to access unlimited lives, coins, money and more. There is an option to download standard games from PandaHelper as well.
The most popular games hack include: Last day on Earth Hack, Earn to Die 2 Hack, Plague Inc. Hack, Pokemon GO Hack, This War on Mine Hack, Subway Surfers Hack, Lara Croft GO Hack, Hitman GO Hack, Hill Climb Racing Hack, Score! Hero Hack, Minecraft Story Mode Hack, The Walking Dead Hack, Batman Hack, Heroes and Castles 2 Hack, Truck Simulator Pro 2 Hack, NBA 2k19 Hack.
How to install games from Panda Helper?

1. Open the app from Home Screen, and start typing in search box for app or game you looking for.
2. On the list you will find all results indexed by the app. You can click Install button to start downloading the game.
3. When you navigate to the game description you can click Install now to start downloading the app.
Panda Helper VIP
Panda Helper VIP is available for 12.99 USD. The license is valid for 1 year, and can be used only per one device. The are no refunds available. The license is valid per device, and if you change it it will be not moved to new device.
From December 2018 users with access to VIP version can install apps and games without displaying ads. The ads are only displayed when the developer puts them into the app.
What can you find in VIP repository?
The list is long an include CATS: Crash Arena, Arena of Valtor, Marvel's Guardians of the Galaxy, Implosion, Desertopia, Batman, NBA 2k18, Hidden City, Lanota, Idle Miner Tycon, Berbarian, Frontline Commando, This War of Mine, Sky Dancer, Tank Stars, Hitman GO, Rookie Cam, Minecraft: Story Mode, Injustice 2, DC Legends, Guns of Boom, Asphalt 8, Championship Manager 17, Dead Trigger 2, Dragon Ball Z Dokkan Battle, Hello Neighbor, Football Manager 2019, Driving School 2017 Hack etc.
Supported system
Panda Helper iOS works with iOS 8, iOS 9, iOS 10, iOS 11, and the newest version iOS 12. There is no need to Jailbreak your iPhone to install the app on iOS system. The software is available for free and works stable on all iOS platforms.