iPhone users are used to using the Dock as a launchpad for favorited apps but now Multipla tweak redefines the iOS Dock purpose. If you're jailbroken you can add more exciting features to the Dock like Activity, battery levels, Music, and Weather widgets. Install Multipla tweak from the official repository for $2.99.
---
What is Multipla tweak?
Multipla tweak is a new dock replacement adding that expands upon the Dock's existing functionality by unlocking new features. Among those you can modify icons limit, choose widgets for your Dock, select animation for widget switching, hide Dock elements (pages dots, page labels, grabber), and much more.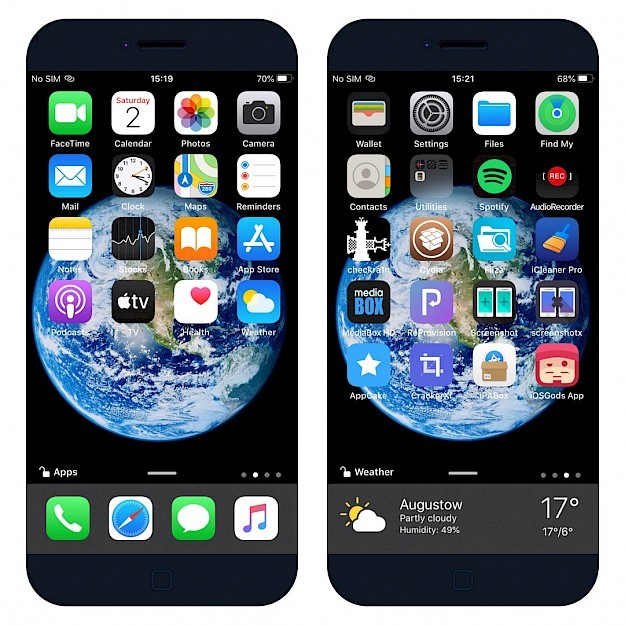 Multipla tweak was designed to be intuitive and supports three different gestures for moving between the Dock interfaces (Swipe Up/Down, Swipe left/right, or Double tap). By default, the tweak offers 4 widgets Music widget, Battery widget, Weather widget, and Activity widget that can be accessed from the Dock.
The tweak adds its own a preference pane to the Settings app from where you can configure all settings. Choose a gesture to invoke widgets, change animation duration, define widgets auto-refresh rate, modify Dock background alpha, or configure widgets. You can also use iPhone X Dock for non-notched devices.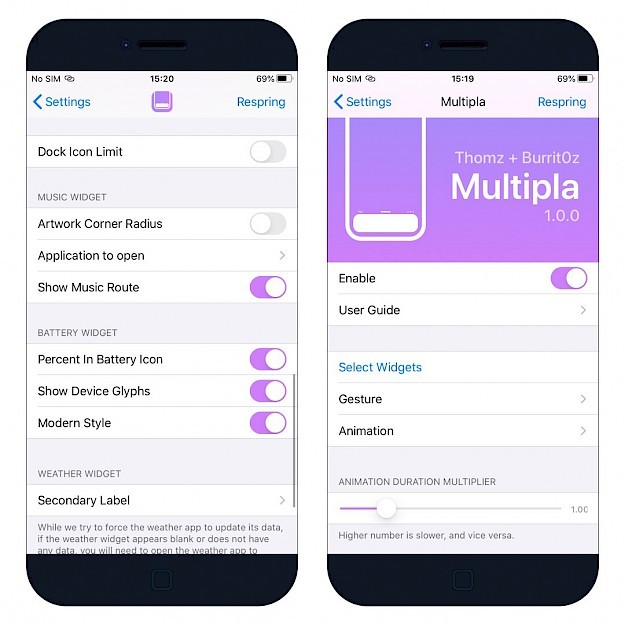 Other features include Dark theme for new Dock elements and option for Long press to lock your Dock from switching widgets or Long press to jump back to applications dock. Additionally, Multipla comes with a Developer API that can be found on GitHub. This lets developers add their tweaks to use Multipla Dock.
What's more, Multipla Dock can change the appearance of some other elements displayed next to the Dock. Change page dot position. hide dock page labels, hide grabber, or hide dots. Multipla works on jailbroken iPhones running iOS 11 - iOS 13.
If you are interested to use Multipla tweak you can purchase it for $1.99 from the Chariz repository via a preferred package manager. Be aware, that the tweak doesn't support iPads due to the different Dock framework.
Multipla Tweak Repo
You are just a few steps from installing the tweak from Cydia Sources. To add Multipla Repository to your list of Cydia Sources follow our step-by-step guide.
Step 1. Open the Cydia app on your device.
Step 2. Tap Sources → Edit → Add the official Multipla tweak Repo to Cydia.
Step 3. Switch to Search Tab and enter Multipla.
Step 4. Tap the Install button.
Step 5. The tweak can be configured from Settings → Multipla.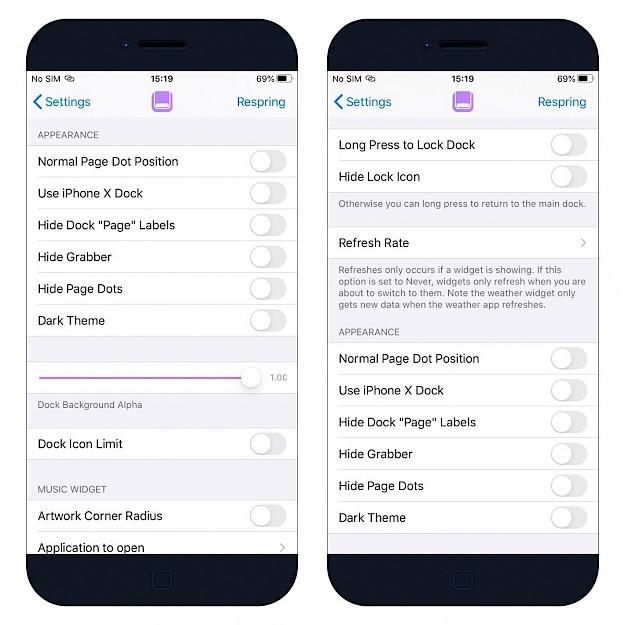 Changelog
Version 1.1
Beta FloatingDock support
Landscape support
Fix crash for some users
Fix scaling issues on iPhone SE
add language localizations for more languages
experimental iPad support
Fixed issue where app icons would glitch onto the dock when exiting an app that was in the dock when a widget was showing
Added Docky support (make sure to set activation gesture NOT to left/right)
Fixed visual glitch that would occur when swiping widgets at high speeds using left-right animation
Introduced an option to automatically cycle through widgets instead of performing refreshes (start auto swipe by performing a manual switch gesture, stop by doing a manual gesture again)
Fixed possible issues with the auto-refresh option failing to update
Battery widget now instantly updates when the status of a connected device changes
Charging devices will now show a charging (bolt) indicator in their battery icon when charging (NOT if the percent inside battery icon option is on)
Tapping the rings on the activity widget opens the activity app
Music labels now scroll together even if they are different lengths
Tapping the music artwork will now open whichever app is now playing, if no app is now playing, it will open the app of your choice via settings
Fixed non-tweak-related crashing of the select widgets page for some users
Refined existing animations under-the-hood
Removed the grabber at the request of the designer of the concept
Version 1.0
You might also like