Mitsuha Forever is a beautiful audio visualizer for iOS devices created by ConorTheDev. The free jailbreak tweak allows you to display wave, bar, or line style of audio visualization in apps like Apple Music and Spotify. It also works on the lock screen. Download Mitsuha Forever from Cydia repo. Works with the latest iOS 13.5.
---
What is Mitsuha Forever?
Mitsuha Forever tweak adds to Spotify and Apple Music a phenomenal audio visualizer. You can configure separately options for each music app. The real-time audio visualizer for now playing music ads definitely something new and fresh to your device. The tweak is compatible with iOS 12 - iOS 13.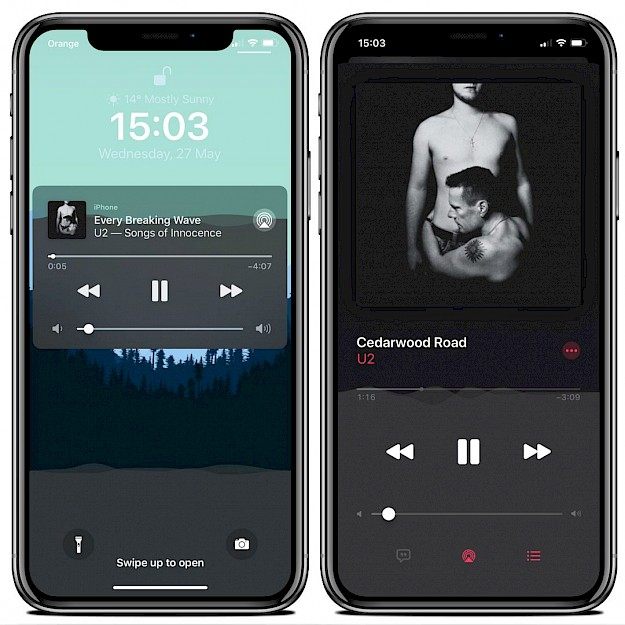 After installing the tweak on your iPhone you can access all options from preference panel available in the Settings app. From here you can enable the Mitsuha Infinity tweak, activate frequency instead of amplitude, hide the visualizer, or define the style of the visualizer (waves, dots, bars, line).
Mitsuha Forever audio visualizer works within the apps and also on lock screen, notification center, and homescreen. For all supported applications you can configure different settings. From settings define style and number of points, dynamic or custom color, wave offset, or even disable battery saver.
At the bottom of the primary preference pane, you can access also Respring button, option to restore tweak default settings and respring, and a button to restart mediaserverd. Mitsuha Infinity looks great and adds more movement to your iDevcice. Great free tweak for iOS.
Nepeta left the jailbreak community and therefore she is not updating any of her tweaks. Fortunately, she made Mitsuha Infinity open-source and ConorTheDev added to the tweak support for iOS 13. He is continually developing the audio visualizer, and so far it's stable running on checkre1n jailbreak.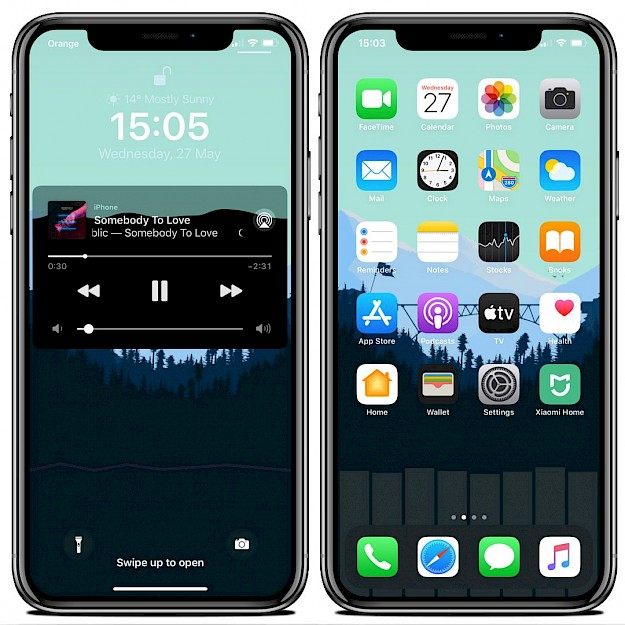 Mitsuha Forever Repo
You are just a few steps from installing the tweak from Cydia Sources. To add Mitsuha Forever Repo to your list of Cydia Sources follow our step-by-step guide.
Step 1. Open the Cydia app on your device.
Step 2. Tap Sources → Edit → Add the Mitsuha Forever Repo.
Step 3. Switch to Search Tab and enter Mitsuha Forever.
Step 4. Tap the Install button.
Step 5. Configure the tweak from Settings → Mitsuha Forever.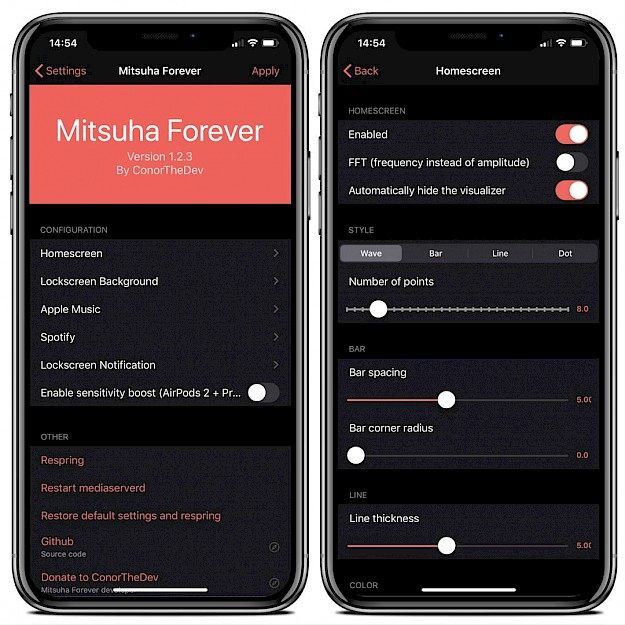 If you are having trouble opening preferences pane in the Setting app with Mitsuha Infinity, install the free library libpackageinfo from Rrevulate Repo. This package is compatible with iOS 12.0 to 13.
Mitsuha Forever Preferences
Toggle on or off (individually for each supported app)
Change the waveform on frequency instead of amplitude
Automatically hide the visualizer
Pick between wave, bar, line, and dot-style visualizers
Adjust the number of visualizer points via slider
Adjust bar-style spacing
Adjust bar style corner radius
Adjust line style thickness via slider
Select between dynamic old, dynamic new, and custom color styles
Adjust dynamic color alpha
Adjust wave color
Adjust wave offset from top
Adjust visualizer speed/frames per second via slider
Adjust sensitivity
Disable battery saver
Changelog
Version 1.3
Flow and ColorFlow 5 Support
Custom color support
General performance and bug fixes
Fix preference crashses
Version 1.1
Fix stability issues and fix Spotify Visualiser
Verison 1.0-2
You might also like