Lock screen on any iOS device is pretty boring but with jailbreak tweak like Kalm, you can easily change that. Install a beautiful new information-oriented display to your iOS device's Lock screen. Download Kalm tweak from the official Cydia Repository for $1.99. Works with iOS 12 and iOS 13. Works also on the latest iOS 14.
---
What is Kalm tweak?
Kalm is a modern jailbreak tweak that changes the look of iOS Lock screen and adds useful information including current Weather conditions for GPS location and Up Next Calendar events - all in addition to a gorgeous new date and time display that can be customized to your liking.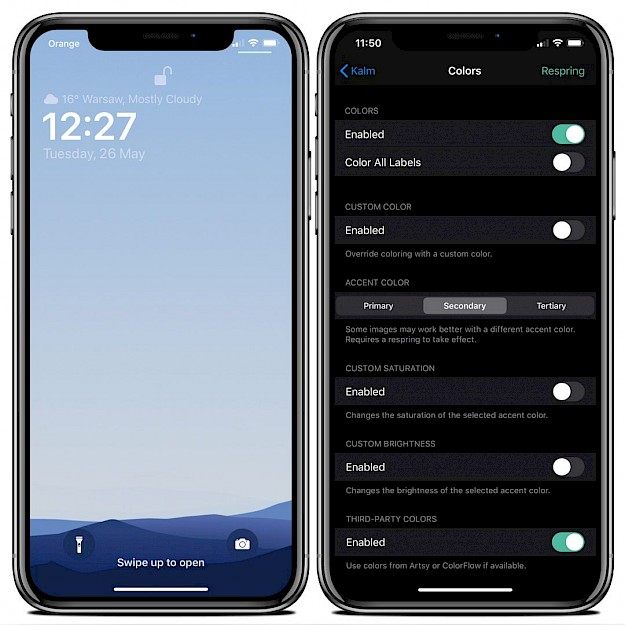 Once installed, the tweak adds a dedicated preference pane in the Settings app from where you can configure the Kalm interface. Toggle Weather display and Up Next Calendar on or off on demand, customize Weather display settings, Up Next display settings, and date and time appearance.
Kalm can display only selected information about Weather. From settings, you can activate to hide the current location or hide weather conditions on lock screen. In Up Next sections you can find options to enter a custom Calendar name, display all-day events or choose the number of days ahead that Kalm will display on the Lock screen.
Change the look of the tweak from Appearance tab. Set align of Kalm interface to Left, Center, or Right. Enable or disable Kalm accent coloring based on the wallpaper. Base color on primary, secondary, or tertiary wallpaper color. Enable and configure color saturation and brightness.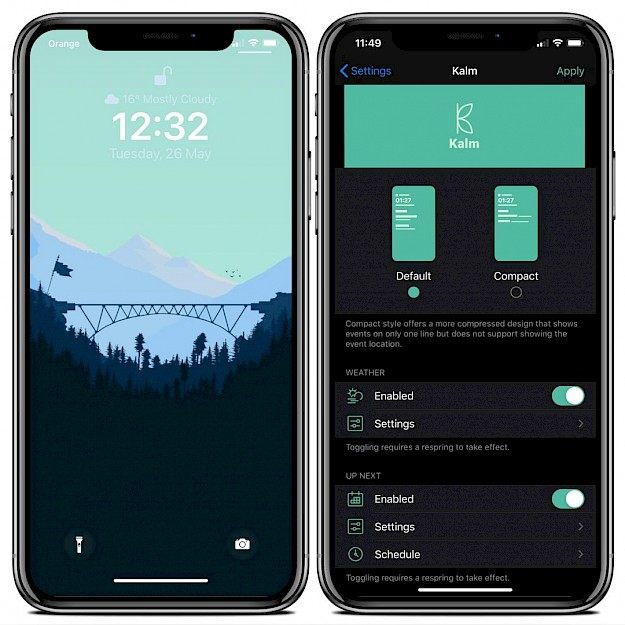 If you're tired of the old Lock screen experience on your jailbroken device, then you can buy Kalm for $1.99 from the Chariz repository using any package manager. Kalm supports devices running on iOS 12up to iOS 14. If you need more control over lock screen try XenHTML or LockPlus Pro.
Kalm tweak works with Artsy, ColorFlow, LockWidgets, Axon, Grupi, Tritium, Lisa, AOD, LatchKey, Complications, Watermelon, Xen HTML and HomeTime.
Kalm tweak repo
You are just a few steps from installing the tweak from Cydia Sources. To add Kalm Repository to your list of Cydia Sources follow our step-by-step guide.
Step 1. Open the Cydia app on your device.
Step 2. Tap Sources → Edit → Add the official repo Kalm Repo.
Step 3. Switch to Search Tab and enter Kalm.
Step 4. Tap the Install button.
Step 5. The tweak can be configured from Settings → Kalm.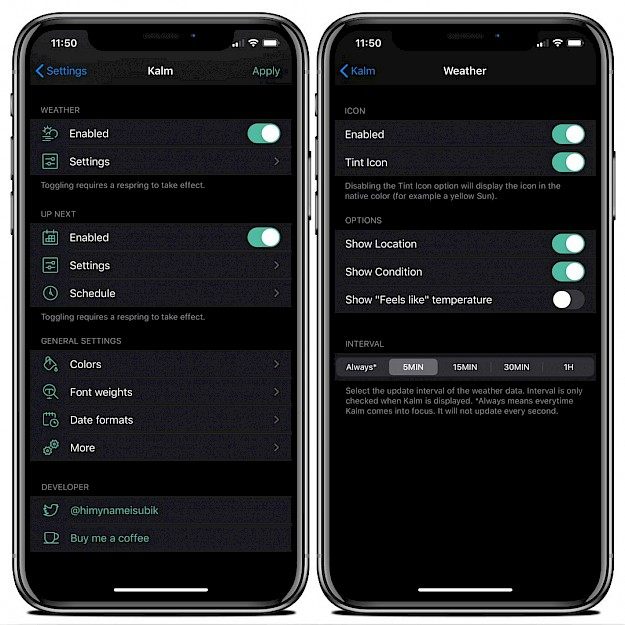 Kalm Settings
Weather
Toggle Condition Icon
Toggle Condition Icon Tint
Toggle Location
Toggle Condition
Toggle "Feels like" temperature
Set update interval
Up Next
Change Style (Standard & Compact)
Toggle Calendar Events
Toggle Reminders
Toggle Alarms
Select Visible Calendars
Toggle Started Events
Toggle All Day Events
Toggle Event Location
Toggle Calendar Color Indicator
Change Calendar Color Indicator Character
Toggle Overdue Reminders
Select Maximum Events shown
Select Maximum Time Ahead of the Event
Set update interval
Set a schedule for the Up Next view to show – either by day or time
Colors
Toggle Colors
Toggle Coloring All Elements
Toggle Custom Color
Select Accent Color
Change Accent Color Saturation
Change Accent Color Brightness
Font weights
Change Font Weights of Every Element
Time and date formats
Change Date Format
Change Time Format
Change Date/Time locale
More
Change Alignment
Toggle Lock Icon Alignment
Toggle case conversion to upper- or lowercase
Change Position
Change Notification Padding
Enable the Do Not Disturb icon
You might also like