KakaManga app is a new manga reader for iPhone, iPad, and iPod Touch. Read thousands of manga comics in the English language from all popular sources directly on your device. Download KakaManga without a computer using a direct web link. Compatible with iOS 11 and iOS 12, and iOS 13.
---
What is KakaManga app?
KakaManga app is a free application to read popular manga comics and graphic novels on your mobile screen on the go. This manga reader for iOS offers some basic features like Watchlist from where you can view the history of readings, and add favorite comics to bookmarks for quick access.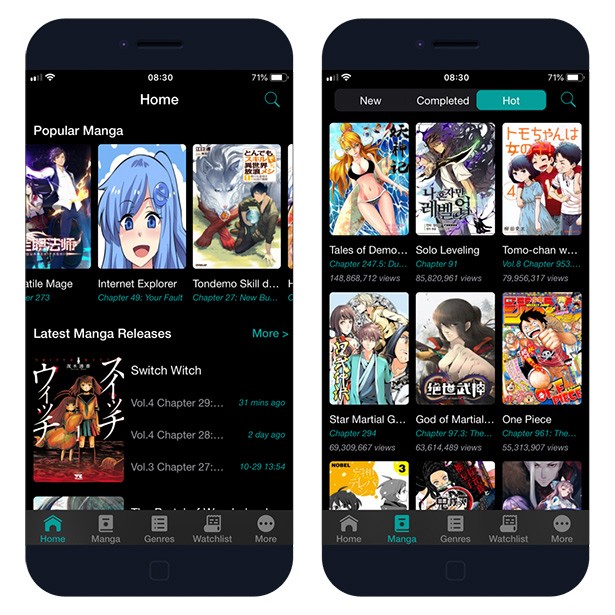 View manga by popularity, latest releases, sort by genres, read descriptions, and navigate through comics chapters. KakaManga app requires an internet connection to work. There is no option to download comics for offline reading on your iDevice. The application is available for free.
The builtin manga viewer is really simple to use and it offers basic options like selecting chapters, navigating to next and previous page, and zooming the pages. The images offer great quality.
KakaManga app is an iOS manga viewer offering only access to Japanese comics books. The only alternative app for iOS to read manga is ComicBox App published some time ago in our software hub. ComicBox is packed not only with manga but also with other comics. Feel free to check it out as well.
How to install KakaManga
KakaManga app can be installed on iOS 12 and iOS 13 device like iPhone without the need of Jailbreak or Apple ID. You don't need a PC or Mac to install the app on iPhone.
Install KakaManga app without a computer. No jailbreak required!
When you get KakaManga App without PC it can happen that the app will stop working. The reason for this is that Apple will revoke the installed certificate. To make KakaManga work again you will need to remove the app and reinstall it using the same steps from below.
Step 1. Click Install KakaManga App from your browser.
Step 2. Tap Install on message prompt "would like to install KakaManga App".
Step 3. KakaManga App Icon will appear on your Home Screen.
Step 4. Navigate to Settings → General → Device Management.
Step 5. Find the newly installed Enterprise App Certificate.
Step 6. Click on the certificate name.
Step 7. Trust apps from the developer to run on your iPhone.
Step 8. Allow access to your data and tap Trust.
Step 9. Run KakaManga App from the home screen.
When you completed all step your KakaManga App should be installed correctly on your iPhone. After KakaManga App will be downloaded you can't run the app. An Untrusted Developers Message will appear and it's required to complete all tasks from Step 4 in our guide above.
Changelog
Version 1.0.6
this version is available in the official AppStore
Version 1.0.4
Support Reading Mode
View the Reader in both Portrait and Landscape mode
You might also like