Jellyfish is a jailbreak tweak that will make your iOS 12 or iOS 13 lock screen more modern, more beautiful, and more useful. It was inspired by the watchOS Motion face. Start using Jellyfish tweak for just $1.99 and install it from Dynastic Repository.
---
What is Jellyfish tweak?
Jellyfish jailbreak iOS tweak refreshes the Lock screen with a beautiful time, emphasizing both the time and date. The date takes its color from your wallpaper, creating a blended effect, while still retaining its legibility. If you connect a charger it will display also the percentage of charge.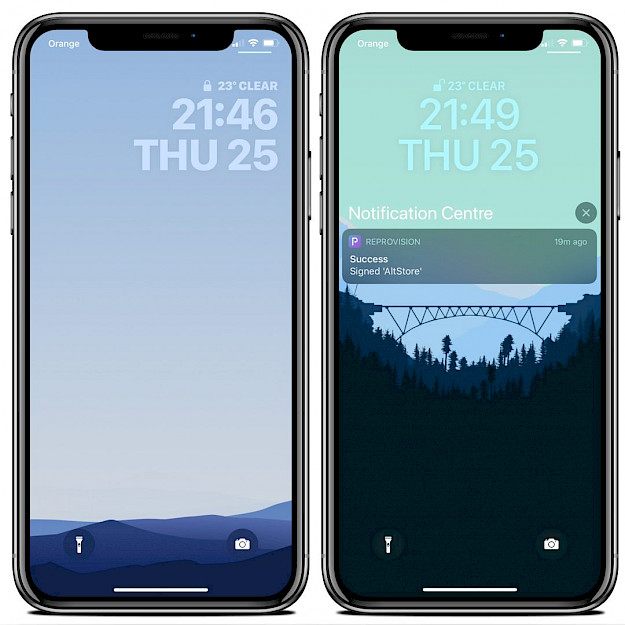 The tweak was designed also to display weather to your Lock screen, so you have always access to view it at a quick glance. While adding this new level of information, your Lock screen retains its simplicity, avoiding a cluttered look. It's compatible with devices using Dynamic Wallpapers.
Jellyfish is now available with many new features, such as custom colors, custom date formats, and the ability to hide the date view. What's more, change the size of Jellyfish on your Lock screen or customize font weight and size with both thinner and thicker options. It integrates with coloring tweaks like ColorFlow and Artsy.
Jellyfish tweak Repo
You are just a few steps from installing the tweak from Cydia Sources. Add Jellyfish Repo to your list of Cydia Sources. The tweak works also with the latest iOS 13.5.

Step 1. Open the Cydia app on your device.
Step 2. Tap Sources → Edit → Add the official Jellyfish Repo.
Step 3. Switch to Search Tab and enter Jellyfish.
Step 4. Tap the Install button.
Step 5. Configure the tweak from Settings → Jellyfish.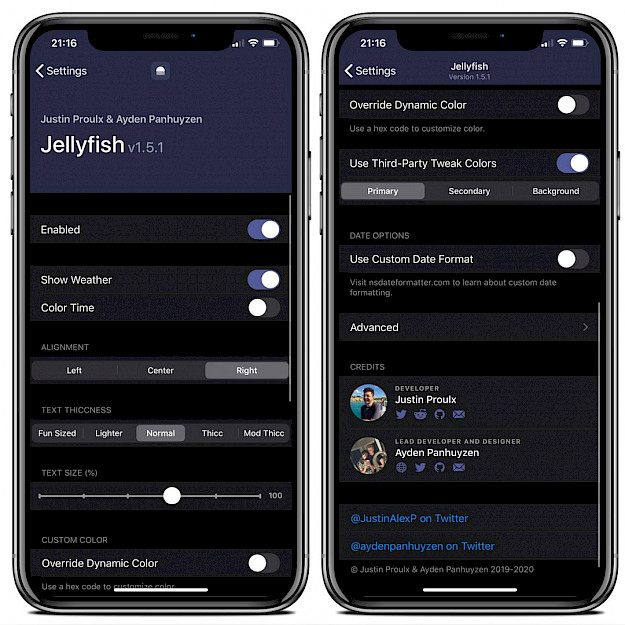 After you install the new lock screen on your iPhone there is no need for configuration. Everything will work immediately. If you don't see Jellyfish please deactivate all other iOS lock screen tweaks that are you using.
Tweak Settings
Toggle the tweak on or off on demand
Enable show weather
Color time text
Set the alignment to left, right or center
Change text size and thickness
Override dynamic color with customized hex code
Use third party tweaks colors
Use the custom date format
Hide weather if not available
Show incompatibility warnings
Disable saturation limit
Override saturation threshold
Changelog
Version 1.5.1
A new setting to control weather visibility.
Deeper advanced customization options.
A reorganization of settings.
We've completely rewritten how the weather is handled, to fix issues some users on iOS 13 were having.
Fixed some default settings being incorrect after installing.
Fixed some visual inconsistencies found in some setups.
Version 1.3.3
Version 1.3
Change the size of Jellyfish on your Lock screen.
Customize your font-weight with both thinner and thicker options.
A quick switch to disable Jellyfish.
Better support for iOS 13 jailbreaks.
An API for developers to set Jellyfish's colors programmatically.
Tons of bug fixes to make your experience better, including fixes for layout on some devices and compatibility with Artsy.
Version 1.2
Custom alignment
Custom font-weight
More saturation options
Fixed padlock placement, among other things
Artsy support
You might also like