There are serval tools allowing you to jailbreak iOS 12. unc0ver tool works now with A8X – A12, Chimera jailbreak supports A7 - A11 devices, and checkra1n can jailbreak devices from iPhone 4S (A5 chip) to iPhone 8 and iPhone X (A11 chip). Install tweaks, apps, and themes on any iOS 12 firmware.
---
iOS 12 was the twelfth major release of the iOS mobile operating system created by Apple. The firmware was focused on performance and quality improvements and security updates. iOS 12, the first public release, was published on September 17, 2018. The last update was iOS 12.4.4.
Jailbreaking iOS 12 is a complex process of executing kernel exploits allowing you to access root system and install Cydia to download apps and tweaks. Using mentioned tools is safe and when you decide to jailbreak iOS 12 firmware on an iPhone, iPad, or iPod Touch you will not lose the guaranty.
What features offer jailbreak?
Access file system
Download Cydia tweaks and enhancements
Disable system updates
Install Cydia Package Manager
Disable app revokes
Install OpenSSH
Max memory limit
Install not signed IPA files
Supported iOS 12 versions:
iOS 12
iOS 12.1
iOS 12.1.2
iOS 12.1.3
iOS 12.1.4
iOS 12.2
iOS 12.3
iOS 12.3.1
iOS 12.4
iOS 12.4.1
iOS 12.4.2
iOS 12.4.3
iOS 12.4.4
iOS 12 jailbreak tools
checkra1n jailbreak for iOS 12.3 - iOS 12.4.4
checkra1n jailbreak is the new generation jailbreaking tool based on the permanent unpatchable bootrom exploit called checkm8 by axi0mX. The app can be used to jailbreak all iOS Devices between A5 to A11 including iOS 12.3 up to iOS 13. checkra1n is available only for Mac OS.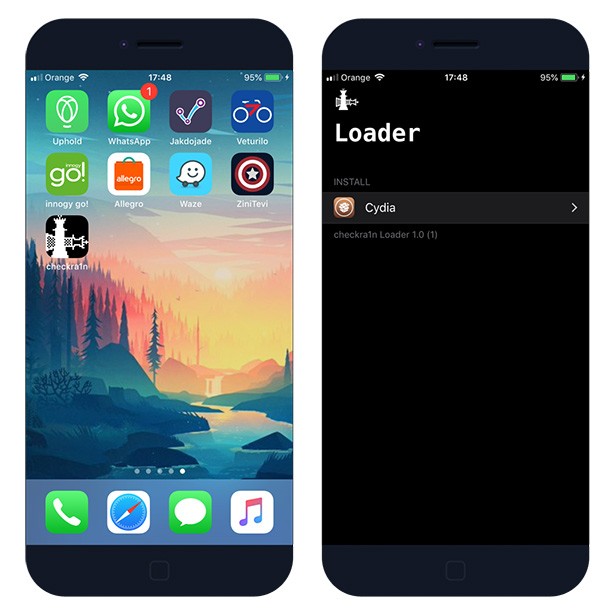 Only the latest devices including iPhone 11 Pro, iPhone 11, iPhone 11 Pro Max, iPhone XR, iPhone XS Max, iPhone XS, and iPhone XS Max are not compatible with checkra1n jailbreak.
unc0ver jailbreak for iOS 12 - iOS 12.4
unc0ver can jailbreak iOS 12 - iOS 12.4.1. pwn20wnd tool provides support for iPhone XS and XS Max, iPhone XR, iPad Mini (2019), iPad Air (2019), iPhone X, iPhone 8 Plus, iPhone 8, iPhone 7 Plus, iPhone 7, iPhone 6s Plus, iPhone 6s, iPhone 6 Plus, iPhone 6, iPhone SE, and iPhone 5s.
---
If you own an A12 device (iPhone XS & XS Max, iPhone XR, iPad Mini (2019), iPad Air (2019), iPhone X) you can jailbreak it for the moment only when it's running on iOS 12, 12.1.1, 12.1.2, 12.1.3, 12.1.4, 12.2.
---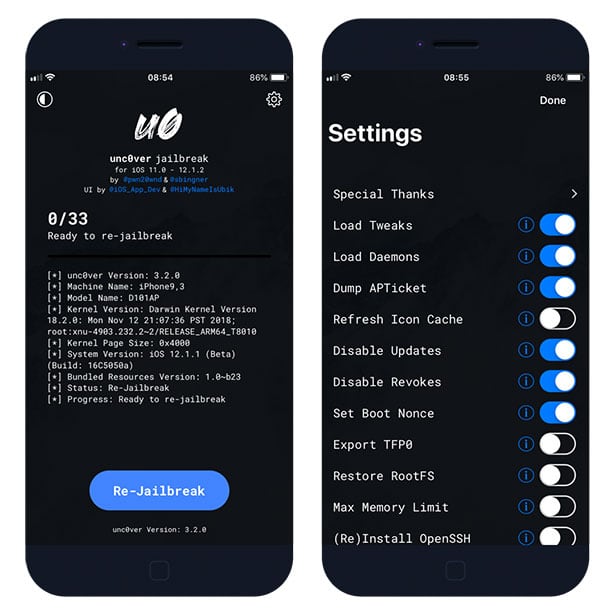 unc0ver is one of the most popular jailbreak tools for iOS 12 (with support for the newest devices A12/A12X) allowing you to install Cydia on iPhone. You can install it without a PC or Mac.
Chimera jailbreak for iOS 12 - iOS 12.4
Chimera was the first iOS 12 jailbreak to not only feature a CoreTrust bypass so that binaries don't need to be resigned, but to also support for all A7/A8/A9/A10/A11/A12 devices, including iPhone Xs, iPhone Xr, and the newest iPads. You can sideload IPA to install the tool or use a direct weblink.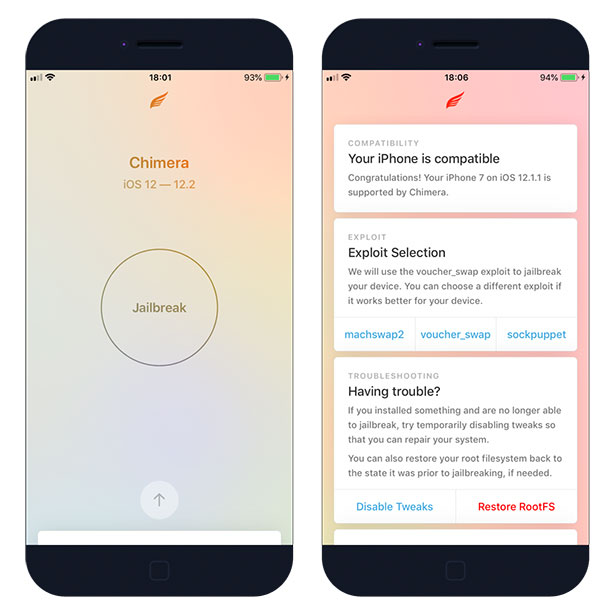 Chimera allows you also to set a nonce that can be used to downgrade or upgrade iOS version with saved SHSH blobs. A12 - A12X devices are supported only on iOS 12 - iOS 12.1.2.
How to remove jailbreak
Every jailbreak exploit for iOS 12 isn't permanent. Each time when you will restart the device the jailbreak will be lost. To permanently remove any trace of jailbreak you need to restore iOS 12 root filesystem. unc0ver and Chimera offer an option to do it inside the box.
Succession app is a free tool for jailbroken devices to restore your iOS 12 firmware back to stock. Succession (unlike iTunes) does this without updating the device so that after the restore, you are still able to jailbreak your device. Moreover, Succession does not require SHSH blobs.
Bypass jailbreak detection
If you will jailbreak iOS 12 you can be surprised that some apps won't open. Developers of apps like Fortnite, Snapchat, PayPal, bank apps, and others are disallowing to run those apps on a jailbroken iOS device for security reasons. Bypass jailbreak detection with Cydia tweaks on iPhone, iPad, or iPod.
Cydia alternatives for iOS 12
Cydia created by Jay Freeman is still one of the most popular package managers available for all jailbroken devices. We provide for you the list of best Cydia Alternatives apps for iOS 12. Install native package managers on your iPhone or iPad, or download 3rd-party AppStore without jailbreak.
Disable revokes on iOS
If you decide to jailbreak your device with a tool like unc0ver or checkra1n it is possible to disable revokes for all apps installed from 3uTools, and even 3rd party AppStores like AppValley, PandaHelper, and others. Please be informed that some apps doesn't work on jailbroken system like iSpoofer.
Step 1. Open the Cydia app on your device.
Step 2. Tap Sources → Edit → Add the kiiimo Repository.
Step 3. Switch to Search Tab and type Anti-Revoke 2.
Step 4. Tap the Install button.
Step 5. Respring your device.
All apps installed on Anti-Revoke 2 hack will work until you restart your device. The jailbreak state will be lost, so it's required to re-jailbreak your device. This solution was tested on iOS 12 and iOS 13.
You might also like