Rocket Instagram is a great tweak that will add new features to your favorite photo and video-sharing social networking service. This tweak version can be installed via Cydia Repository on jailed devices, or you can sideload the IPA file with AltStore. Rocket for Instagram is the only tweak you'll need for Instagram.
---
What is Instagram Rocket?
Instagram Rocket is the all-in-one tweak for Instagram app. The tweak adds a lot of features to the original AppStore app including Anonymous Viewer (view other users' stories and messages without notifying them), Grid Feed Layout (grid layout for the home feed), and Friendship Status (check is users follow status).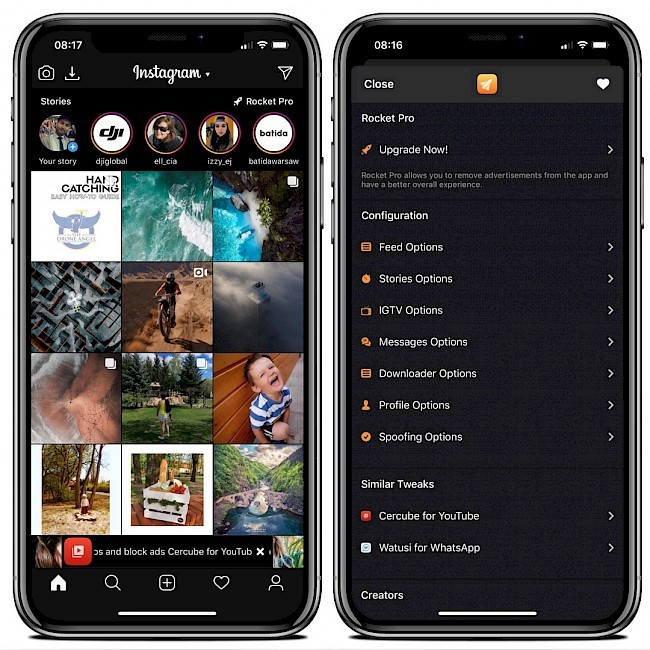 There is also an option to save any photo or video to your devices Camera Roll. You can also download posts from your feed, repost any post from your feed, show the entire gallery instead of the last 24 hours in story maker. Rocket for Instagram can also download all Stories on Instagram and save videos from IGTV.
Instagram Rocket for iOS offers also a few privacy functions. View stories without marking them as seen, manually mark stories as seen, disable read receipts in DM, disable Screenshot notifications in DM, and disable Read Receipts in DM.
What's more, hold down on an image or video to view a high-resolution version of it, hide sponsored ads, download photos, and videos from stories, view Stories without notifying others, long press on profile photos to zoom. This works also when you will double-tap or hold on a profile picture to view it in full-screen.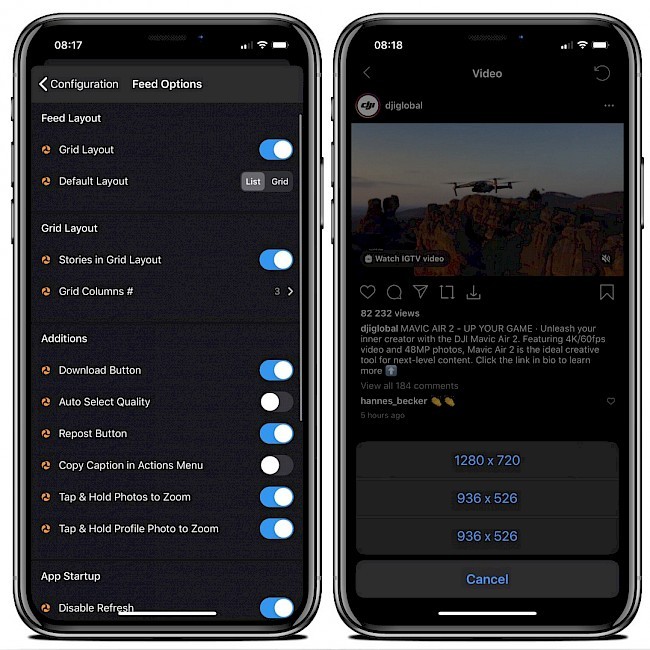 That's not all! Instagram Rocket users can also mute and unmute users from home and activity feed, play in high quality on Mobile Data, show a confirmation message when double-tapping a post to like it, share images with third-party apps, or view exact timestamp of a post (date and time).
Download Instagram Rocket
How to install Instagram Rocket IPA
AltStore can install almost any IPA on your iPhone using the free certificate. Every 7 days after installing Instagram Rocket, you need to resign the app and send it to the AltServer (running on PC or Mac), which installs the resigned app back to your device using iTunes WiFi sync (works also using a USB cable).
Step 1. Download AltStore and install the app on your PC or Mac.
---
Or use any other Cydia Impactor alternative for Windows or macOS.
---
Step 2. Open Safari and download Instagram Rocket IPA (63 MB).
Step 3. Select the downloaded IPA file version v3.7.3 to install.
Step 4. Tap on the share button available in the right corner.
Step 5. Select "Copy to AltStore" from available options.
Step 6. AltStore will start installing Instagram Rocket app.
Step 7. The Instagram Rocket app will be available from your home screen.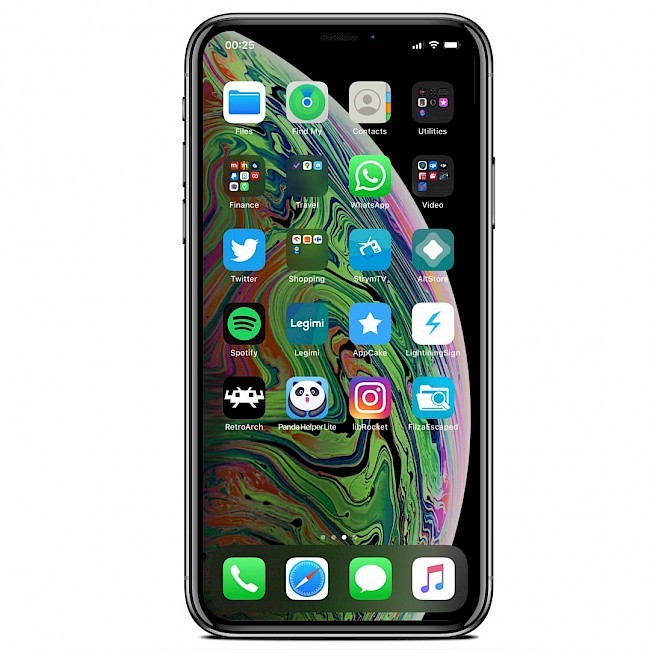 Instagram Rocket Repo
You are just a few steps from installing the tweak from Cydia Sources. To add Instagram Rocket Repo to your list of Cydia Sources follow our step-by-step guide.
Step 1. Open the Cydia app on your device.
Step 2. Tap Sources → Edit → Add the official Instagram Rocket Repo.
Step 3. Switch to Search Tab and enter Instagram Rocket.
Step 4. Tap the Install button.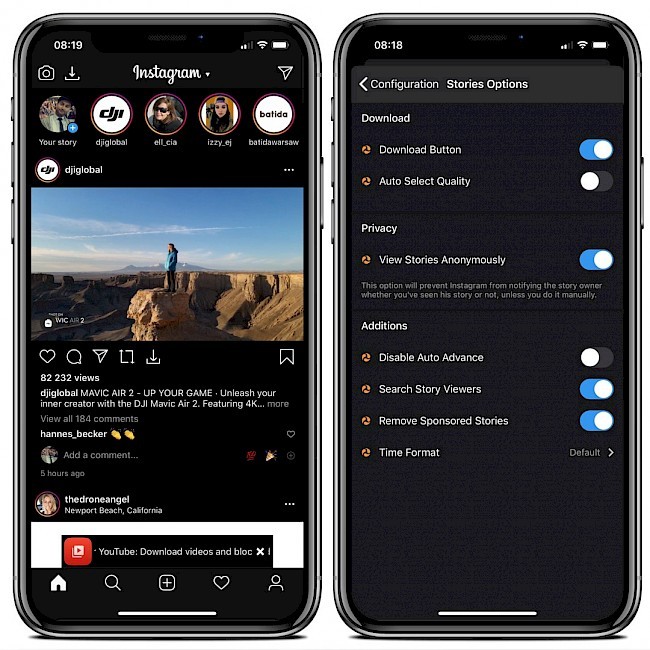 Install Instagram Rocket without a computer
If you don't own a computer you can install Instagram Rocket tweak with web links. This method uses an enterprise certificate that can be revoked. It means that the tweak will stop opening. If the links are not working, try again in the next 24h.
Click on the direct download links from Safari to install Instagram Rocket.
Download Instagram Rocket via PandaHelper
Download Instagram Rocket via IgnitionApp
Download Instagram Rocket via AppValley
Download Instagram Rocket via TopStore
Download Instagram Rocket via iOSNinja
Download Instagram Rocket via iOSGods
Open Settings → General → Device Management and trust the Certificate.
Changelog
Version 3.7.3
Added compatibility for Instagram v145.0.
Version 3.7.0
Fixed stories not showing in grid feed.
Fixed video calls failing constantly.
Fixed deep links not working.
Reduced tweak size by 25%.
Other bug fixes and stability improvements.
Version 3.6.16
Added support for Instagram v138.0.
Frequently Asked Questions
How to get Instagram Rocket?
In order to get Instagram Rocket app, you need to download the latest IPA file and install it via AltStore or any other signing software. You can also install Instagram Rocket on jailbroken devices via Cydia. In this ,case the update will appear in Cydia Updates whenever there's a new version available.
Is Instagram Rocket safe?
Using Instagram Rocket on iOS is absolutly safe. Of course, you should be aware that there is always a risk when using this kind of tweaks to get your account banned. However, from my experience the application is safe to use no matter if you are jailbroken or not.
How to remove Instagram Rocket ads?
In order to remove the displayed ads, you have to buy the PRO version of Instagram Rocket. Navigate to the settings page of the tweak and you'll find an option to upgrade to the PRO version. On jailbroken devices, you can finds hacks to disable ads displayed in the app.
How to update Instagram Rocket?
You can easily update Instagram Rocket to the latest version from our website. If you using Cydia to install the tweak you will be prompted from the package manager about the new release. If you signing the app with IPA files it's required to re-install to the newest version.
Why won't Instagram Rocket download?
When you try to download Instagram Rocket without a computer using weblinks it can happen that the app will not open. The certificates can be revoked and therefore you need to try again in the next hours or on the next day. Sideload the IPA file to make it work every time.
What is better - Instagram Rocket vs Instagram++?
Both apps offer more or less the same features, but Instagram Rocket receives regular updates and is always updated. Instagram++ has been abandoned for several months now and it works on an older version of Instagram app.
How to delete Instagram Rocket?
If you installed Instagram Rocket via AltStore, you can simply delete the app from the Home screen just like any other app. Once deleted, you can install the official Instagram app from the AppStore. On jailbroken devices go to your list of packages in Cydia, open Instagram Rocket, and remove it from there.
You might also like