Abraham Masri created Houdini app allowing users to jailbreak their devices running on iOS 10 - 10.3.2 and iOS 11 - 11.3.1. Houdini Jailbreak doesn't install Cydia app, it was not meant to be a full jailbreak. Download Houdini Jailbreak without a computer on iPhone and iPad or sideload the IPA file manually.
---
What is Houdini Jailbreak?
Houdini Jailbreak is a free tool to semi jailbreak iOS 10-10.3.2 and iOS 11-11.3.1 devices using exploits by @i41nbeer. Cydia is not installed. I was created as a PoC to learn about the iOS file system structure and how far iOS can de modify without a full jailbreak) but then it turned into a project for everyone.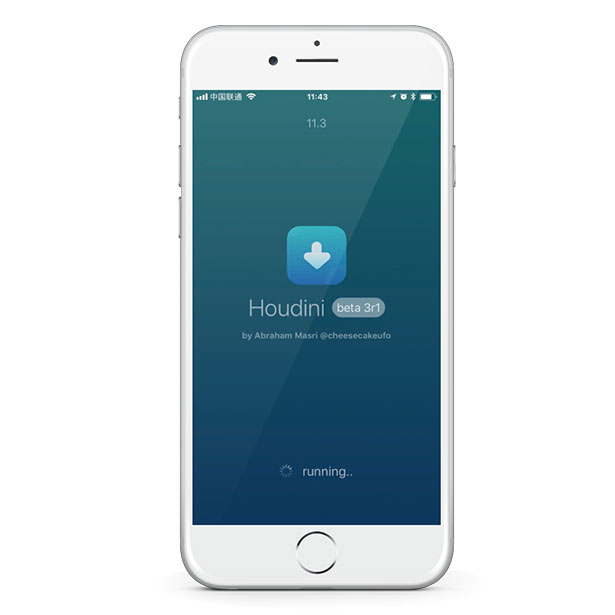 Houdini Beta 3 is the newest version of the iOS 10 - 11 Jailbreak tool for Apple devices. The jailbreak installs its own package manager and lets you customize your iPhone outside of stock parameters with a handful of built-in features. Houdini can add new features and themes to iOS without jailbreak.
From the tool, you can apply themes to app icons, clear all app caches, hide app labels, install themes from Cydia sources, and theme Control Center and music controls.
Download IPA
Download Houdini IPA file and sign it using Cydia Impactor (Windows, Linux, Mac) and sideload the app. We provide a full step-by-step guide on How to use Cydia Impactor to install IPA files on iOS.
Step 1. Download Cydia Impactor (broken), and unzip the file.
---
Alternatively, sign the IPA using AltDeploy on Mac or any Cydia Impactor alternative for Windows.
---
Step 2. Download Houdini.IPA (2 MB).
Step 3. Open Cydia Impactor and navigate to Device → Install Package.
Step 4. Select the Houdini.ipa file to install.

Step 6. Enter your AppleID and app-specific password to sign apps not provided by Apple.
Step 7. Add the certificate to trusted from Settings → General → Device Management.
Step 8. Open Houdini app and tap Start.
Install Houdini Jailbreak without a computer
Step 1. Install Panda Helper Store.
Step 2. Navigate to the Utilities category.
Step 3. Install Houdini Jailbreak (release 1, 2, or 3) on your iOS device.
Step 4. Lunch Houdini from Home Screen and tap Start.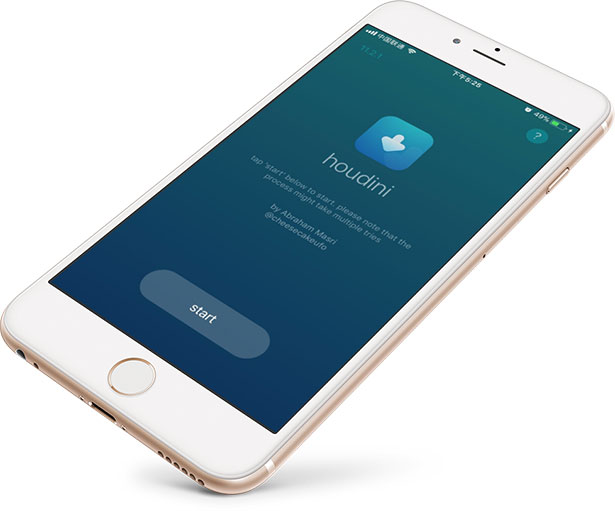 Changelog
First release - iOS 10 to iOS 10.3.2
Second release - iOS 11 to iOS 11.1.2 (Ian beer exploit)
Third release - iOS 11.2 to iOS 11.3.1
You might also like