HomePlus is a beautifully designed jailbreak tweak to manage home screen layout on iOS 13, iOS 12, and 11. Download HomePlus Beta from official Cydia Repositories and change the icon layout on your iPhone, iPad, or iPod. Definitely this is a much better option than using Cuboid or Boxy tweaks.
---
What is HomePlus?
HomePlus is a dynamic, live icon configuration tool for all Apple decides including those running on the newest version of iOS 13. The tweak is packed with similar features that you can find in Cuboid or Boxy. Hide icon labels and badges, change vertical and horizontal padding, define new offset, etc.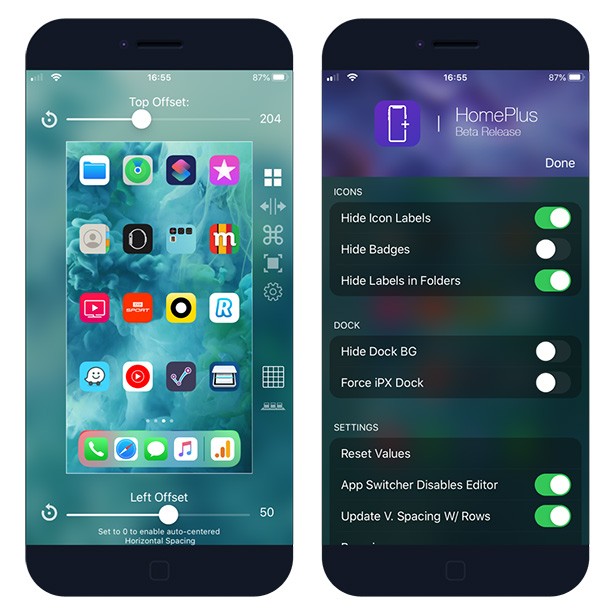 Moreover, from the tweak settings, you can easily reset all values and come back to the default iOS layout, hide labels in folders, and set a number of home screen columns and rows. To activate the HomePlus tweak it's required to drag down from the top left corner on the screen.
From options pane available in the Settings app you can also enable the gesture to activate the tweak from dragging up from any place on the screen. HomePlus provides a live preview feature. You can drag the sliders to change values or for precise settings you can enter a number to apply.
Recent versions include also the option to hide dock background and force iPX dock. The main editor is packed additionally with icon scale change, a new grid, and a dock editor.
HomePlus Repo
You are just a few steps from installing the tweak from Cydia Sources on a jailbroken iOS device. To add HomePlus Repository to your list of Cydia Sources follow our step-by-step guide.
Step 1. Open the Cydia app on your device.
Step 2. Tap Sources → Edit → Add the official HomePlus repo.
Step 3. Switch to Search Tab and type HomePlus.
Step 4. Tap the Install button.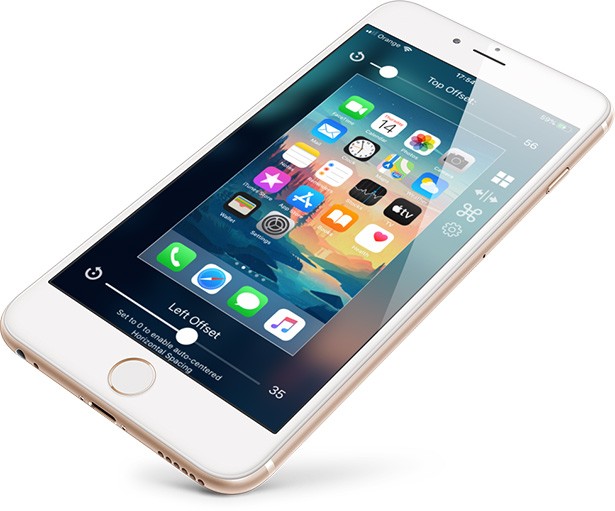 The tweak can be activated only from the home screen. The developer included also a preference pane of its own that is installed in the Settings app. HomePlus icon layout manager is available for free.
Changelog
Version 0.4.9
Fix FloatyDock Keyboard Issue
Fix other weird keyboard issues
Fix Giant Icon Bug
Fix for CarPlay? Try it out and let me know
Lots of code cleanup
Version 0.4.8
Fix FloatyDock/Dock Issues
Add Icon Transparency Support
Add "Disable Dock Config" Toggle
Version 0.1.9
added basic Docky tweak support
Version 0.1.4
fixes support for any other tweak that changes the number of icons in the dock
Version 0.1.2
Now with Independent Dock Configuration
And a ton more as well
You might also like