H3lix Jailbreak Download for iOS 10 / no computer
kuba - Tuesday, 23 July 2019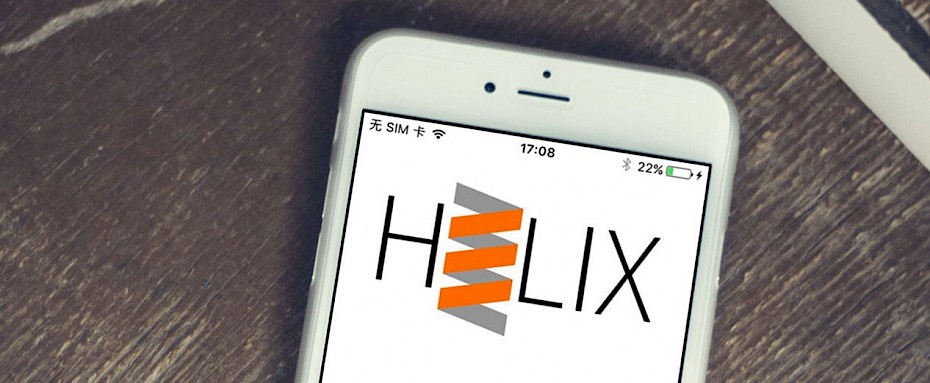 If you are running on iOS 10 and you like to jailbreak your iPhone or iPad a great option would be to install H3lix Jailbreak created by tihmstar and siguza. Download Helix IPA and sideload the app using Cydia Impactor or install the jailbreak tool without a computer.
---
What is Helix Jailbreak?
Helix (H3lix) Jailbreak is a free tool to jailbreak iOS 10 up to iOS 10.3.4 firmware on your iPhone or iPad. H3lix app is using V0rtex exploit for semi-untethered jailbreak. This means that after each restart of your device you need to re-jailbreak your Apple system.
Helix Jailbreak is available in two versions dedicated for 32-bit and 64-bit iOS system. Download H3lix RC5 with support for iOS 10 or later and it is compatible with iPhone, iPad, and iPod Touch running only on all 32-bit devices. After jailbreaking your device Helix will install Cydia app.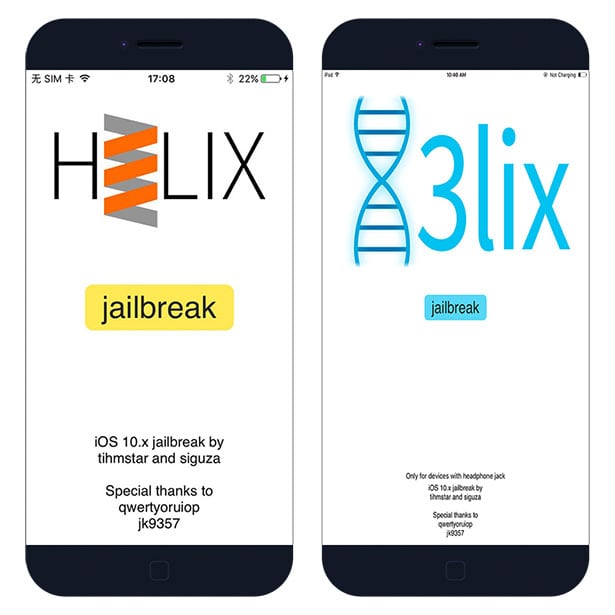 The second version of the jailbreaking tool is named doubleH3lix RC8 and it offers support for iOS 10 - 10.3.4 64-bit devices with the headphone jack (A7-A9). It offers the same features, it installs Cydia on your Apple device and allows you to access best Cydia Repos with tweaks, apps, themes, etc.
Install H3lix Jailbreak for iOS 10
H3lix Jailbreak supports all iPhone devices running iOS 10 - 10.3.4 firmware. Download H3lix Jailbreak (no computer) via 3rd-party AppStore without a PC or sideload the IPA file using Cydia Impactor. Select doubleH3lix IPA if you are running on iOS 64-bit devices.
Download Helix without a computer
Step 1. Install Panda Helper Store.
Step 2. Navigate to Utilities category.
Step 3. Install H3lix or doubleH3lix app on your iOS device.
Step 4. Lunch H3lix from Home Screen.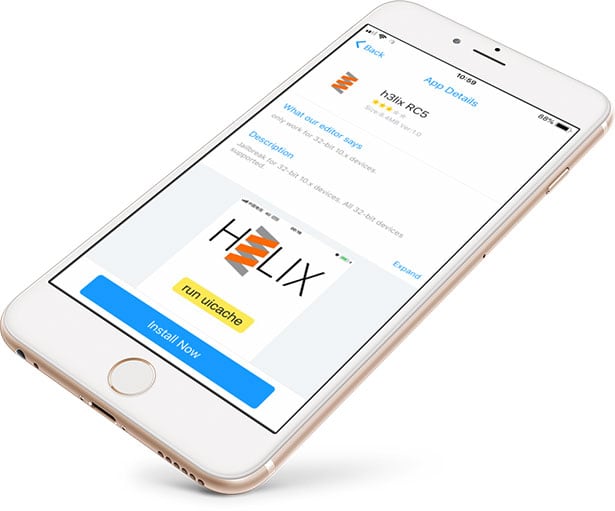 ---
Download Helix Jailbreak IPA
Download H3lix IPA file and sign it using Cydia Impactor (Windows, Linux, Mac) and sideload the app. We provide a full step-by-step guide on How to use Cydia Impactor to install IPA files on iOS.
Step 1. Download Cydia Impactor (broken), and unzip the file.
---
Alternatively, sign the IPA using AltDeploy on Mac or any Cydia Impactor alternative for Windows.
---
Step 2. Download H3lix (8 MB) or doubleH3lix (28 MB).
Step 3. Open Cydia Impactor and navigate to Device → Install Package.
Step 4. Select the H3lix.IPA or doubleH3lix.IPA file to install.

Step 6. Enter your AppleID and app-specific password to sign apps not provided by Apple.
Step 7. Add the certificate on iPhone to trusted from Settings → General → Device Management.
Changelog
RC6
added support for iOS 10.3.4
RC5:
fixed a bug related to programs requiring JIT
RC4:
fixed crash on patching amfi on iOS 10.0.2
RC3:
added support for iOS 10.2
only running exploit if system was up for at least 80 sec
running uicache manually form the app clears Cydia caches
RC2:
RC1: