FloatingDockPlus tweak adds a number of awesome new features to your iPhone dock. With this tweak, you can add dock gestures, change dock color, and define max (up to 15) dock icons. The Plus version brings also the multitasking features on unsupported devices, such as Split-View and Slide Over. FloatingDockPlus works only on iOS 12, and FloatingDockPlus13 supports the latest iOS 13.
---
What is FloatingDockPlus?
FloatingDockPlus is one of the best jailbreak tweaks available for iOS 12. Enabling this tweak you will have more iPhone dock control. Define dock gestures that allow you to open Notification Center, Control Center, App Switcher, invoking reachability and locking your device. For iOS 13 install FloatingDockPlus13 tweak.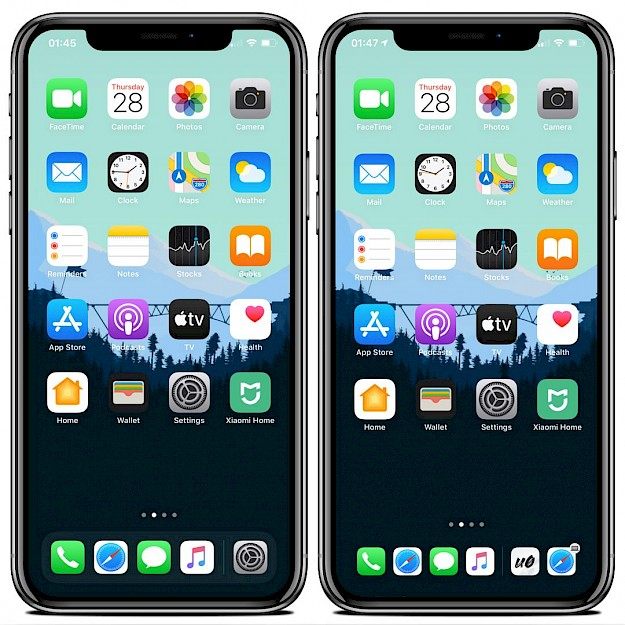 Moreover, you can access the dock by swiping up from any application. Navigating to Settings → FloatingDockPlus you can change the dock color, the number of icons, show recent apps, make dock transparent, and also enabling the dock in switcher feature. The new iPhone dock is also animated.
One of the most exciting options packed with FloatingDockPlus is adding support for iPad-only Split-View and SlideOver features, that enable better multitasking to iPhone users. The Split-View use two apps side by side, and SlideOver uses an app in a slider view, with access to the app when needed.
To use Split-View or SlideOver on your iPhone you need to slide the app icon from the dock to your Window. This will allow you to use the app in multitasking mode. Please install the latest update of libcolorpicker 1.6.3-1 and libsparkapplist 1.0.3 on A12 devices. Also supports vertical splitview like Android!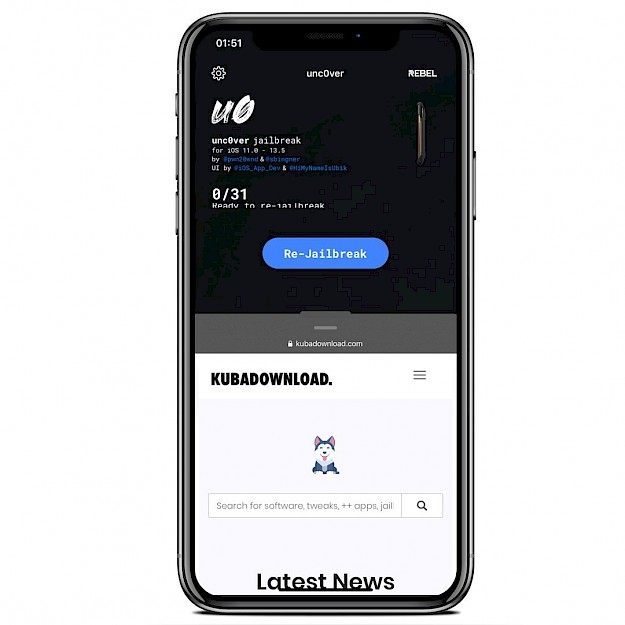 All FloatingDockPlus options can be configured from the preference pane, which is added to the Settings app after installation.
FloatingDockPlus allows you also to define blacklist apps that will not be used with these multitasking features. FloatingDockPlus tweak is available for $1.50. It offers full support for iOS 12 - 12.1.2. FloatingDockPlus13 works on iOS 13 and above.
FloatingDockPlus Repo
You are just a few steps from installing the FloatingDockPlus tweak from Cydia Sources. Add FloatingDockPlus Repository to your list of Cydia Sources. Install FloatingDockPlus for iOS 12 or FloatingDockPlus13 for iOS 13.
Step 1. Open Cydia on your iPhone.
Step 2. Tap Sources → Edit → Add the URL to official FloatingDockPlus Repo.
Step 3. Switch to Search Tab and type FloatingDockPlus or FloatingDockPlus13.
Step 4. Tap the Install button.
Step 5. Go to Settings → FloatingDockPlus to configure the tweak.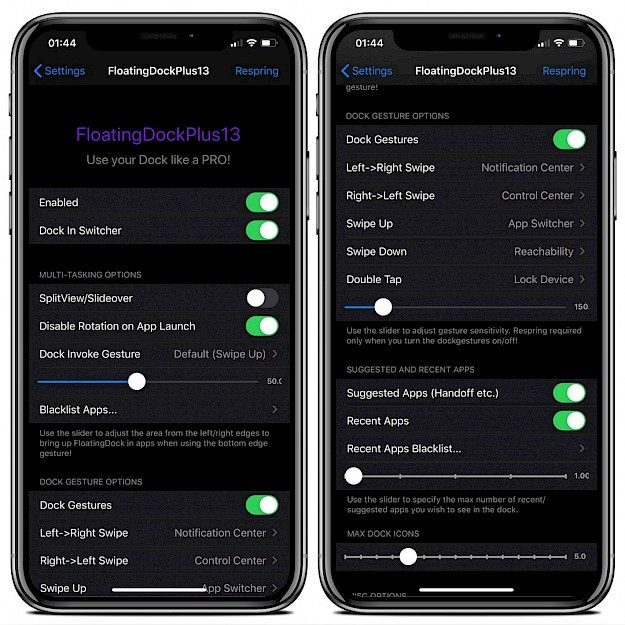 Changelog
Version 1.1.7
Fixed safemode crash while performing NotificationCenter gesture on iOS 13.4 and above
Version 1.1.6
Bottom Dock Invoke Gesture is now split into Bottom Left & Bottom Right to allow for Prysm Support!
Version 1.1.5
Fixed the app switcher gesture not working when the dock invoke method was default (Swipe Up)
Version 1.1.4
Added alternate bottom edge gesture to invoke dock in apps for multi-tasking!
Fixed safe mode crash when resizing all the way to the top/bottom in vertical split-view
Fixed slide-over app coming into focus when swiping on the keyboard
Hopefully fixed some app suggestions not showing-up properly
You might also like