FlekStore Pro is a premium service allowing you to install paid apps, ++ tweaks, emulators, and jailbreak tools on iPhone without a computer. The service is accessible for $16.99 per year and there is no free version available. A developer certificate for self-signing is included. Works with the latest iOS 13 firmware.
---
How to download FlekStore
FlekStore can be installed on your iPhone, iPad, iPod Touch device without PC or Mac. To install the app store proceed with our step-by-step guide.
Step 1. Open the FlekStore PRO or FlekStore Free webpage in Safari.
Step 2. Press the share button and choose "Add to Home Screen".
Step 3. Wait for the icon to load before adding.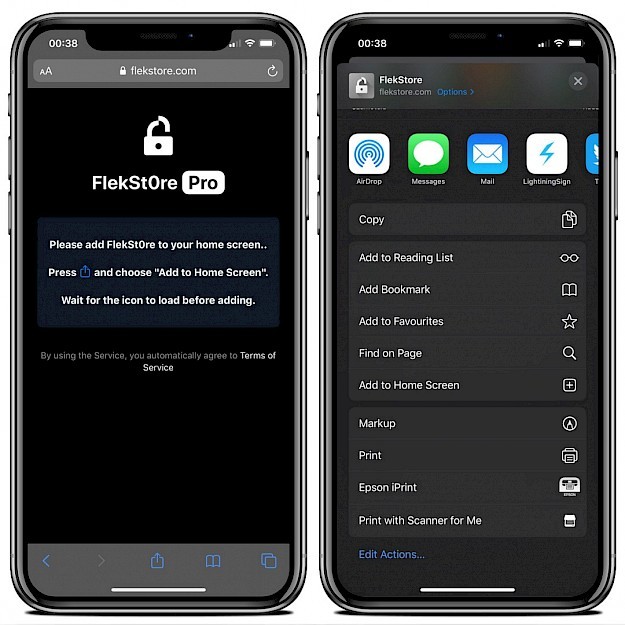 Step 4. Open the app and navigate to the Device section.
Step 5. Add the UDUD profile to your iPhone.
Step 6. Navigate on your iPhone to the Settings → General → Device Management.
Step 7. Install the new profile.
Step 8. Provide your UDID to the FlekStore App.
Step 9. Activate the store by buying the subscription.
What is FlekStore?
FlekStore (FlekSt0re) is a prepaid 3rd-party App Store for iOS 13 with access to ++ apps, tweaks, and jailbreak tools. All iOS apps can be installed directly on your device without the need to use a computer. The latest version of FlekStore Pro service offers also an option to sign your own IPA files with a developer certificate.
The service is based on the circumvention of Apple's rules regarding their application distribution policies. Therefore, Apple may revoke applications ahead of schedule (1 year). In this scenario, the developer will restore the apps for free if the revoke occurred before 180 days from purchase. After 180 days, you will get a discount for the next subscription activation.
FlekStore is packed with free apps and tweaks including Instagram++, YouTube++, Spotify++, MediaBox HD, and many others. Before you can install any app FlekStore Pro requires you to provide the device UDID and buy a one-year subscription.
The user can navigate through categories like social network, music, games, photo and video, emulators, movies and TV, tools, and jailbreak. FlekStore Pro offers access only to the most popular apps, hacks, and games. By default, the store comes in dark and white mode (switch the design from app settings).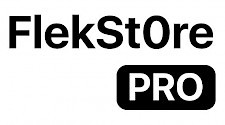 Best AppStore alternatives
1. AppCake App Store
AppCake is the only alternative for FlekStore in this suite that requires a jailbreak. To run the AppStore you need also to download additional AppSync Unified tweak allowing to install unsigned, fake-signed, or ad-hoc signed IPA packages on iPhone and iPad. The platform is revoke-free.
2. Panda Helper App Store
Panda Helper is a great FlekStore app replacement offering access to paid games and apps for free. Install the app store market on your iPhone without a computer. Navigate through categories, download apps, game modifications, jailbreaks, emulators, and more.
3. TutuBox App Store
TutuBox is a small store with access to the most wanted emulators, jailbreak tools, hacked games, and tweaked apps for iOS. Like all other stores also this AppStore uses a developer certificate to install apps and it can be easily revoked by Apple. Fortunately, there is a workaround that can work to fix this issue like with Zeus app.
4. Gbox App Store
GBox app is a free IPA signing tool allowing you to install any apps and games directly on your iPhone and without using a computer. This iOS application uses an enterprise certificate to install apps and it works with all packages. What's more, it offers a repository of popular console emulators and jailbreak tools for iOS.
5. iOSGoods App Store
iOSGods App is a free AppStore with access to cracked applications, and lots of game hacks for iOS. The platform is focused on game hacks and modifications allowing you to cheat and activate special features in games like additional money and lives, unlock weapons or infinite ammo, and lot more.
6. CokernutX App Store
CokernutX offers more than 5k+ programs and games. This is a great alternative for FlekStore and other apps mentioned in this list. CokernutX works with iOS 7, iOS 8, iOS 9, iOS 10, iOS 11, and obviously with Apple's iOS 12. All non-jailbreak devices are supported.
7. AppValley App Store
AppValley is a free 3rd-party store that can be used to download and install games and apps on mobile devices for free. The platform supports the iPhone's, iPad's, and Android devices. Using the free platform you have access to AppStore paid apps and games without charges.
8. CyrusHUB App Store
CyrusHub Mist is a new platform to install apps, tweaks, emulators, jailbreak tools on your iPhone, iPad, iPod devices without jailbreak. You can find here a few packages available in Cydia Repositories and install them on iOS 12. No computer required.
Frequently Asked Questions
Is FlekStore safe?
FlekStore for iOS is free and absolutely 100% safe to use the AppStore. It doesn't require Jailbreak, it will not spy your activity. You can install the app without a negative effect on the iOS system. The AppStore is legal offering access to tweaks and apps, not available in AppStore like PPSSPP, iNDS, Moviebox, Happy Chick, GBA4iOS, and more. Using the app is legal but, it offers also cracked apps.
Is FlekStore available for Android?
FlekStore is not available for Android devices. If you see a website providing the AppStore for Android it's fake. FlekStore was developed only for iOS and it works only this platform on supported devices. Android devices are not supported.
Can I download hacked iOS games?
Yes, FlekStore offers access to the most popular hacked games for free. Be aware, that hacked games are illegal to download. For the moment there are only about 20 game hacks available. If a hack is not available try a different AppStore.
Why FlekStore isn't working?
FlekStore as all other stores uses a developer certificate to install IPAs on your iPhone. Those certificates are monitored by Apple and they get often revoked. It means that you can't install apps until the developer provides a new certificate.
How to fix FlekStore?
If FlekStore is not installing or if it crashes when you try to open the app it's probably related to the certificate that was revoked by Apple. You can try to reinstall the AppStore or try to add a proxy that will allow you to run revoked apps on iOS.
You might also like