FilzaEscaped is now compatible with iOS 13 thanks to the Psychic Paper exploit implemented in AltStore. The exploit was fixed with iOS 13.5 beta release and if you like to use the Filza file manager on not jailed devices you still can if you are lower then 13.5. Download FilzaEscaped for iOS 13.4.1 and install the app with AltServer.
---
What is FilzaEscaped?
FilzaEscaped is a Filza file manager clone that can be used on not jailbroken devices. Quickly access copy, movie, delete functions, search files and folders, execute shell scripts and applications just in a few taps, or explore files in list view mode or grid view mode, with a thumbnail. Support all iPhones and iOS up to 13.4.1.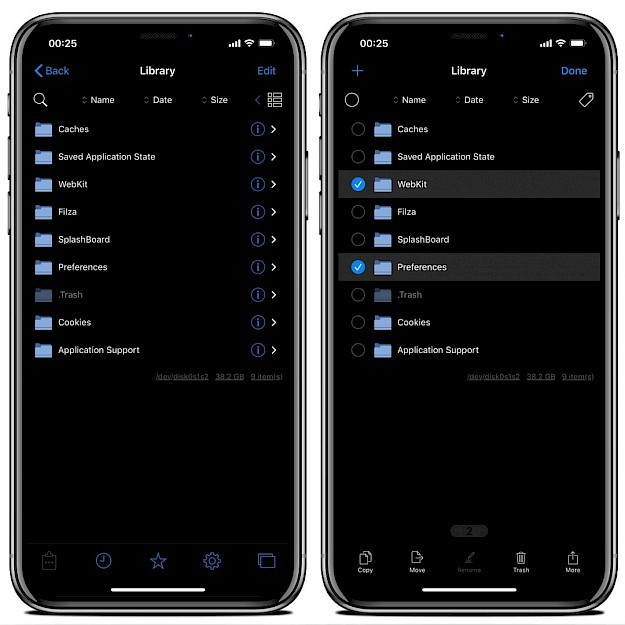 What's more, FilzaEscaped app is packed with file viewers including Media player, Hex editor, Text editor, SQLite Editor, IPA Installer, DEB Installer, Web viewer, Terminal, etc. Use the app to compress files to ZIP format, and decompress ZIP, 7, RAR, TAR, TAR.GZ, and GZ archives. FilzaEscaped can also extract DEB/IPA files, view DEB/IPA file information, download a normal file, and copy HTML link to Pasteboard.
FilzaEscaped can manage many items at once in the Pasteboard. View all copied file types and their locations or clear all data available in the clipboard with one click. Add to bookmarks favorite locations and view list of recently opened files.
Form the Preference pane you can define scrolling speed, show hidden folders and files, empty trash, or edit file associations with builtin viewers. FilzaEscaped offers advanced options like a select home directory, display folders details and file sizes, add recent to the toolbar, define favorite locations for quick navigation, select sort options, or activate security like use Touch ID or access password.
Use FilzaEscaped to manage apps, list all installed applications, uninstall or install apps, view office files (word, excel, PowerPoint, etc.), execute shell scripts and console app, or even create DEB files. The search engine can find files by type (image, size, type) or location. Additionally, you can backup all settings.
Download FilzaEscaped IPA for iOS 13
AltStore can install max 3 apps on your iPhone using the free certificate. Every 7 days after installing apps, you need to resign apps and send them to the AltServer (running on PC or Mac), which installs the resigned apps back to your device using iTunes WiFi sync (works also using a USB cable).
Step 1. Download AltStore and install the app on your PC or Mac.
Step 2. Open Safari and download FilzaEscaped IPA (14 MB).
Step 3. Select the downloaded FilzaEscaped IPA file version 3.4 to install.
Step 4. Tap on the share button available in the right corner.
Step 5. Select "Copy to AltStore" from available options.
Step 6. AltStore will start installing FilzaEscaped.
Step 7. The FilzaEscaped app will be available from your home screen.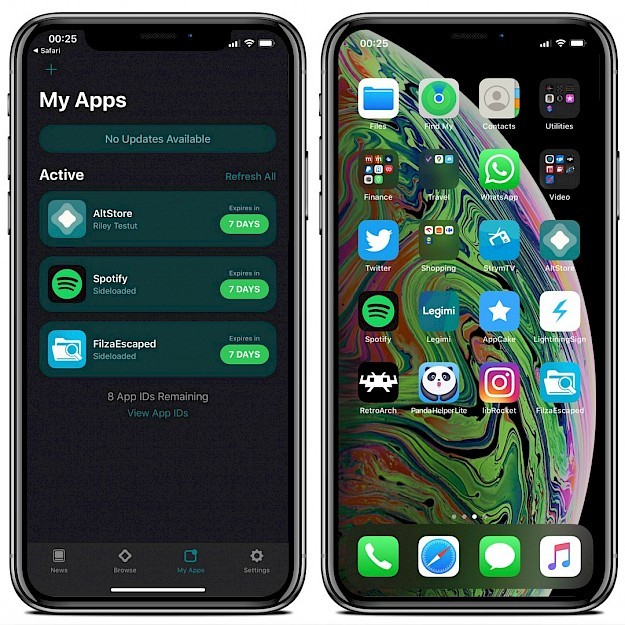 How to install FilzaEscaped
FilzaEscaped is was designed to work on devices running iOS 12 and iOS 13 without jailbreak. Install FilzaEscaped without a computer on your device. You will not access all features without Psychic Paper exploit available only with AltStore.
Step 1. Click Install FilzaEscaped for iOS 12.4 from your browser.
(mirrors: mirror 2, for A12 mirror 2, iOS Ninja)
Step 2. Tap Install on message prompt "would like to install FilzaEscaped".
Step 3. FilzaEscaped App Icon will appear on your Home Screen.
Step 4. Navigate to Settings → General → Device Management.
Step 5. Find the newly installed Enterprise App Certificate.
Step 6. Click on the certificate name.
Step 7. Trust apps from the developer to run on your iPhone.
Step 8. Allow access to your data and tap Trust.
Step 9. Run FilzaEscaped App from home screen.
Changelog
Version 3.7
Added support for all iPhones and iOS up to 13.4.1.
You might also like