Filza app is the most advanced file manager created for iOS devices. The powerful file manager is compatible with iPhone, iPad, iPod Touch offering a lot of useful features. It is packed with cloud services, file viewers, compressors, support for shell scripts, an option to install IPA, and more. Works on iOS 13.7 on all devices.
---
What is Filza?
Filza App for iOS 13 is the all-in-one solution to manage your files on jailbroken devices. Quickly access copy, movie, delete functions, search files and folders, execute shell scripts and applications just in a few taps, or explore files in list view mode or grid view mode, with a thumbnail.
Moreover, the file manager is packed with file viewers including Media player, Hex editor, Text editor, SQLite Editor, IPA Installer, DEB Installer, Web viewer, Terminal, etc. Filza supports SMB (Windows File Sharing) and cloud services like Dropbox, Box, Google Drive, WebDAV, FTP, or SFTP.
Using the app you can also compress files to ZIP format, and decompress ZIP, 7, RAR, TAR, TAR.GZ, and GZ archives. Filza app can also install and extract DEB/IPA files, view DEB/IPA file information, download a normal file and copy HTML link to Pasteboard, and paste it to the destination folder.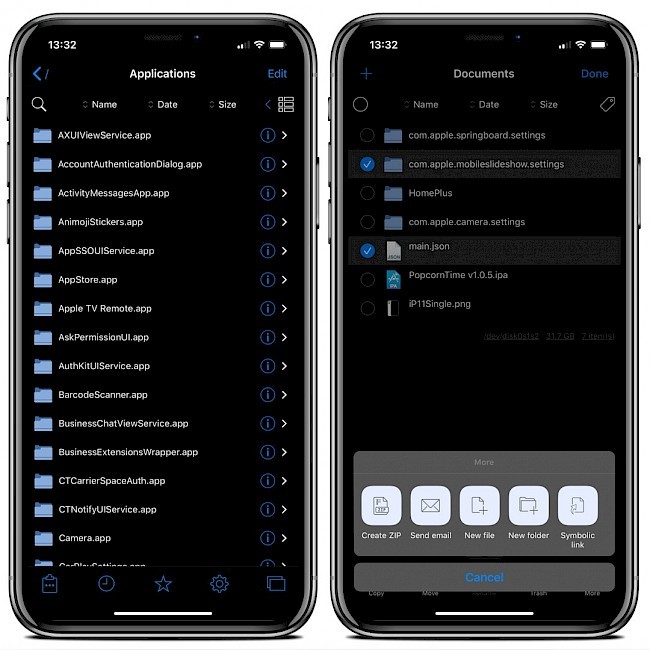 Filza's Pasteboard allows you to save and manage many items at once. There is also an option to view all copied file types and their locations or clear all data available in the clipboard with one click. The File Manager for iOS 13 offers also bookmarks to favorite locations and a list of recently opened files.
The developer provided also a lot of configuration options available form the Preference panel. Users can define scrolling speed, show hidden folders and files, empty trash, enable WebDAV server and set authentication password and running the port, or edit file associations with builtin viewers.
Filza App comes also with some advanced options like a select home directory, display file sizes, show application name, display folders details, add recent to the toolbar, define favorite locations for quick navigation, select sort options, or activate security like use Touch ID or access password.
There are more options available. Add and configure storage services, define default temp and download directory, select one of five available icon themes for folders and files, configure font size, and backup all settings to .fzs file format and open the file to restore all settings.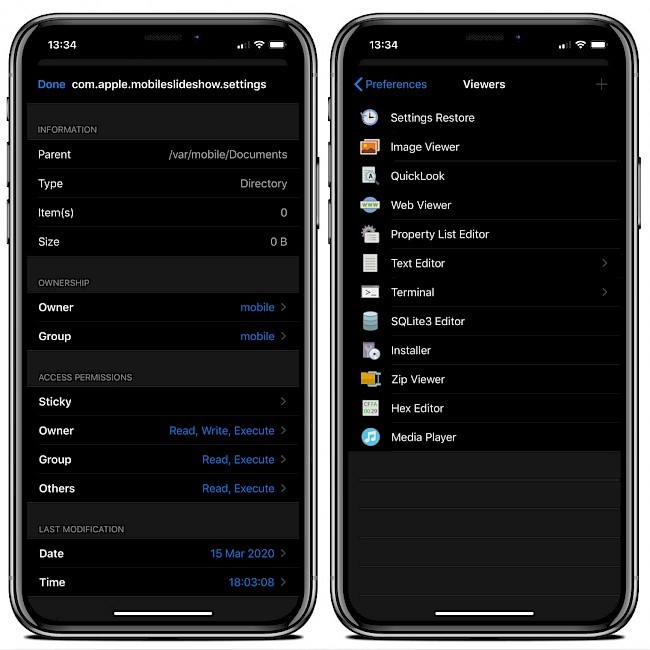 Use Filza to create manage apps, list all installed applications, uninstall or install apps, view office files (Word, Excel, PowerPoint, etc.), execute shell scripts and console app, or even create DEB files. The search engine can find files by type (image, size, type) or location.
Filza app from TIGI Software is available as a trial version. The iOS file manager is compatible with iOS 7 - iOS 13. The commercial package is available for $5.99 (license for 5 devices).
Add Filza Repository to Cydia
You are just a few steps from installing the tweak from Cydia Sources. Add Filza Repository to your list of Cydia Sources.

Step 1. Open the Cydia app on your device.
Step 2. Tap Sources → Edit → Add the official Filza App Repo - BigBoss repo.
Step 3. Switch to Search Tab and enter Filza.
Step 4. Tap the Install button.
Download Filza Escaped?
Filza Escaped is an enhanced version of Filza file browser and was designed to work on devices running iOS 13 without jailbreak. Install Filza Escaped without a computer on your device or download FilzaEscaped IPA for iOS 13.4.1.
Step 1. Click Install Filza Escaped for iOS 12.4 from your browser.
(mirrors: mirror 2, for A12, for A12 mirror 2, iOS Ninja)
Step 2. Tap Install on message prompt "would like to install Filza Escaped".
Step 3. Filza Escaped App Icon will appear on your Home Screen.
Step 4. Navigate to Settings → General → Device Management.
Step 5. Find the newly installed Enterprise App Certificate.
Step 6. Click on the certificate name.
Step 7. Trust apps from the developer to run on your iPhone.
Step 8. Allow access to your data and tap Trust.
Step 9. Run Filza Escaped App from home screen.
If you have a problem installing Filza Escaped from our link you can also try alternative options and find the app via popular Cracked App Stores. Free Filza Escaped is available via Ignition App, TweakBox App, Panda Helper, or AppValley. Usually when the download will not start simply try again later.
Changelog
Version 3.8.0
Updated: Image Viewer can view images inside CAR file
New Scripts feature: supports iOS 8 and newer
Context menu (iOS 13 and newer)
Updated WebDAV server and web interface
Updated Zip viewer: Supported AES encrypted zip, rar files
Updated default theme icons
Version 3.7.4
Fixed search indicator on iOS 13
Added support for iOS 13.5
Fixed a bug for alert view
Fixed a bug for music library
Correct free space
Fixed crashing on long press on free space on iPad
Fixed security options
Version 3.7.2
Supported dark mode on iOS 13
Better animations and file viewers
Bug fixes and UI enhancements
With syntax highlighting for a text editor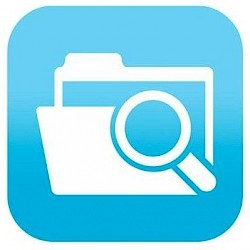 How to install IPA files using Filza App
Filza File Manager can be also used to install IPA and DEB files on your iPhone, iPad, iPod Touch running the newest version of iOS 13. Combining this feature with AppSync Unified you will be able to install unsigned, fakesigned, or ad-hoc signed IPA packages on a jailbroken iOS device.
Step 1. Open IPA file in Safari browser.
Step 2. After it is downloaded select Copy file to Filza.
Step 3. The file will appear in the Documents folder.
Step 4. Click on the IPA file to display all details about the app.
Step 5. Tap on Install to extract IPA file.
Step 6. Run the app from the home screen.
You might also like