There are a lot o Cydia Impactor alternatives allowing you to sing and install IPA packages on iOS devices, but there are just a few working without a computer. ESign app is an on-device signing tool for iOS that works without jailbreak and what's more, the application can be installed through the TestFlight app.
---
Install ESign on iOS
Step 1. Install the TestFlight app from the AppStore.
Step 2. Tap the install button from Safari.
Step 3. ESign app Icon will appear on your Home Screen.
Step 4. Run ESign app to start signing files.
What is ESign?
ESign (Easy Sign) app is a free iOS application allowing users to sign and sideload IPA files directly on the device and without using a computer. Import IPA files to Dylibs to the app and signs them with a p12 certificate and mobileprovision file. when you buy a not pirated certificate your apps will work without revokes.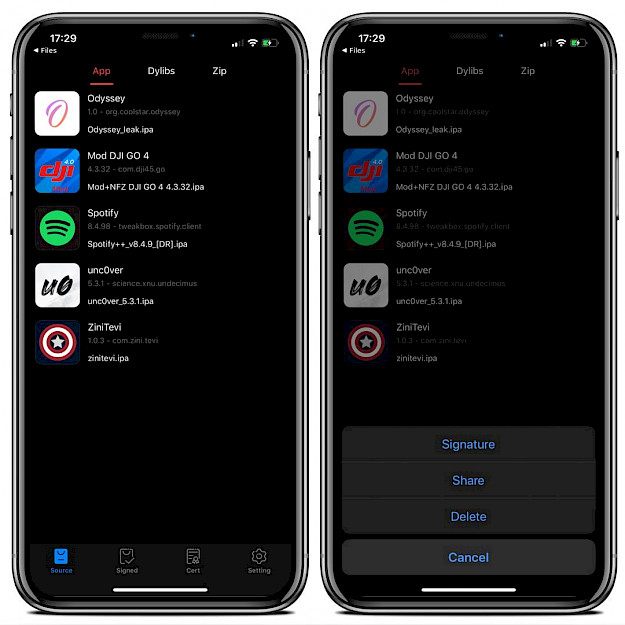 Using the on-device signing tool for iOS is extremely easy. First, you need to import your certificate to the app by downloading it in the Safar Browser and next sharing it to the ESign app. Importing IPA files requires the same method.
From the main pane of the Easy Sign application, you can navigate through sources, signed apps, installed certificates, and settings. ESign app was tested to work on iOS 13 but you can also try to run it on other firmware versions.
It works on almost all devices including iPhones, and iPads.
Easy Sign Service success rate is 100% comparing to similar tools and it works with large files. The only downside is that you need to find a certificate and buy it. If you will not install a certificate used for piracy you can forget about app revokes.
The latest version adds support to download ZIP and IPA. What's more, now with ESign you can also extract IPA packages or display device UDID. There is also support for importing any file from and extracting files from App.
This is one of the best Cydia Impactor alternatives that can install IPA files directly on your device using your own certificate. It works without a PC.
How to import IPA files
ESign app doesn't offer any dedicated button to import IPA files or certificates. No worries, there is a simple way to import IPAs to Easy Sign app using the built-in iOS share feature. This method can be also used to import valid certificates, etc.
Step 1. Select the downloaded IPA from iCloud.
Step 2. Tap on the share icon and send it to ESign app.
Step 3. Click on the "Send to ESign" blue button.
Step 4. The imported IPA file will be available from the Source list.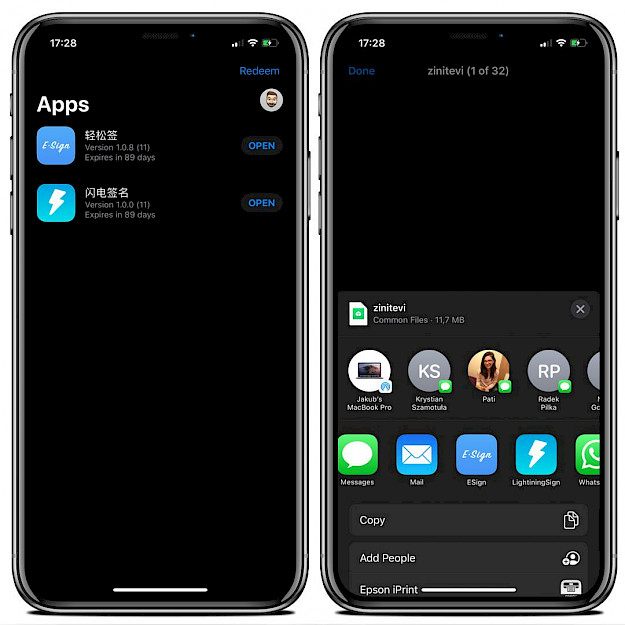 Frequently Asked Questions
Is ESign app safe?
Yes, installing the ESign app on your iPhone is 100% safe. Easy Sign doesn't contain any malware software that can harm your device. There is also no other risk of installing this on-device signing tool on iOS.
Why ESign isn't working?
ESign doesn't work without a valid certificate. To fix this issue it's required to import a developer certificate to the application. Without a certificate, you can't sign IPA files on your iPhone. TestFlight offers limited users access to the app.
How long ESign app works?
When you install Easy Sign through the TestFlight app you can run the tool for 90 days. When the app expires it's required to reinstall it again on your device. You can check the app status from the TestFlight application.
Is Easy Sign free?
Yes, the ESign was released for free to use, and all apps and games are installed free as well. The certificates are not provided by the developer, and they are usually available for a few dollars. No jailbreak required.
You might also like