Deezer is a popular music streaming platform available for free. When you like to access more features including unlimited skips, offline music, and no ads it's required to use a paid subscription plan. Discover how to download Deezer++ and activate Premium account for free.
---
What is Deezer++?
Deezer++ is a tweaked version of Deezer app for iOS devices. It allows you to access everything that offers the premium version of Deezer including disabled ads, no forced shuffle, unlimited skips, enabled extreme quality stream and the option to listen to music offline.
Discover how to activate Deezer Premium with Deezer++ hack.
What are Deezer Premium features?
Unlimited skips
Play music offline
Display lyrics
No ads interrupting music listening
Enable extreme music streaming quality
Deezer++ app offers a lot of useful features. Listen to popular playlists, explore music by genre and mood, search for favorite songs and artists, access new albums, stream music to AirPlay devices and more. The app offers also support to display lyrics. All iOS devices are supported.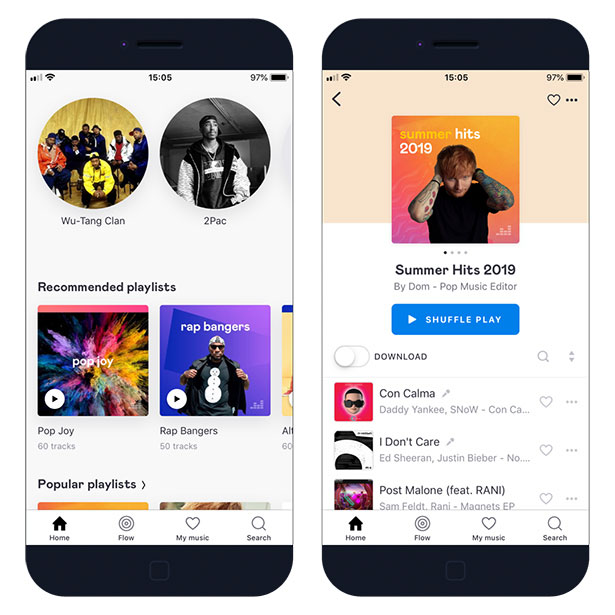 Before we will start be informed that using Deezer ++ app is absolutely safe. You can download and install the ++ music platform and then switch to standard Deezer version without any complications. If you use the premium features you need to buy the subscription but with ++ version you can access for free Deezer Premium account. Using one of the three methods your Deezer ++ will not be banned.
Be sure to remove the original Deezer.app from your system before you will get Deezer++ Premium installed on your iPhone without a computer. Moreover, you don't need to jailbreak your device to access the paid features for free and you can login with your standard account.
How to install Deezer Premium for free
If you don't own a PC you can also try to install Deezer++ with web links. This method uses an enterprise certificate that is regularly revoked by Apple. It means that the Deezer++ will stop opening. We provide for you mirrors for Deezer free. If the links are not working, try again in the next 24h.
Step 1. Click Install Deezer++ Premium from your browser.
(mirrors: Panda Helper)
Step 2. Tap Install on message prompt "ignition.fun would like to install Deezer++".
Step 3. Deezer++ Premium Icon will appear on your Home Screen.
Step 4. Navigate to Settings → General → Device Management.
Step 5. Find the newly installed Enterprise App Certificate.
Step 6. Click on the certificate name.
Step 7. Trust apps from the developer to run on your iPhone.
Step 8. Allow access to your data and tap Trust.
Step 9. Run Deezer ++ app and login to your account.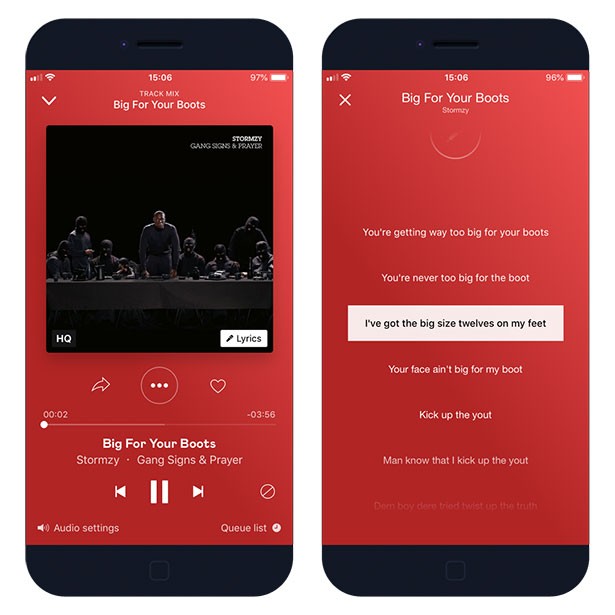 When you completed all step your cracked Deezer app should be installed correctly on your iPhone. After Deezer++ will be downloaded you can't run the app. An Untrusted Developers Message will appear and it's required to complete all tasks from Step 4 in our guide above.
If you have a problem installing Deezer++ from our link you can also try alternative options and find the app via popular Cracked App Stores. Free Deezer Premium is available via CyrusHub, TweakBox App, Panda Helper, or AppValley. Usually when the download will not start simply try again later.
Download Deezer++ IPA
AltStore can activate max 3 apps on your iPhone using the free certificate. Every 7 days after installing apps, you need to resign apps and send them to the AltServer (running on PC or Mac), which installs the resigned apps back to your device using iTunes WiFi sync (works also using a USB cable).
Step 1. Download AltStore and install the app on your PC or Mac.
---
Or use any other Cydia Impactor alternative for Windows or macOS.
---
Step 2. Open Safari and download Deezer.IPA for AltStore (94 MB) or Deezer++ IPA.
Step 3. Lunch AltStore and navigate to "My Apps" section.
Step 4. Tap on the + button available form the left-right corner.
Step 5. Select downloaded Deezer++.IPA file to install.
Step 6. AltStore will start installing Deezer++ Premium Free.
Step 7. The Deezer ++ app will be available from your home screen.
To prevent apps from expiring, AltStore can refresh apps in the background when using the same WiFi network as AltServer. The installed app will be not revoked in the least expected moment thanks to manual installation using your free Apple certificate. Remember that your PC must be on to sing IPAs.
Install Deezelife hack from Cydia Repository
On jailbroken devices, you can easily forget about revokes and the need to reinstall Deezer Premium Free app. Deezelife is a cracked by Julioverne hack that provides premium Deezer features for free on the original app. The features include unlimited skips, no ads, and extreme music quality.
Get premium Deezer free installing the free hack modification from Cydia Sources.
Step 1. Download Deezer from AppStore.
Step 2. Login to your Deezer free account.
Step 3. Add HackYouriPhone Repository to Cydia Sources.
Step 4. Open Cydia app and switch to Search Tab.
Step 5. Type Deezelife and install the tweak on your iPhone.
Step 6. Run cracked version of Deezer from your home screen.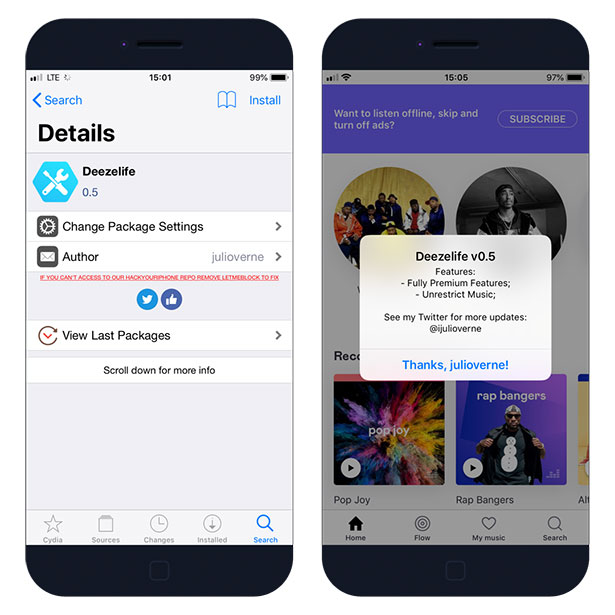 Deezer Premium Plans
Deezer is available in 3 plans subscription. Free, Premium, and Family. All paid subscription plans offer an option to download music, get unlimited skips, and play music offline. Activate Deezer Premium feature for a 30-day trial subscription for free in Premium Plan.
Deezer Free 1 account / free
56 million tracks
Shuffle Play
Deezer Premium 1 account / $9.99 per month
56 million tracks
No ads
Get unlimited skips
Offline Mode
Deezer Family 6 accounts / $14.99 per month
56 million tracks
No ads
Get unlimited skips
Offline Mode
6 profiles
You might also like