Cydia app is the legendary package manager created by Jay Freeman in 2008 for iOS and it's still constantly being developed for the newest version of Apple system. Download Cydia and install 3rd party apps, tweaks, additional libraries, widgets, themes that are not available in the App Store. Works also on iOS 13.
---
What is Cydia app?
Cydia provides a graphic user interface for jailbroken devices to install new packages using Advanced Packaging Tool (APT) repositories. It is one of the most popular package managers working on iOS 4 up to iOS 13.6. The name comes from codling moth which is the proverbial "worm in the apple".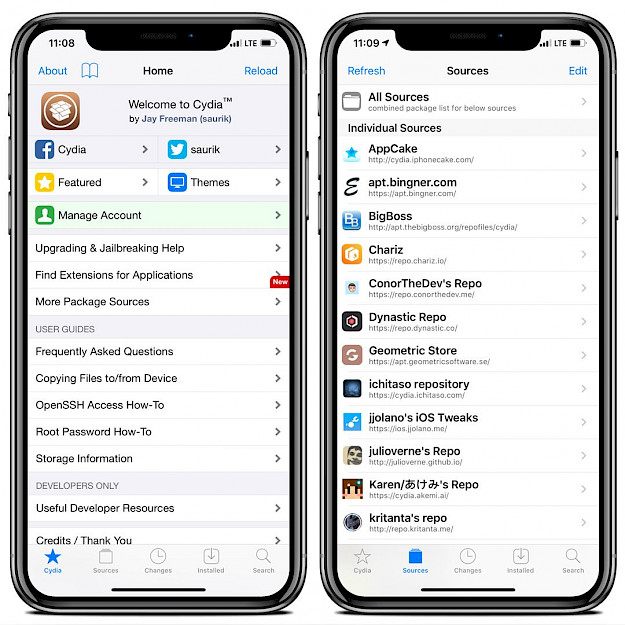 The packages available in the App Store are installed via Cydia Sources. You can access and download free applications or purchase modifications for jailbroken iPhone. Within the app, you can easily add new repositories, refresh all sources, search for apps, manage installed packages, etc.
To download Cydia it's required to jailbreak your device in the first place. There is no option to use the package manager on non-jailbroken iOS devices. Cydia app works stable and it's installed by default by many popular Jailbreak Tools. Depending on your iOS version you need to choose the right tool.
How to download Cydia app
Cydia can be downloaded on various versions of iOS. The app is not available in AppStore and it is installed on your device using a jailbreaking tool. Below you can find the list of popular jailbreak tools to install Cydia app on iPhone, iPad, and iPod Touch. Select the right tool for your iOS version.
Cydia app on iOS 12 - iOS 13 and newer
checkra1n is an ultimate jailbreak tool with support for most generations of iOS devices starting from iPhone 4S (A5 chip) to iPhone 8 and iPhone X (A11 chip). All of the devices mentioned are jailbreakable for their entire lifetime. This means every present iOS version and versions that will come in the future.
Cydia app on iOS 12 - 13.5
To download Cydia on iOS 12 it's required to jailbreak your device using a tool like unc0ver. The jailbreak process of iOS 12.0, 12.1.1, 12.1.2, 12.1.3, 12.1.4, 12.2, 12.4, 13, and 13.5 takes just a few seconds. unc0ver uses Cydia Substrate, the powerful code modification platform behind Cydia.
Cydia app on iOS 11 - 11.4.1
Pwn20wnd's uncover supports also all Apple devices running on iOS 11.1.1, 11.1.2, 11.2.1, 11.2.5, 11.3.1, 11.4, and 11.4.1. The default package manager installed after the jailbreak is Cydia. If you prefer other jailbreak tools there is also alternative software like Electra offering similar features.
Cydia app on iOS 10 - 10.3.3
There are many more tools to jailbreak iOS 10. Yalu Jailbreak offers support for iOS 10 up to 10.2 and installs Cydia app on your iPhone, iPad, and iPod Touch. H3lix Jailbreak is another tool to download Cydia for iOS 10 - 10.3.4. g0blin Jailbreak is using exploits to Jailbreak iOS 10.3 - 10.3.3.
Cydia app on iOS 9.3.5 - 9.3.6
Phoenix Jailbreak is the first semi-untethered jailbreak for all 32-bit devices on iOS 9.3.5 / 3.3.6. After jailbreaking the device it installs Cydia app. PanGu jailbreak is a free app allowing you to exploit iOS 9.2 - 9.3.3 and install Cydia on iPhone, iPad, and iPod Touch.
Cydia app on iOS 9.2 - 9.3.3
PP Ghost is a free tool to jailbreak devices like iPhone 3GS, iPhone6s Plus, iPad, iTouch 3, iTouch with an installed iOS system from version 9.2 to iOS 9.3.3. Jailbreak is the process of allowing users of the smartphone, tablets that running iOS to attain privileged control over various iOS subsystems.
Cydia app on iOS 8.1.3 - 8.4
TaiG Jailbreak Tool is a free application for Windows and Mac allowing users to jailbreak iOS 8.1.3 - 8.4 devices and install Cydia package manager.
Cydia app on iOS 7.1 - 7.1.2
PanGu is the right tool to download Cydia package manager with support for iOS 7.1 - 7.1.2. The free jailbreak tool is available for Windows and Mac users only.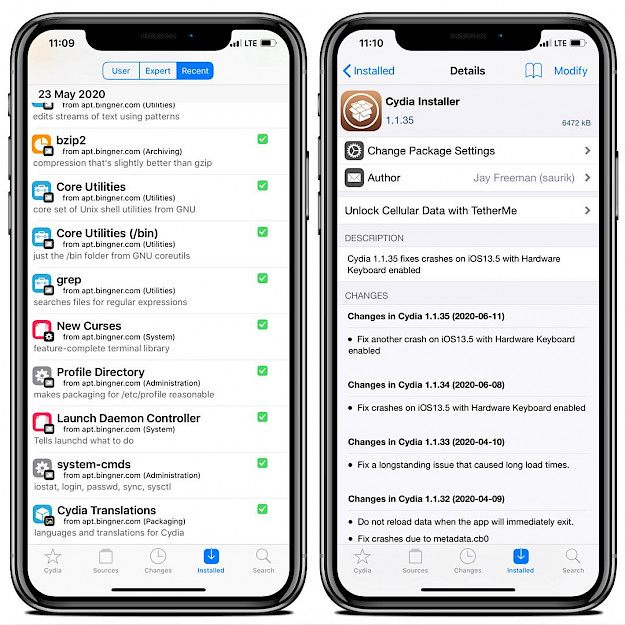 Cydia app Alternatives
After you will download Cydia you can also consider installing other native package mangers to run on your iPhone or iPad. There are Cydia Alternatives like Zebra, Sileo, Installer, or Lime Installer that can be installed on a jailbroken device and some 3rd party App Stores that don't require a jailbreak.
How to remove Cydia app
Most of the jailbreak tools offer an option to remove Cydia from your jailbroken device. Succession is a free jailbreak tool to restore your iOS device back to stock. Succession (unlike iTunes) does this without updating the device so that after the restore, you are still able to jailbreak your device.
Changelog
Cydia app 1.1.36
Added support for iOS 14 Beta
Cydia app 1.1.35
Fixes another crash on iOS 13.5 with Hardware Keyboard enabled
Cydia app 1.1.34
Fixes crashes on iOS 13.5 with Hardware Keyboard enabled
Cydia app 1.1.33
Fix a longstanding issue that caused long load times
Cydia app 1.1.32
Do not reload data when the app will immediately exit
Fix crashes due to metadata.cb0
Prefill with https:// instead of http:// for adding repos
Prompt for network access on China region device
You might also like