CotoMovies download. Step-by-step guide
kuba - Saturday, 29 December 2018
CotoMovies is a free mobile platform to stream movies and TV Shows online and offline on all devices. Coto Movies supports iPhone, iPad, and Android and you can download it without Jailbreak or installing Cydia. Learn how to install Coto Movies on your iPhone device.
What is CotoMovies?
CotoMovies is a continuation of Bobby Movie, a free mobile streaming app for iOS and Android devices. You can use the app to download or stream video directly to your iPhone or TV. Coto Movies offers support for Chromecast, Airplay, Smart TV, Android TV Box, Web Browser, and Game Consoles.
It turns your iPhone into a small portable streaming movie device. Google Chromecast devices stream content from the app to Digital TV or TVs with HDMI Ports, AirPlay lets you stream video or mirror app screen from iOS devices to Apple TV, and Smart TV with Web Browser, you can watch stream from app sharing directly to TV's web browser.
CotoMovies was translated to languages like English, Arabic, Chinese, Dutch, French, German, Hebrew, Spanish, Swedish, and Norwegian. The watch offline feature available in the movie app will allow you to watch movies during travels without use of Internet connection.
You can easily access movies whenever you like. Moreover, Coto Movies can download subtitles for movies and TV Shows. If offers support for over 255 subtitles languages, and form settings you can set font size, subtitle delay, font color, download subtitles, and even load from file etc.
There is also an option to add movies to favorites for quick access, and watch movie trailers.
How to install CotoMovies on iPhone
The best and most convenient option to download and install CotoMovies is using a free platform like Tutuapp, AppValley, or Panda Helper. Select your favorite solution and go to mentioned pages to find all information about how to install and download those apps on your iOS or Android for free.
For purposes of this step-by-step guide we will install Coto Movies using our favorite solution Tutuapp, the free software to install apps and games available in AppStore for free. Tutuapp doesn't require a Jailbreak device to install Coto Movies on iOS.
You can also download CotoMovies on iOS from cotomovies.plist file. This file can be installed from your iPhone, iPad, iPod Touch browser, but it can happen that you will be not able to download Coto Movies using this method.

1. Open Tutapp from iOS Home Screen, and type in search box CotoMovies.
2. When Tutuapp will find Coto Movies click Install and wait till download finish and the app will be on available on your iOS.
3. Confirm installation by clicking Install button in Tutuapp.
How to install CotoMovies on Android
Coto Movies is also available for Android users. Installation of Coto Movies on Android device is as easy as doing it on iOS devices. Go via our 6-step guide to install Coto Movies on any Android device. Use CotoMovies absolutely safe and for free.
1. Enable Unknown Sources with the Settings Tab on you Android device.
2. Download from your browser CotoMovies APK file.
3. Click Download Coto Movies.
4. Use file manager to install CotoMovies.APK file.
5. Confirm installation of Coto Movies APK.
6. Wait till installation of Coto Movies is completed.
TV-Shows
Coto Movies comes with a range of great TV-Shows that you can watch for free. Play all seasons of Titans, Teen Wolf, The Gifted, Power, Arrow, South Park, Young Sheldon, The Simpsons, Modern Family, The office, Brooklyn Nine Nine, Supergirl, Lucifer, Big Mouth, The Flash, The Big Bang Theory, Shameless, The Walking Dead, Family Gut, Empire, Grays Anatomy, American Horror Story, 9-1-1, and more.
You can navigate through episodes, add shows to bookmarks, play video on your TV and iPhone screen, download subtitles and more. There is also an option to login to Trakt to sync history and bookmarks across multiple devices.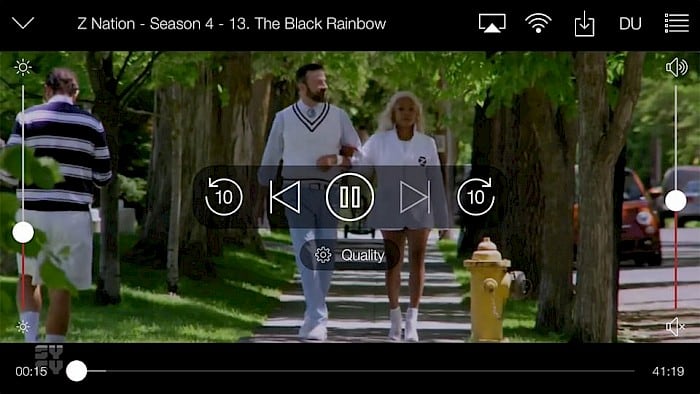 Movies
CotoMovies offers free access to over tone movies. You can stream movies directly to the app or download them for offline access. You can also download subtitles if available, this way you can watch favorites movies in your language.
With Coto Movies you have access to the latest movies available including Mamma Mia Here We Go Again, Ant-Man and the Wasp, Hotel Transylvania 3, Story for your Brother, 22 July, Skyscraper, Predators, Jurassic World Fallen Kingdom, Hotel Artemis, Tag, Ocean's Eight, Jumanji, Spider-man Homecoming, Ride, Hercules, Whitney, The Darkest Minds, Searching, The Meg, The Spy who dumped me, Avengers Infinity War, Mission impossible Fallout, Deadpool 2, and more.
How to stream movies to Apple TV
CotoMovies and Apple TV must be connected to the same wireless network. When you will watch a movie in the Coto Movies Player an Airplay icon will appear. Tap it to play your movie on your Apple TV. There are option for screen mirroring and direct stream that supports cast and without subtitles.
How to stream movies to Smart TV
You can stream video to your Smart TV using CotoMovies using Wi-Fi direct share. The controls to activate Wi-Fi share in Coto Movies are available when you play the movie. Click on Wi-Fi icon, and new window will appear with IP address. Copy it to Smart TV, PC, PS, Xbox browser, and the video will play on your device.
How to stream movies to Chromecast
CotoMovies and Chromecast must be connected to the same wireless network. When you will watch a movie in the Coto Movies Player an Share icon will appear. Tap it to play your movie on your Chromecast. Use the Coto Movies controls to pause, fast forward, rewind etc.
How to download subtitles in CotoMovies?
Tap the CC icon displayed on CotoMovies Player and select local subtitles, download subtitles online, or copy and paste subtitle file. From the menu you can change the font size, color of background, and more. All settings for subtitles are available there.
Is CotoMovies safe?
From our experience we can absolutely confirm that Coto Movies is 100% safe to use. You can download Coto Movies for free. The app supports Android devices and iOS 8, iOS 9, iOS 10, iOS 11, and the newest version iOS 12.
Is CotoMovies legal?
CotoMovies offers access to commercial movies and TV-shows for free. Using it can be illegal, so if you appreciate the work then watch or buy movies from legal sources. There are also other similar apps available like MovieBox and PopcornTime. Give them a try - find them via Tutuapp.