Ben Giannis created a new tweak that allows you to use Apple Watch Complications on iPhone's lock screen running iOS 12 - iOS 13. Install Complications tweak from official Cydia Repositories and add watchOS widgets to your lockscreen. Access 19 widgets that blend with your wallpaper.
---
What is Complications tweak?
Complications tweak installs beautifully animated widgets to the iPhone lock screen. The widgets updates throughout the day, without sacrificing battery life. Display all the information you need with just a glance. Tap a complication to quickly open its app to get even more info. But the tweak for $.1.99 via Packxi repo.
After jailbreaking iOS using tools like unc0ver or checkra1n you can use watchOS widgets to iOS from your iPhone screen. There is no need to own an Apple Watch to use Apple Watch Complications.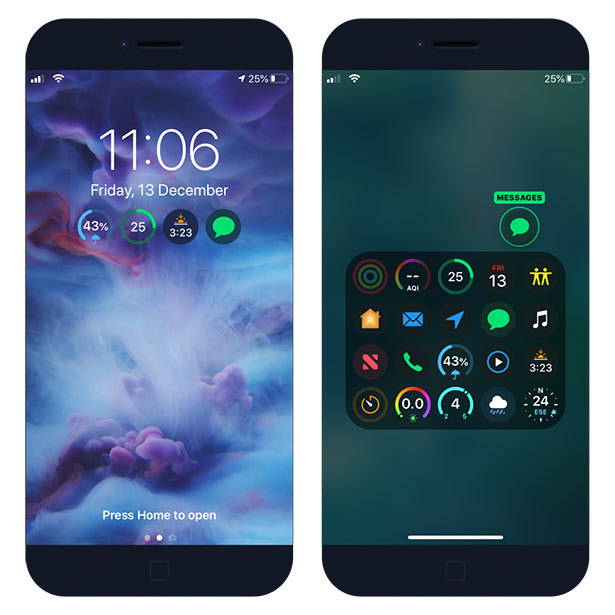 After installing the tweak on your device you can access all options from preference panel available in the Settings app. From here enable the Complications tweak, change horizontal and vertical offset, modify the number of rows and columns. To change the widget press and hold the icon on the lock screen.
Watermelon tweak doesn't look much different from Complications, but a closer look at the new tweak offers a more polished user experience. The Complications widget's animations and behavior look and feel excellent on iOS 13. Complications tweak is definitely the better choice.
Complications tweak is packed with widgets like Activity Rings, Air Quality Index, Alarm, Battery, Battery of Accessories (Apple Watch, AirPods, etc.), Calculator, Calendar, Compass, Date, Find my Friends, Home, Mail, Maps, Messages, Music, News, Phone, Podcasts, Rain, Percentage, Reminders, Remote, Stocks, Sunrise / Sunset, Timer, UV Index, Voice, Memos, Wallet, Weather, Temperature, Weather Conditions, and Wind.
Complications tweak Repo
You are just a few steps from installing the tool to crack iOS apps from Cydia Sources. To add Complications tweak Repo to your list of Cydia Sources follow our step-by-step guide.
Step 1. Open the Cydia app on your device.
Step 2. Tap Sources → Edit → Add the Complications Repo.
Step 3. Switch to Search Tab and enter Complications.
Step 4. Tap the Install button.
Step 5. Navigate to Settings to configure the tweak.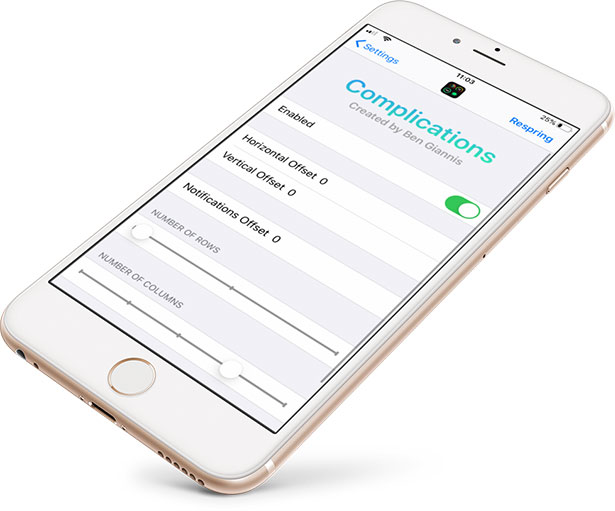 Changelog
Version 3.1
NEW World Clock complications, with both analog and digital times
Weather info now uses your current location's weather (open the weather app or the weather today widget to load local weather)
Fixed an issue that caused the Weather app to sometimes crash on launch
Fixed an issue where the device would sometimes crash when using a Live Wallpaper
Automatic Blur style now matches native iOS notification blurs
Battery complication now combines Apple's Smart Battery Case if Quanta or SmartBatteryCasePercentage is installed
Added empty space complication
Version 3.0
NEW Compass complication
NEW Stocks complication
NEW shortcut complications: Calculator, Podcasts, Reminders, and Voice Memos
Fixed an issue where tapping to switch to a new complication caused a safe mode crash
AppList is no longer required! No more dependencies means it should now work for everyone
Fixed an issue where the selection menu wouldn't show up when the device was locked
The screen no longer auto-dims while the selection menu is open (Thanks @ConorTheDev!)
Fixed an issue where the complications were hard to read on light wallpapers
Correctly colored remaining complications to watchOS 6 style
Changes in text and images are now smoothly transitioned
App shortcut complication icons are now high resolution
Fixed an issue where all complications would be reset to default if preferences were changed
Fixed an issue where the bluetooth battery complication would stay red if disconnected while low on battery
You might also like