CokernutX can help you to download and install paid apps and games for free on iPhone, iPad, and iPod Touch devices. It offers similar features then more popular apps like Panda Helper, AppValley, Tongbu, or TweakBox App. CokernutX offers fewer apps and fewer chances for revoke by Apple. Works also on iOS 13.5.
---
How to install CokernutX
CokernutX can be installed on your iOS device directly from the Safari browser. You don't need to have a PC or Mac to download App Store. To download CokernutX on iOS proceed with all steps mentioned below.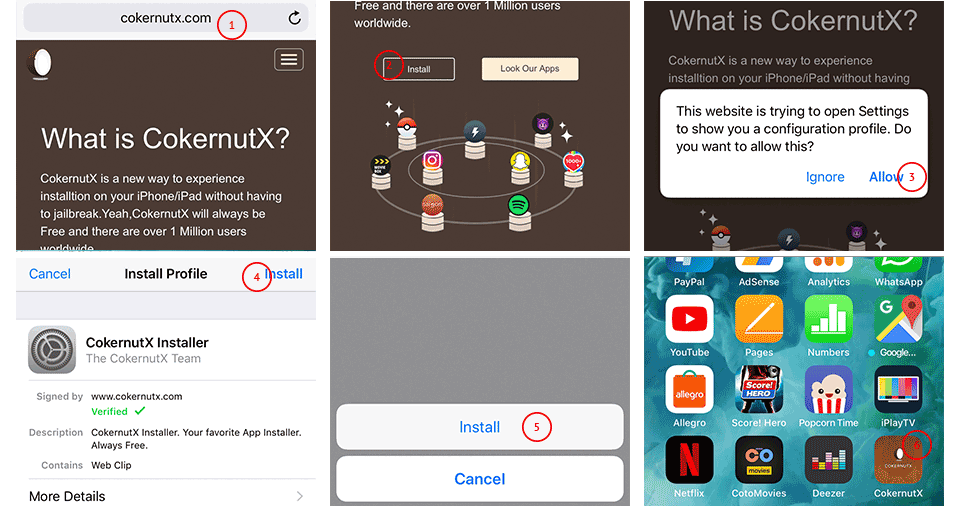 Step 1. To install the App Store tap install from iOS device.
Step 2. Tap the Install button to download the app.
Step 3. Tap Allow navigating to the configuration profile screen on your iPhone.
Step 4. Click install to add the profile to verify.
Step 5. Tap Install to download CokernutX on your iPhone.
Step 6. The App Store icon will appear on Home Screen.
What is CokernutX?
CokernutX is a 3rd party App Store for iOS allowing users to download and install popular paid apps and games available in AppStore for free. It works without Jailbreak and it offers access to over 5000 cracked applications for iPhone and iPad. Developers provide the latest updates on a daily basis.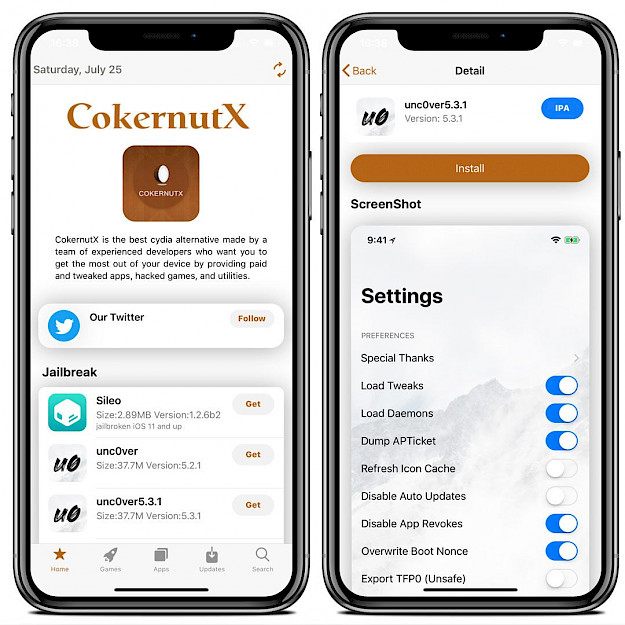 From CokernutX you can install all popular games hack like iSpoofer PokemonGO, Injustice 2 Hack, The War of Mine Hack, Golf Clash Hack, Grand Theft Auto Hack, Forward Assault Hack, Snipers vs Thieves Hack, Guns of Boom Hack, Marvel Strike Force Hack, Last day on Earth Hack, The Simpsons Hack, Clash of Clans Hack, Dream League Soccer Hack, Fieldrunners 2 Hack, PUGB Hack, and more.
There is no need to use a computer because all apps can be installed directly from the Safari Browser. It's a great alternative for similar software like Tutuapp, Panda Helper, or AppValley that we also described in our software hub.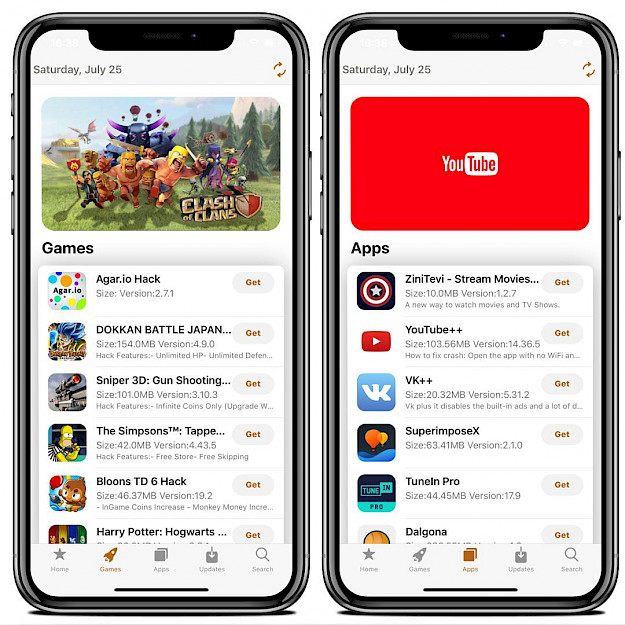 The jailbreak community will also appreciate that CokernutX provides tools like unc0ver, Electra for iOS 11.3.1, Yalu102, g0blin Jailbreak for iOS 10.3 - iOS 10.3.3, PanGu Jailbreak iOS 9.2-9.33, Saigon Jailbreak, Phoenix, DzMoha, Th0r, and FilzaEscaped.
What's more, CokernutX offers also an option to install tweeked apps such as Facebook++, Youtube++, Snapchat++, Twitter++, Instagram++, VK++, Tinder++, WhatsApp++, Twitch++, Spotify++, Plex++, Deezer++, Pandora++, and more.
System requirements
CokernutX requires 30 MB of free space and an iPhone with iOS 7 or newer. The software is available for free and works stable on all systems. App Store works with iOS 7, iOS 8, iOS 9, iOS 10, iOS 11, iOS12, and obviously with Apple's iOS 13 firmware.
How to use CokernutX iOS?
After you will install CokernutX iOS using our step-by-step instruction you can start downloading and installing apps and games on your iPhone. How to use the App Store to install apps is explained below in just 3 simple steps that anyone can follow. Apps are delivered using the standard SSL encryption.

Step 1. Open the app from Home Screen and search for an app or game.
Step 2. On the list, you will find all results indexed by the App Store.
Step 3. Navigate to the game description and click Get.
Frequently Asked Questions
Is CokernutX App free?
Yes, the AppStore is completely free to download, and all apps and games are free as well. You don't need to pay for anything provided by the cracked app store. Install any available iOS app on your iPhone or iPad.
Is CokernutX App safe?
Yes, the CokernutX app is completely safe to use and to download on your device. The only downside is that the AppStore displays a lot of ads everywhere starting from the store itself and ending inside installed apps.
Do I need an Apple ID or jailbreak?
No, the application works without entering your Apple ID and password, and there is also no need to jailbreak your device. The only restriction of the CokernutX app is that your device must be running iOS 8 or above. The latest iOS 14 is also supported.
Can I contact the CokernutX developers?
Yes, the developers are all the time active on their official twitter account form where you can ask questions, send requests for new apps, etc. There is also an option to send via Twitter a direct message to the creators.
Can I download hacked iOS games?
Yes, CokernutX offers access to the most popular paid iOS games for free. What's more, the AppStore provides IPA files to hacked iOS games and mods for free. Be aware, that hacked games are illegal to use.
Why CokernutX can't install?
CokernutX uses a developer certificate to install the store on your iPhone. Those certificates are monitored by Apple and they get often revoked. It means that you can't install the store and apps until the developer provides a new certificate.
CokernutX for Android?
CokernutX is not available for Android devices. If you see a website providing the AppStore for Android it's fake. CokernutX was designed only for iOS and it supports only this platform on supported devices. Android devices are not supported.
You might also like