Chimera jailbreak is the only open-source tool for iOS 12 with support for A7/A8/A9/A10/A11/A12 devices and the option to install Sileo Package Manger. The app works with all iPhones, iPods, and iPads. Download Chimera on a supported devices with direct web links or sideload the IPA. Whats's more, Chimera supports A9 - A11 devices on iOS 12.1.4 - 12.4, and some betas of 12.3.
---
Download Chimera jailbreak
If you don't own a computer you can install Chimera app with web links. This method uses an enterprise certificate that is regularly revoked by Apple. It means that the jailbreak tool will stop opening. We provide for you a few direct download links for Chimera. If the links are not working, try again in the next 24h.
Click on the direct download links from Safari to install Chimera.
Download Chimera via IgnitionApp
Download Chimera via AppValley
Download Chimera via iOS Ninja
Download Chimera via PandaHelper
How to jailbreak iOS using Chimera
Chimera is a semi-untethered that requires an on-device app to start the jailbreak process. All supported iDevice can be easily jailbroken with Chimera.
Step 1. Backup your iPhone with your favorite tool, just in case.
Step 2. Install Chimera from a web browser (or sideload the IPA file).
Step 3. The app icon will appear on the home screen.
Step 4. Navigate to Settings → General → Device Management.
Step 5. Find the newly installed Enterprise App Certificate.
Step 6. Click on the certificate name.
Step 7. Trust apps from the developer to run on your iPhone.
Step 8. Allow access to your data and tap Trust.
Step 9. Run Chimera app from your home screen.
Step 10. Tap on "Jailbreak" button to start.
Step 11. Once done, the device will respring and Sileo app will be installed.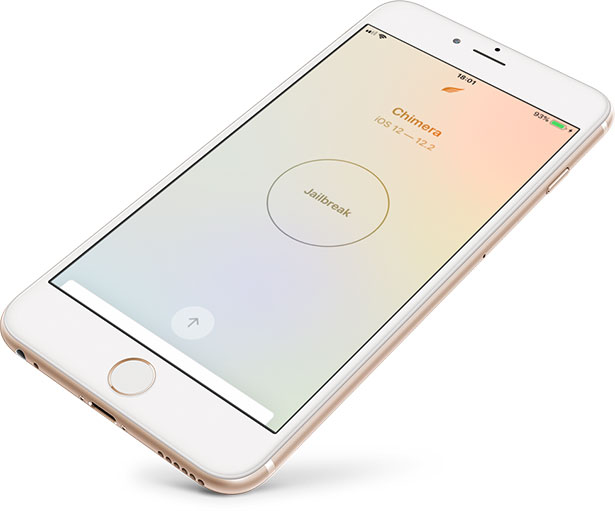 Download Chimera IPA
Chimera IPA can be always installed on the iDevice using AltStore. Every 7 days after installing Chimera, you need to resign the tool and send it to the AltServer (running on PC or Mac), which installs the resigned app back to your device using iTunes WiFi sync (works also using a USB cable).
Step 1. Download AltStore and install the app on your PC or Mac.
---
Or use any other Cydia Impactor alternative for Windows or macOS.
---
Step 2. Open Safari and download Chimera IPA (90 MB).
Step 3. Lunch AltStore and navigate to "My Apps" section.
Step 4. Tap on the + button available form the left-right corner.
Step 5. Select downloaded Chimera.IPA file to install.
Step 6. AltStore will start installing Chimera jailbreak.
Step 7. The Chimera app will be available from your home screen.
To prevent Chimera from expiring, AltStore can refresh the app in the background when using the same WiFi network. After jailbreak, you can also install ReProvision app, an alternative to the computer version of Cydia Impactor, which allows you to sideload the newest updates of Chimera IPA without using a computer.
What is Chimera jailbreak?
Chimera jailbreak is the first iOS 12 pwnd tool to not only feature a CoreTrust bypass so that binaries don't need to be resigned, but to also support for all A7/A8/A9/A10/A11/A12 devices, including iPhone Xs, iPhone Xr, and the newest iPads. Chimera doesn't tamper with user files, making it safer than alternatives.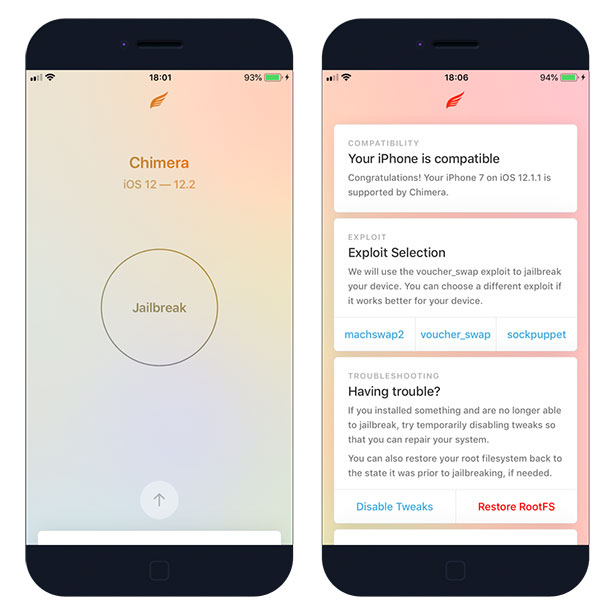 On 7th April 2020, @coolstar released Chimera13, a jailbreak project with the goal to build a complete jailbreak for iOS 13.0 and higher in Swift (though C and ObjC is fine where needed). Currently this GitHub project gives only root shell via SSH.
Switch easily between different exploits (machswap2, voucher_swap, sockpuppet) to jailbreak your system. If you have a problem with jailbreaking the device there is also an option to disable tweaks temporarily. Restore your root filesystem to the state before jailbreak, if needed.
---
Chimera Jailbreak supports iOS 12.1.3 - iOS 12.4 on A7 - A11 devices.
A12 - A12X devices are supported only on iOS 12.0 - iOS 12.1.2.
---
If you are trying to restore to an unsigned version of iOS, Chimera Jailbreak allows you to set a nonce that can be used to downgrade or upgrade iOS version with saved SHSH blobs. Find more information on how to use futurerestore tool, save blobs from your iPhone, or download IPSW files.
The default generator on both Electra and Chimera is 0xbd34a880be0b53f3 for those who would like to save blobs or use existing saved blobs.
Chimera uses Substitute, the opensource code modification platform. Substitute is the Substrate alternative offering lower stability and fewer features for developers. From the Sileo package manager, you can install tweaks, hacks, libraries, and apps from repositories. It works fast!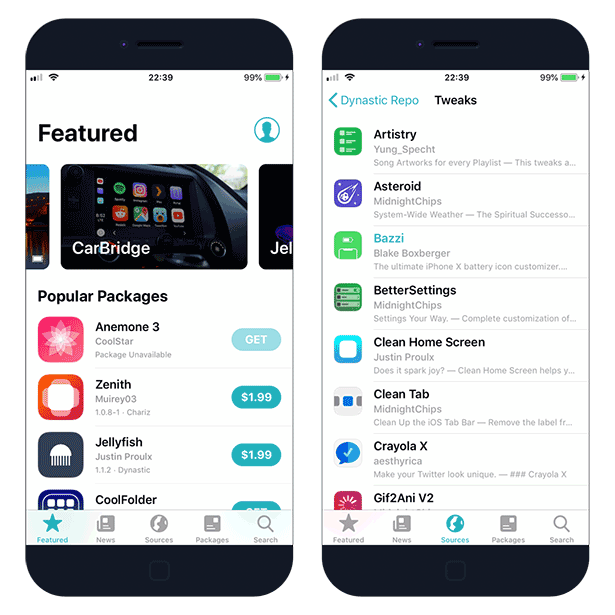 After each restart of your iPhone, iPad, or iPod device you will need to re-jailbreak iOS using the Chimera app. The Electra12 jailbreak tool automatically detects if your device and iOS version are supported.
Changelog
Version 1.4.0
uses libhooker internally instead of substitute to apply some patches. (tweaks will still run on substitute, but the jailbreak itself now runs on libhooker)
Version 1.3.9
improved succession rate of sockpuppet3 exploit
Version 1.3.7
Supports getting & setting generator on A12 on 12.1.3 - 12.2 and 12.4!
A12 users who froze used igetnonce may get the generator and set one for downgrades
Special thanks to 0x7ff for documenting AppleMobileApNonce
Version 1.3.3
Replaces the sockpuppet 1.5 & sockpuppet2 exploits with the sockpuppet3 exploit
Adds support for A7 & A8X
All A7 - A11 is now supported on 12.0 - 12.4, with A12 on 12.0 - 12.1.2
Version 1.3.0
Adds support for A8 devices on 12.4
Version 1.2.9
Adds support for iOS 12.4 on A9 - A11 devices
Version 1.2.7
Adds support for sockpuppet 1.5 on A12 devices on 12.0 - 12.1.2
Version 1.2.5
Improves stability significantly on iOS 12.2
Fixes occasional freezes on 12.0 - 12.1.x
Version 1.2.4
Adds support for A7 and A8 devices on 12.1.3 to 12.2 including certain 12.3 betas.
Version 1.2.3
Adds support for some beta versions of iOS 12.3. Note: 12.3 beta 6 is NOT compatible; though some of the earlier betas are compatible.
Version 1.2.2
Adds support for tvOS 12.2 on the Apple TV 4K Note: 1080p Apple TV 4 is only supported up to 12.1.1.
Fixes an issue where 1.2.1 would fail to jailbreak A12 devices using voucher_swap
Version 1.2.0
Adding support for A9 - A11 devices on iOS 12.1.3 - 12.2. All devices on 12.0 - 12.1.2 are supported.
You might also like