Chimera jailbreak for A12 is out. Electra12 IPA for iOS 12
kuba - Tuesday, 30 April 2019
Chimera (Elecrta12) is a free jailbreak tool for iOS 12.0-12.1.2 with support for A7/A8/A9/A10/A11/A12 devices. The app works with all iPhones, iPods touch, iPads, and Apple TVs. Install Chimera IPA file on your device and sideload modern Sileo package manager.
Chimera is the first iOS 12 jailbreak to not only feature a CoreTrust bypass so that binaries don't need to be resigned, but to also support for all A7/A8/A9/A10/A11/A12 devices, including iPhone Xs, iPhone Xr, and the newest iPads. Chimera doesn't tamper with user files, making it safer than alternatives.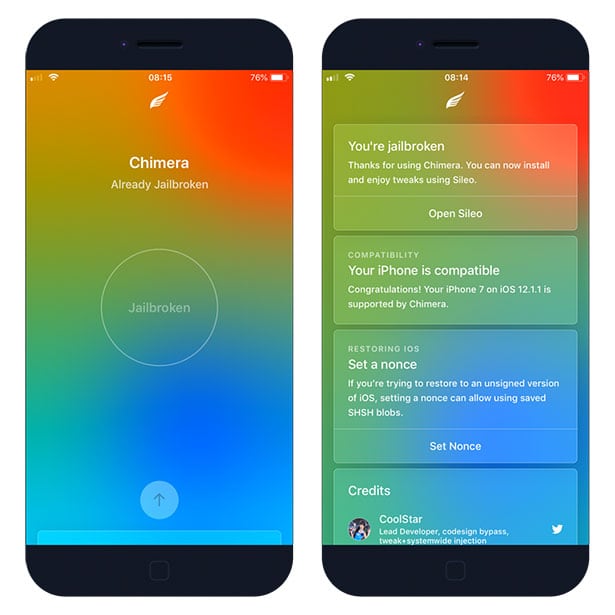 How to jailbreak iOS 12.0-12.1.2 with Chimera
Download Chimera IPA file and sign it using Cydia Impactor and sideload the app to iOS. We provide a full step-by-step guide on How to use Cydia Impactor to install IPA files on iOS.
Step 1. Download Cydia Impactor, and unzip the file.
Step 2. Download Chimera.IPA (90 MB).
Step 3. Open Cydia Impactor and navigate to Device → Install Package.
Step 4. Select the Chimera.ipa version 1.0.6 file to install.
Step 6. Enter your AppleID and app-specific password to sign apps not provided by Apple.
Step 7. Add the certificate to trusted from Settings → General → Device Management.
Step 8. Open Chimera app and tap Jailbreak.
Chimera uses Substitute, the opensource code modification platform. Substitute is the Substrate alternative offering lower stability and fewer features for developers. From the Sileo package manager, you can install tweaks, hacks, libraries, and apps from repositories. It works fast!
After each restart of your iPhone, iPad or iPod device you will need to re-jailbreak iOS using Chimera app. The Electra12 jailbreak tool automatically detects if your device and iOS version is supported.