Checkra1n for Windows was not officially released but there is an easy option to run it on a PC from USB flash drive using bootra1n LiveCD. There is no need to install Linux on your computer to execute checkra1n jailbreak tool from the terminal. Download bootra1n LiveCD for Windows. Works also with the latest iOS 13.5.
---
What is bootra1n?
bootra1n is a Linux distribution with preinstalled Checkra1n jailbreak. The tool supports most generations of iOS devices starting from iPhone 4S (A5 chip) to iPhone 8 and iPhone X (A11 chip). All of the devices mentioned are jailbreakable for their entire lifetime. This means every iOS version is compatible.
All A5 to A11 devices are compatible with bootra1n checkra1n Windows. Only the latest devices like iPhone 11 Pro, iPhone 11, iPhone 11 Pro Max, iPhone XR, iPhone XS Max, iPhone XS, and XS Max are not working with checkra1n Windows. Install Cydia on the iOS 13 to 13.5 firmware.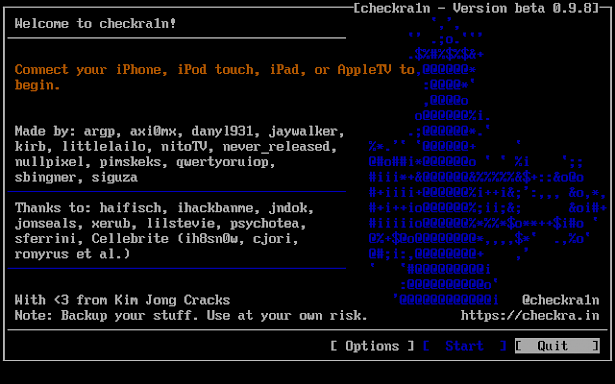 bootra1n is a Linux distribution with a preinstalled checkra1n jailbreak tool that you can run from USB flash drive. Learn how to prepare bootra1n with checkra1n without adding any changes to Windows.
Download bootra1n
Download bootra1n LiveCD (411 MB)
The LiveCD works with 64-bit Intel or AMD computers. Prepare at least 512 MB USB memory stick.
How to prepare bootra1n with checkra1n
Now when Checkra1n Linux jailbreak tool is available for popular distributions, also Windows users can more easily and freely jailbreak all supported Apple devices running on iOS 12 and iOS 13 firmware.
Step 1. Download bootra1n LiveCD ISO file.
Step 2. Extract the downloaded ZIP archive which contains ISO file.
Step 3. Download Rufus to create bootable USB flash drive.
Step 4. Insert your USB Pendrive to the computer.
Step 5. Lunch Rufus app and select the bootra1n-x86_64-0.10.2-20200526.iso file.
Step 6. Change Partition scheme to MBR and Target system to BIOS or UEFI.
Step 7. Click start button to create the bootable USB drive.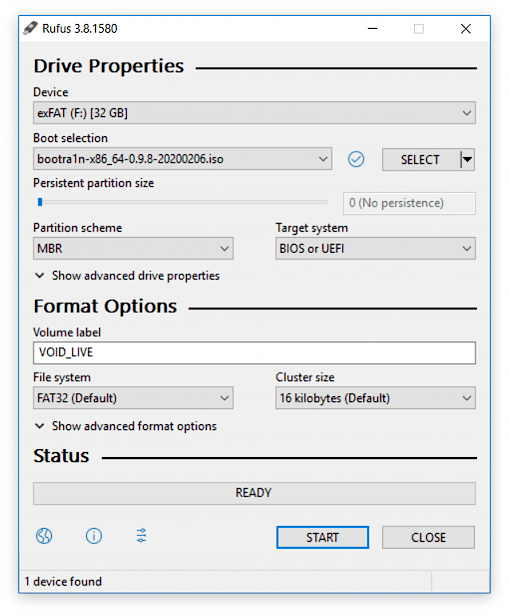 How to jailbreak iOS from PC using Checkra1n
Possible Errors:

Error -77: Remove your passcode before starting the jailbreak, you can set it back once done.
Error -78: Exit checkra1n and double-check you entered sudo checkra1n.
USB Errors: Swapp cables and changing from USB 2.0 (black port) to 3.0 (blue port) and vice versa.
Step 1. Put the USB drive to the computer slot.
Step 2. Reboot your computer and enter your BIOS's boot menu (or repeat hitting F12 during boot).
Step 3. Select the flash drive, and it should boot into the login prompt.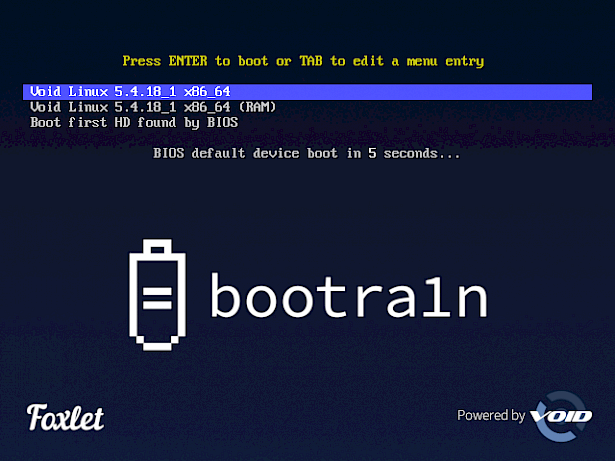 Step 4. Lunch the system from USB.
Step 5. Log in as anon, with password voidlinux.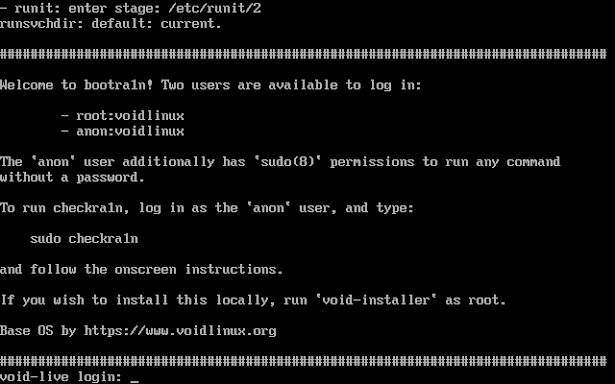 Step 6. Run command as root and provide your password to open the jailbreak tool.
sudo checkra1n
Step 7. Connect your iPhone to PC or Mac using USB cable.
Step 8. Select "Start" to jailbreak your device.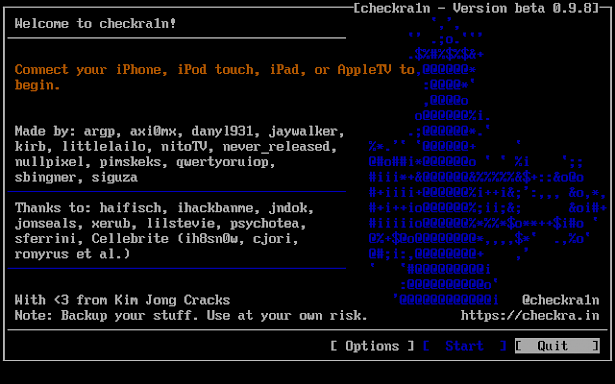 Step 9. checkra1n will activate Recovery Mode.
Step 10. Enter DFU mode (screen must stay black) on your iDevice.
Step 11. Wait till the device will boot into jailbreak mode.
Step 12. Lunch checkra1n loader from home screen.
Step 13. Install Cydia tweaks on your iPhone.
Terminal commands
Usage: sudo checkra1n [OPTIONS]

Options:
  --version                          Print version
  -c, --cli                          Force command line
  -d, --demote                       Demote
  -e, --extra-bootargs <BOOTARGS>    Set extra bootargs
  -g, --gui                          Start a graphical user interface
  -l, --log-path <FILE PATH>         Log to file
  -n, --no-colors                    Disable colors on the command line
  -p, --pongo                        Boots to a Pongo shell
  -s, --safe-mode                    Enter Safe-Mode
  -t, --tui                          Start a terminal graphical user interface
  -V, --verbose-boot                 Verbose Boot
  -v, --verbose-logging              Verbose logging
  -w, --wui <IPV4> <PORT>            Start webra1n - a web based user interface
How to remove checkra1n jailbreak
The latest version of checkra1n Windows app allows you to easily remove the jailbreak from your device. checkra1n loaders installed on your iOS device allows you to install Cydia. Besides that, there is also an option to Restore system. When you click on this option you will uninstall jailbreak files and other changes made to the operating system, without erasing data. This will reboot iPhone.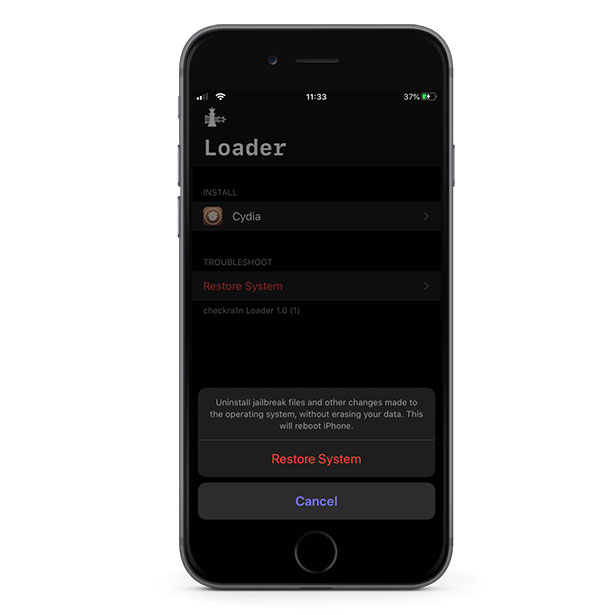 Upgrade to newest iOS
The safest way to update iOS on jailbroken devices is to restore the system to the state before you have jailbroken your device in the first place. This option is available via Loader app (the same you used to install Cydia) available from home screen. It is also important to save all tweaks and settings on checkra1n jailbreak to restore them after re-jailbreaking the upgraded iOS version.
Step 1. Install Batchomatic tweak to save all tweaks, apps, and settings.
Step 2. Generate a .deb file with iOS jailbreak configurations.
Step 3. Save the .deb file on any Cloud service.
Step 4. Open the Loader app and tap Restore System.
Step 5. Navigate to System → General → Software Update.
Step 6. Update iOS to the newest version.
Step 7. Jailbreak your device using checkra1n.
Step 8. Move the .deb file on your device and install it using Filza.
bootra1n compatibility (supported devices)
A5 - iPad 2, iPhone 4S, iPad Mini (1st generation)
A5X - iPad (3rd generation)
A6 - iPhone 5, iPhone 5C
A6X - iPad (4th generation)
A7 - iPhone 5S, iPad Air, iPad Mini 2, iPad Mini 3
A8 - Phone 6, iPhone 6 Plus, iPad mini 4
A8X - iPad Air 2
A9 - iPhone 6S, iPhone 6S Plus, iPhone SE, iPad (2017) 5th Generation
A9X - iPad Pro (12.9 in.) 1st generation, iPad Pro (9.7 in.)
A10 - iPhone 7 and iPhone 7 Plus, iPad (2018, 6th generation), iPad (2019, 7th generation)
A10X - iPad Pro 10.5" (2017), iPad Pro 12.9" 2nd Gen (2017)
A11 - iPhone 8, iPhone 8 Plus, and iPhone X
You might also like