Channels App Pro allows you to watch live sports events for free on your mobile device. Stream UEFA Champions League, NFL, UFC, Premier League, NBA games and more. Download Channels App IPA file and install it on your iPhone, iPad, and iPod. Free Channels Pro is available in the AppStore.
---
Channels App offers also access to Sports channels including Sky Sport, BT Sport, PAC 12, Real Madrid TV, and Lifestyle channels like BBC News, FOX 5, ABC, and Sky News. You can find all available sports events on Channels App from the official Twitter account @channelstheapp.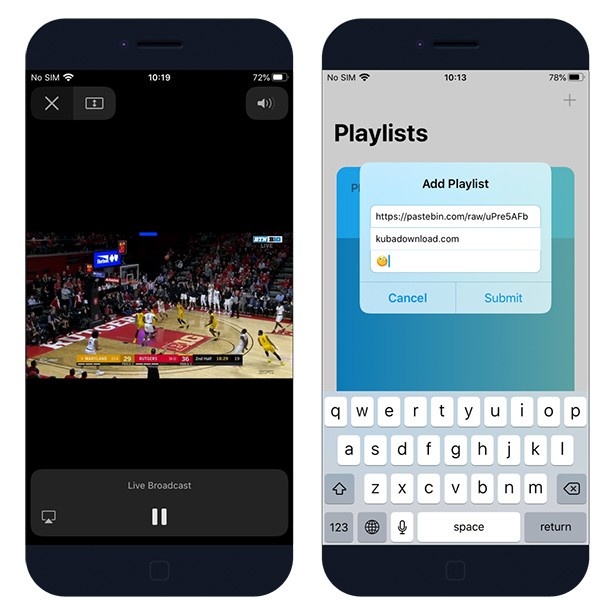 One of the most exciting features available in the latest version of Channels App is full support for iOS 13. Moreover, the applications offers now multiple streams per event and new Movies category. You can also cast the live streams to AppleTV or Chromecast supported devices.
Channels Pro
Channels Pro is an IPTV player available for download from the official AppStore. The app is created by the Channels App developer and you can use it to add your M3U list to watch your favorite Channels. Because the Channels Pro app is available in the AppStore it will be not revoked.
Step 1. Install Channels Pro from AppStore.
Step 2. Open the app from the home screen.
Step 3. Add the IPTV list (https://pastebin.com/raw/uPre5AFb) for free by tapping the + button.
Step 4. Watch all Live Events and Channels.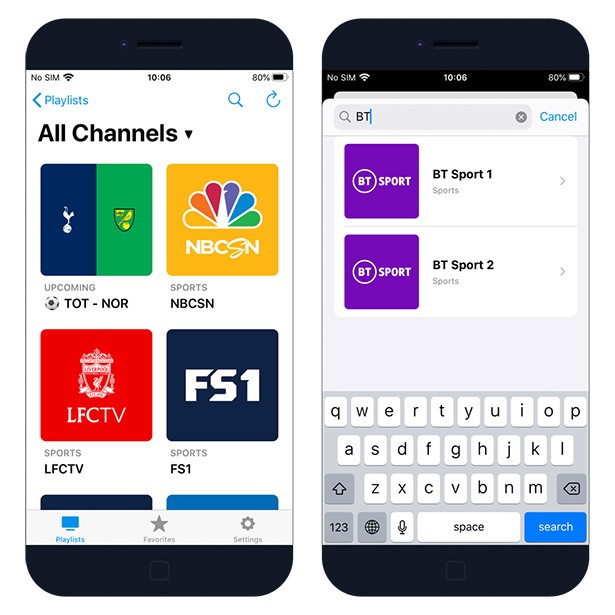 Channels Pro supports Raw Pastebin links and correctly formatted M3U links. The IPTV player features unlimited streaming, unlimited playlists, modern native design. and an option to pause, play, and rewind features. There is also an option to cast a video to Apple TV using Channels Pro.
Changelog
Version 1.2.2
New playlist lay­out
Edit playlist ac­tion
Share playlist ac­tion
UI en­hance­ments
Bug­fix­es
Version 1.2(.1)
Added a Premium option for the users that want more
Version 1.1.3
Hide categories/groups in your playlist by long-pressing a channel
Small UI changes
Bugfixes
Version 1.1.2
Playlists open up to 30% faster
Live TV & Movies will be seperated
Fixed a bug where favorites could be added twice
A lot of under the hood changes
Loading glitch that could occur while loading is fixed
Version 1.1
Search through all your Channels blazing fast
New User Interface
Browser streams will now open in the default player if possible
New onboarding screen
Bugfixes
Version 1.0.3
If installed on your device, you can open a stream in the VLC app (VLC app has Chromecast & Airplay support)
Minor UI improvements
Version 1.0.2
New favorite tab where you can add and see favorites
Bugfixes
How to install Channels IPA for iOS
Channels App can be installed on iOS 12 and iOS 13 device like iPhone without the need of Jailbreak or Apple ID. You don't need a PC or Mac to install Channels App on iPhone. To avoid revokes on iOS install free Channels Pro app from the AppStore. All instructions on the end of this article.
Install Channels App without a computer. No jailbreak required!
When you get Channels App without PC it can happen that the app will stop working. The reason for this is that Apple has revoked the installed certificate. To make Channels App work again you will need to remove the app and reinstall it using the same steps from below.
Step 1. Click Install Channels App from your browser.
(mirrors: IgnitionApp, AppValley)
Step 2. Tap Install on message prompt "ignition.fun would like to install Channels App".
Step 3. Channels App Icon will appear on your Home Screen.
Step 4. Navigate to Settings → General → Device Management.
Step 5. Find the newly installed Enterprise App Certificate.
Step 6. Click on the certificate name.
Step 7. Trust apps from the developer to run on your iPhone.
Step 8. Allow access to your data and tap Trust.
Step 9. Run Channels App from home screen.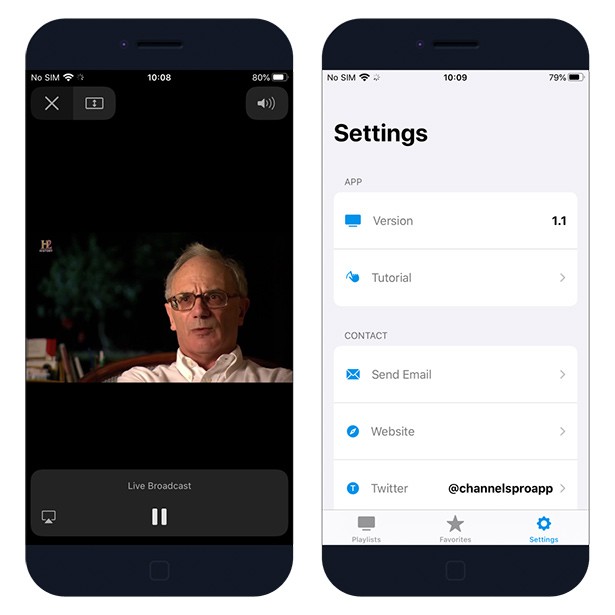 When you completed all step your Channels App should be installed correctly on your iPhone. After Channels App will be downloaded you can't run the app. An Untrusted Developers Message will appear and it's required to complete all tasks from Step 4 in our guide above.
If you have a problem installing Channels App from our link you can also try alternative options and find the app via popular Cracked App Stores. Free Channels App is available via CyrusHub, TweakBox App, Panda Helper, or AppValley. Usually when the download will not start simply try again later.
Download Channels IPA
AltStore can activate max 3 apps on your iPhone using the free certificate. Every 7 days after installing apps, you need to resign apps and send them to the AltServer (running on PC or Mac), which installs the resigned apps back to your device using iTunes WiFi sync (works also using a USB cable).
Step 1. Download AltStore and install the app on your PC or Mac.
---
Or use any other Cydia Impactor alternative for Windows or macOS.
---
Step 2. Open Safari and download Channels.IPA version 1.8 (9 MB) or Channels.IPA version 1.6 (40 MB).
Step 3. Lunch AltStore and navigate to "My Apps" section.
Step 4. Tap on the + button available form the left-right corner.
Step 5. Select downloaded Channels.IPA file to install.
Step 6. AltStore will start installing Channels for iOS.
Step 7. The Channels app will be available from your home screen.
To prevent apps from expiring, AltStore can refresh apps in the background when using the same WiFi network as AltServer. The installed apps will be not revoked in the least expected moment thanks to manual installation using your free Apple certificate. Remember that your PC must be on to sing IPAs.
Changelog
Version 1.8
Completely redesigned Events tab
Most streams will open in the default iOS player instead of the browser
Open in VLC support (VLC app has Chromecast)
Reduced app size by 85%
Smoother loading experience
Cleanup & bugfixes
Versio 1.7
iOS 13 support
Automatic Dark Mode
New Movies category
Multiple streams per Event
Bugfixes
You might also like