Access your favorite apps from anywhere on the screen installing an excellent jailbreak tweak Bubble Apps. Create apps shortcut on your device screen and drag and place them on-the-fly whenever you choose. The tweak provides a highly configurable app launcher interface. Install Bubble Apps tweak from Packix Repository for $1.50. The tweak supports jailbroken iOS 11, 12, and 13 devices.
---
What is Bubble Apps?
Bubble Apps tweak can create any app shortcut on your device screen. Drag and place app icons on-the-fly anywhere on the screen. Your favorite app can be accessed from virtually any interface on iOS. After configuring the position of app icons you can easily lock your bubbles from the action menu.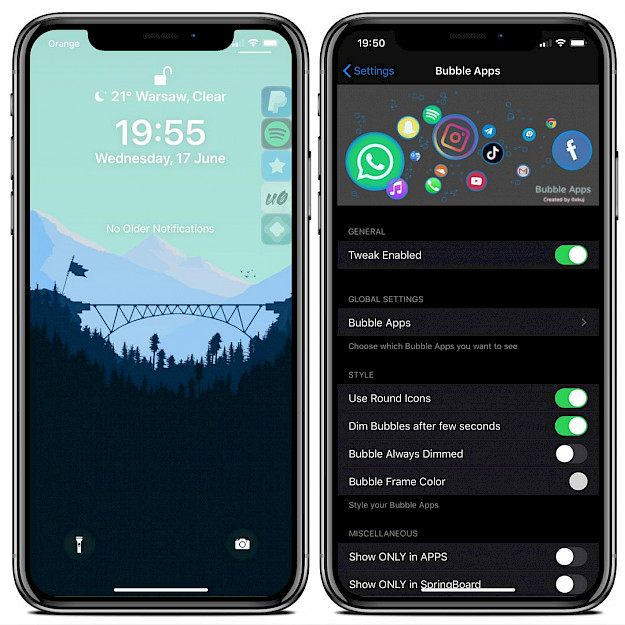 Bubble Apps works on all interfaces. You can access app shortcuts on every screen or only on selected ones. Display the icons bubbles only in SpringBoard, LockScreen, Control Centre, or any selected app. What's more, you can save the current icon layout of your bubbles so you won't have to re-arrange them every time you respring and style your bubbles (round icons, frame color, dim behavior).
The tweak offers a highly configurable app launcher interface. After installing Bubble Apps, a new dedicated preference pane will be added to the Settings App. From there you can configure all options. To apply all changes it's required to use the Respring button available at the bottom of the preference pane.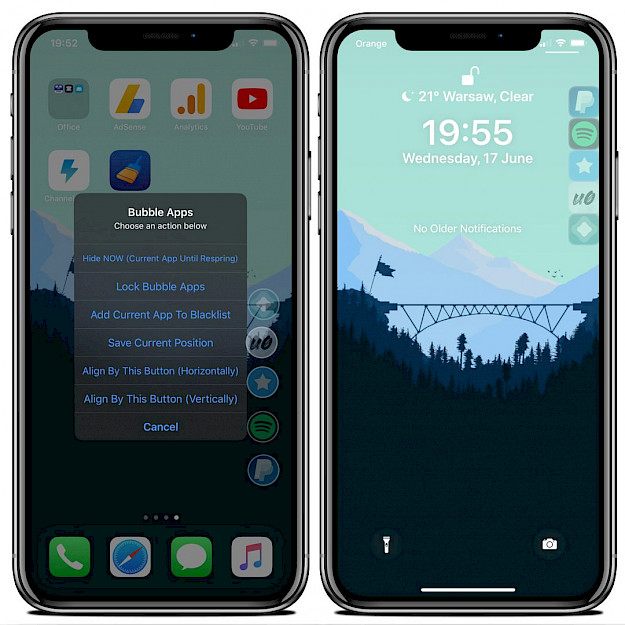 Bubble Apps tweak can be downloaded from the Packix Repository. If you have any dependency problem install libcolorpicker from the BigBoss Repo.
Bubble Apps tweak Repo
The tweak works on almost all devices running on iOS 11 up to iOS 13.5. Add Bubble Apps Repository to your list of Cydia Sources.
Step 1. Open the Cydia app on your device.
Step 2. Tap Sources → Edit → Add the official Bubble Apps Repo to Cydia.
Step 3. Switch to Search Tab and enter Bubble Apps.
Step 4. Tap the Install button.
Step 5. To configure the tweak navigate to Settings → Bubble Apps.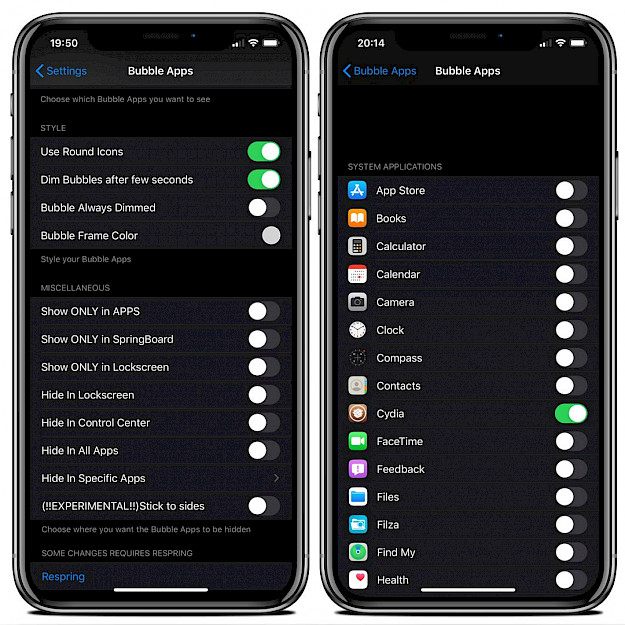 Tweak Settings
Toggle Bubble App tweak on or off
Select the app shortcuts you want to use
Make icons round
Dim bubbles after a few seconds
Always dim bubbles
Choose a bubble frame color
Show bubbles only in apps
Enable bubbles only in SpringBoard
Show bubbles only on LockScreen
Hide bubbles in Control Centre
Respring the device
Hide bubbles in all apps
Hide bubbles from specific apps
Experimental – stick to sides
Restore all settings to their defaults
Changelog
Version 1.5
Replaced libcscolorpicker with libcolorpicker and by that fixed safe mode crashes for A12 in preferences when trying to change the color of the bubble frame
No more grey options! you can now: Show only in APPS / Springboard / Lockscreen and hide from Lockscreen as well
Fix for "restore to defaults" options to have an immediate impact
Added version specifier to preferences
You might also like