Boxy 4 is the latest version of very popular jailbreak tweaks allowing you to fully customize Home Screen Icon Layout. The tweak will totally change the look of your Home Screen and will make some space for Dashboard X widgets. Boxy tweak is available for $1.99 in Packix repository. Version 4 works only on iOS 13 including 13.5.
---
What is Boxy tweak?
Boxy tweak is a powerful tool allowing you to take advantage of Icon layout on your iOS device. Boxy 4 works on iOS 13 and can help you to adjust how far each icon is from each edge of the screen and how far each icon is from one another. The icon layout is fully customizable with a variety of configurable options.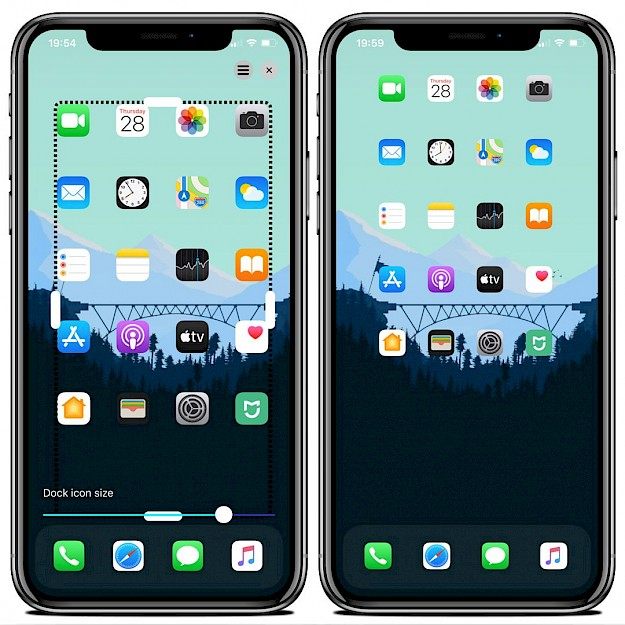 Create pretty cool icon layouts on your iPhone with Boxy. Align all icons in the top half of the screen or the bottom half or even the top corners of the screen. Everything is really possible. Enable Quick Settings and swipe up on home screen icons or use a two-finger tap to display available controls.
Boxy 4 is fully compatible with all devices running on unc0ver or checkra1n jailbreaks! After installing the tweak a new preference pane is added to the Setting app from where you can freely configure all settings.
Moreover, using this tweak you can hide dock, square icons, icon labels, or page control visibility. There is also an option to customize the number of icons displayed in the dock (up to 5) and columns & rows (up to 10).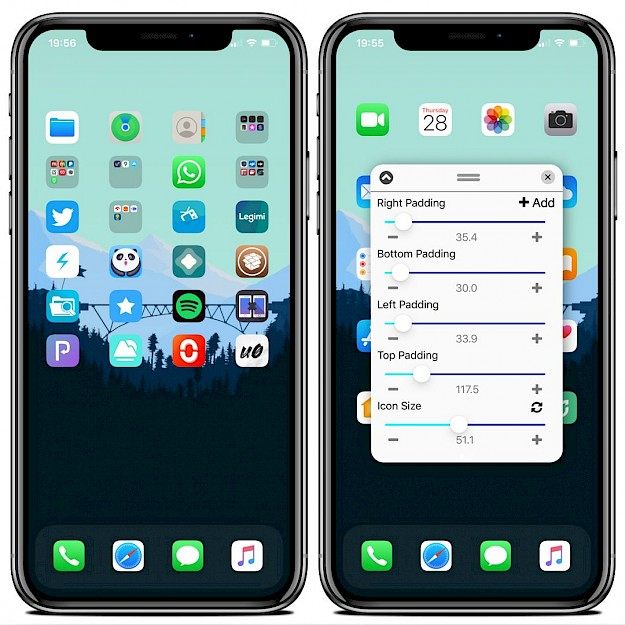 The tweak is so easy to use that you can create a custom home screen icon layout in a matter of seconds. What's more, there is also an option to save and load presets for a quick layout change. Boxy 4 is an amazing tweak.
Using Dashboard X widgets?
Boxy will make you more space to place them on your Home Screen. No more compromises to choose between app icons and free space on the SpringBoard. Have all of them on the screen plus all your favorite widgets!
If you don't want to spend $2 on Boxy tweak there are free alternatives available. Cuboid tweak is a lightweight home screen layout manager for your jailbroken device, but I would personally recommend you to try HomePlus tweak.
Add Repository to Cydia
You are just a few steps from installing the tweak from Cydia Sources on a jailbroken iOS device. Add Boxy Repository to your list of Cydia Sources. From the same repository, you can also install Boxy 3 compatible with iOS 12.
Step 1. Open the Cydia app on your device.
Step 2. Tap Sources → Edit → Add the official Boxy Repo.
Step 3. Switch to Search Tab and type Boxy 4.
Step 4. Tap the Install button.
Step 5. Go to Settings → Boxy to configure the app.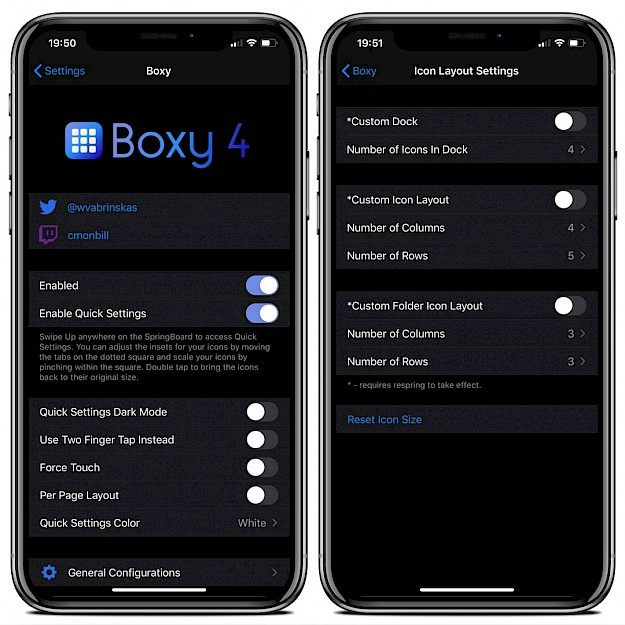 Tweak Settings
Main pane
Turn on or off Boxy tweak on demand
Enable or disable Home screen-based quick settings
Enable dark mode for quick settings
Use a two-finger tap to initiate Boxy
Use Haptic Touch to initiate Boxy
Enable or disable a per-page layout
Configure a quick settings color
Configure general settings
Configure icon layout settings
General Configurations
Make page controls visible
Make icon labels visible
Make icons square
Hide the application Dock
Icon Layout Settings
Customize the number of icons that appear in the app Dock
Customize the number of icons that appear in the Home screen's rows and columns
Customize the number of icons that appear in Folders' rows and columns
Reset stock icon size
Changelog
Version 4.1.1
Version 4.1.0
Added ability to adjust dock icon size in the quick settings
Fixed a bug that would cause icons to disappear when adjusting layouts
You might also like