If you type messages on your iPhone you probably add also emojis to the text. Those beautiful icons changed the way we express our feelings in messages. You can access quickly the most used emojis from the text prediction bar or the extra space on the iPhone X keyboard installing Barmoji tweak. Works also on iOS 13.5.1.
---
What is Barmoji?
Barmoji tweak adds a selectable emoji view between the globe and dictations buttons on iPhone X's. This is an excellent way to use the extra space on the iPhone X keyboard instead of displaying the empty space. Non-iPhone X devices can activate the replacement of the text prediction bar with emojis.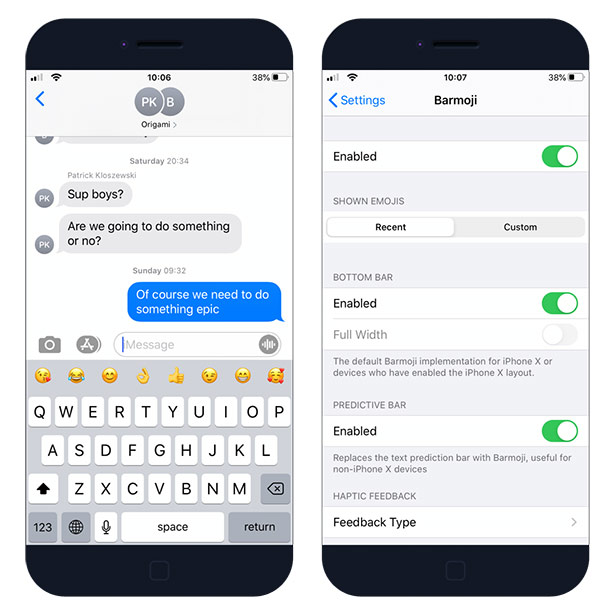 There is also a free iOS tweak allowing you to use the iPhone X keyboard on older devices. KeyboardX works with iOS 11 to iOS 13 running on iPhone (Not yet compatible with iPads). Moreover, the tweak is fully compatible with Barmoji tweak nad allows you to see also text prediction bar.
Barmoji free is available on the public repo with the full-width option and custom emojis disabled. If you like to access these features it's required to support the developer. The tweak is available as an open-source project via GitHub for those interested in learning more about how it works.
After installing Barmoji tweak for iOS 13, a dedicated preference pane is added to the Settings app. From here access tweak configuration settings and toggled on or off on demand all settings.
Barmoji Repo
The tweak works on both unc0ver and checkra1n jailbreak tool running on iOS 13. To add Barmoji Repository to your list of Cydia Sources follow our step-by-step guide.
Step 1. Open the Cydia app on your device.
Step 2. Tap Sources → Edit → Add the official Barmoji Repo.
Step 3. Switch to Search Tab and enter Barmoji tweak.
Step 4. Tap the Install button.
Step 5. The tweak can be configured from Settings → Barmoji.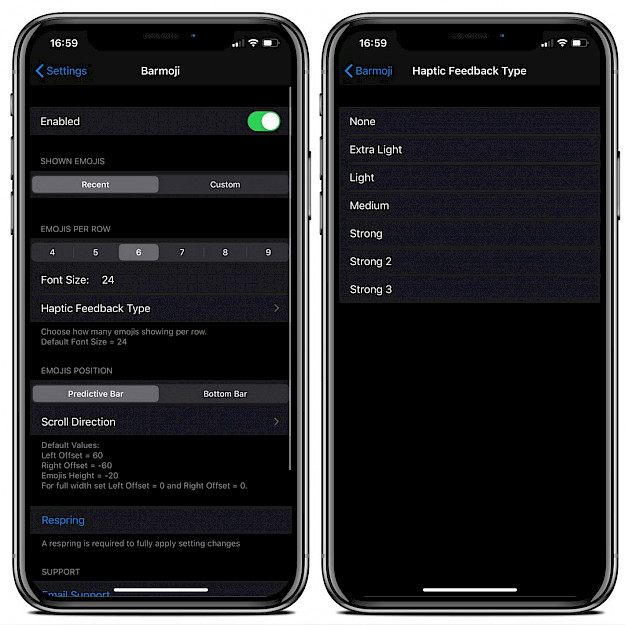 Available Settings
Toggle Barmoji tweak on or off on demand
Show custom or recent emojis
Select haptic feedback type
Define the number of emojis per row
Select default font size
Choose emoji position (Bottom bar or Predictive bar)
Define scroll direction
Respring button to apply all changes
Changelog
Version 2020.5
Changes by MiRO92
Add option to set emojis per row
Add option to adjust left and right offsets
Add option to set custom height for the bottom bar
Removed full-width option, just 0 left and right insets for full width
Add option to hide the globe button
Add option to hide the dictation button
Fix Barmoji being displayed during dictation
Fix Barmoji being displayed while in landscape bottom bar
Version 2020.1
Add option to have full-width bottom bar
Fix layout issues on iOS 13
You might also like