There are a lot of jailbreak tweaks to customize the lock screen layout and April tweak is one of the fastest and most battery-friendly solutions available. Customize Time & Date, Up Next Calendar Events, and Weather on your lockscreen. This tweak is compatible with iOS 12 - iOS 13.5. Download April from Twickd Repo.
---
What is April tweak?
April is a free lock screen customization tweak for iOS so that you can have a unique lockscreen that is compatible with most of your favorite jailbreak tweaks. With this tweak, you can easily create a modern lockscreen, a crowded lockscreen, or even a simple lockscreen. Works also with the latest iOS 13.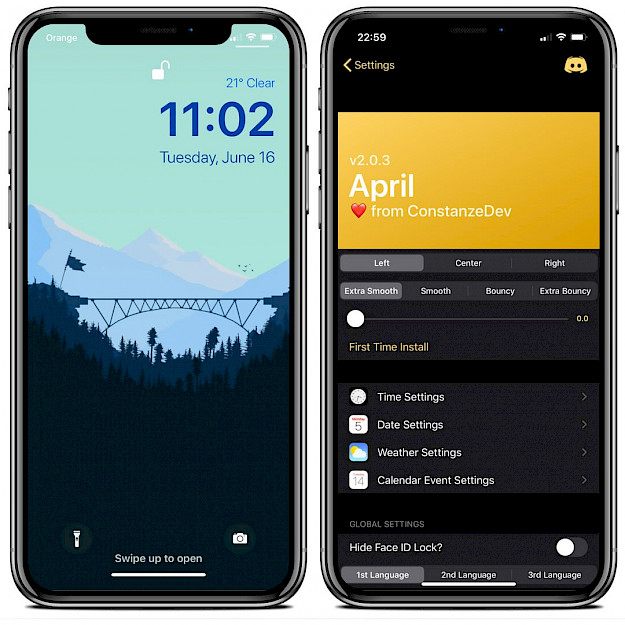 After installing the April tweak, a new dedicated preference pane will be added to the Setting app where you can configure all options to your likings. Select fonts, colors for elements like Time & Date Customization, Up Next Calendar Events, and Weather on your Lockscreen. Every element can be enabled or disabled.
April is packed with a plethora of options. Set for each element font size and weight, color, and unique data and time format. For Weather Settings, you can additionally hide the condition icon and description, or set the update interval. All elements can be aligned to the left, center, or right side of the screen.
What's more, you can also hide Face ID lock or automatically set wallpapers colors for all text elements. The developer included also a simple button to restore all settings to default, and a respring button to apply new settings.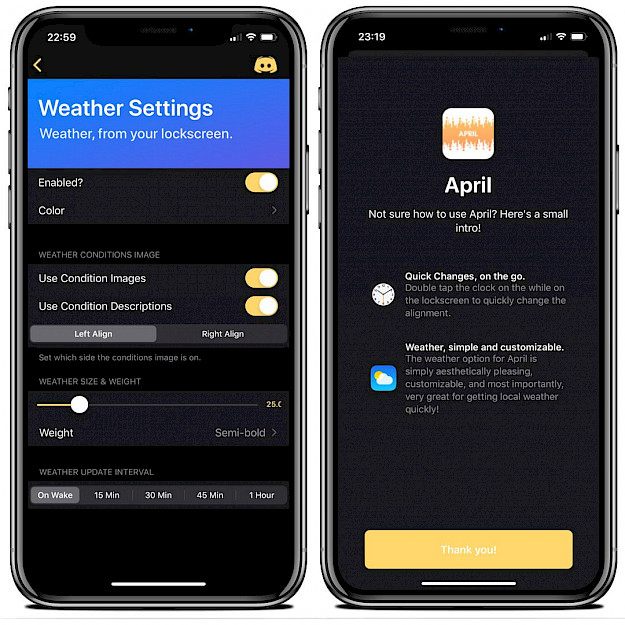 April tweak is available for free, and it provides a lot of different options for customizing the jailbroken iOS Lock screen. Those interested can download the tweak for free from the Twickd repository via their preferred package manager. The tweak works on all jailbroken iOS 12 / 13 devices.
April tweak Repo
The tweak works on almost all devices running on iOS 12 up to iOS 13.5. Add April Repository to your list of Cydia Sources.
Step 1. Open the Cydia app on your device.
Step 2. Tap Sources → Edit → Add the official April Repo to Cydia.
Step 3. Switch to Search Tab and enter April.
Step 4. Tap the Install button.
Step 5. To configure the tweak navigate to Settings → April.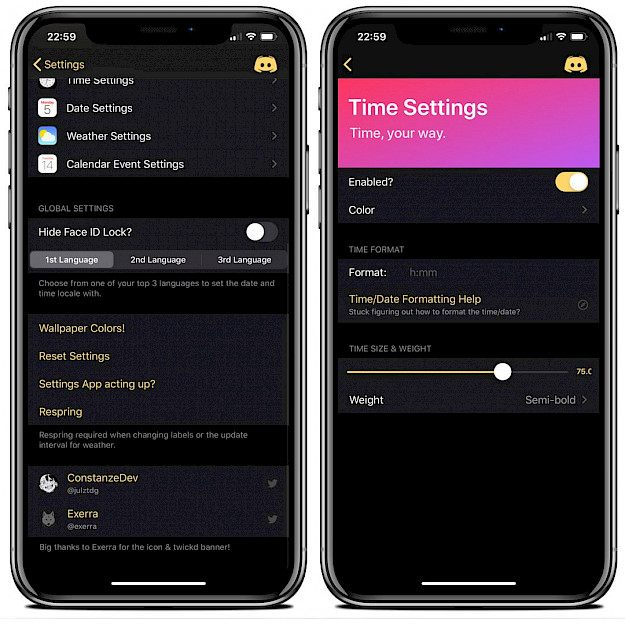 Tweak Settings
Main pane
Align all elements to the left, right, or center
Toggle on or off hide Face ID
Set Wallpaper colors to text
Reset all Setting to default
Respring the device
Configure settings for available lock screen elements
Time Settings
Toggle on or of the Time display
Change the default text color
Set a new time format
Select time font size and weight
Date Settings
Toggle on or of the Date display
Change the default text color
Set a new Date format
Select date font size and weight
Weather Settings
Toggle on or of the Weather display
Change the default text color
Set update interval
Use condition icon
Use condition description
Set wich side the icon will be displayed (left or right align)
Calendar Events Settings
Enable or disable Calendar Events
Set events section title color
Select event name color
Set event date format (ex. EEEE, MMMM d h:mm)
Select event section font size and weight
Select event name font size and weight
Changelog
Version 2.0.3
Small fixes and a cosmetic feature in settings when changing the alignment.
Version 2.0.1
Lots of bug fixes and stuff. New features. Check out the preferences pane for new features.
You might also like