What is Tongbu Assistant?
Tongbu Assistant is an application designed to manage the content of devices using the iOS (also iOS 10 and iOS 11) and Android operating systems. It allows you also to install software and games without outside the AppStore, jailbreak devices.
The tool offers features to install and remove app and games, download selected iOS firmware, perform software updates, manage media library, view pictures and create a backup of files, manage directory structure and send files to mobile devices like on portable disk. Additional you can also manage your contacts list, notes, and messages.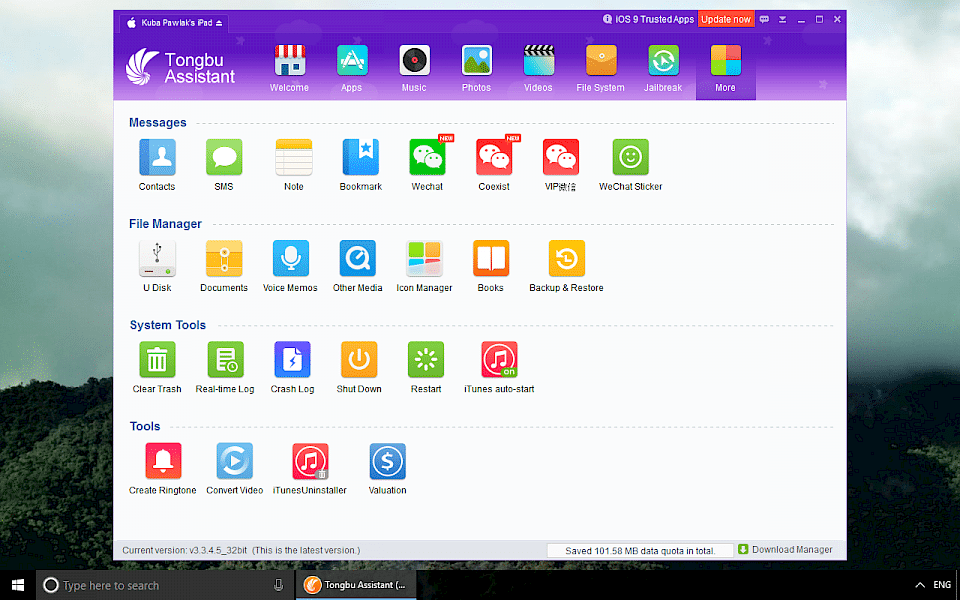 Tongbu Assistant allows you also to find and delete unnecessary files from iOS. The user can select which parts of the system will be cleaned. Among the available modules, you will find an option to delete unnecessary files, delete browser history, delete cache of apps and games, remove scripts, and saved passwords etc.
Tongbu Assistant offers also access to an unofficial store where you can download for free games and apps. The application allows you also to install a Tongbu Store App directly on devices like the iPhone 3GS, iPhone 4, iPhone 4S, iPhone 5, iPhone 7, iPod or iPad. The user can download and install the software from the device without the need to connect to PC or Mac.
How to install Tongbu on iOS?
To install Tongbu on iPhone use free Tongbu Assistant available for download from our software hub. Tongbu supports iOS 8, iOS 9, iOS 10, iOS 11, and the newest iOS 12. The software doesn't require Jailbreak or Apple ID to work. Tongbu is a free platform to install paid apps for free on iOS. To install Tongbu on iOS proceed with our step-by-step guide.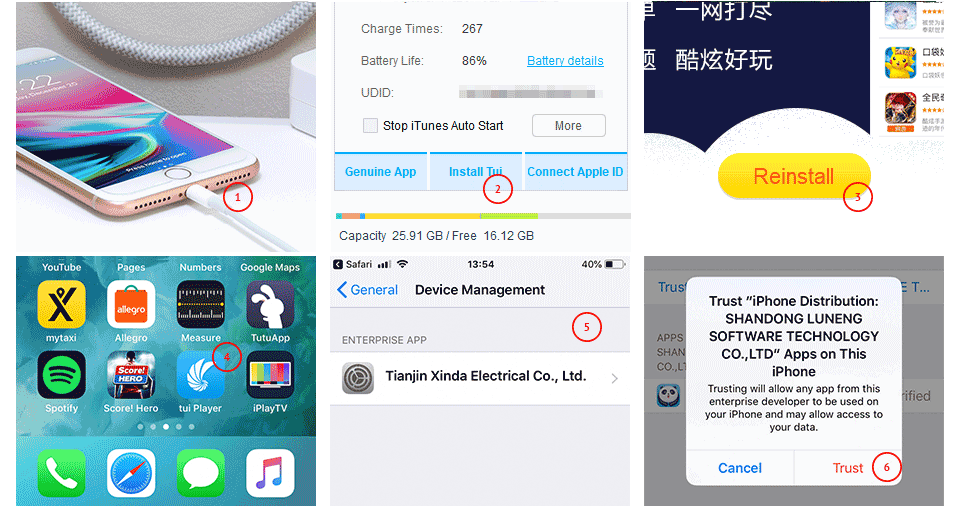 1. Connect iPhone to your PC.
2. Click Install Tui on Tongbu Assistant.
3. From Tui Store Window click Reinstall.
4. After Tongbu is installed on your system tui Player icon will reveal on the iPhone Home Screen.
5. Navigate on the iPhone to the Settings and next to General -> Device Management.
6. Click on the Enterprise Apps the developer name, and Tap "Trust" twice and Tongbu will become trusted.
Download Tongbu without PC
Don't have a PC? No problem, learn how to install Tongbu directly from Safari browser. To download Tongbu iOS on your iPhone directly without PC navigate to tui.tongbu.com and follow the instructions. Open the link in browser and click Install. The developer offers access to Tongbu Free and Tongbu VIP edition that includes exclusive hacks and apps.
What is the latest version of Tongbu?
The latest version of Tongbu is 4.0.5, which was released on September 20, 2018. Read a complete overview what changed in the newest version of Tongbu 4.0.5 from the official changelog provided by Tongbu.
Tongbu Backup and Restore
When Apple will revoke Panda Helper, Tutuapp, Tongbu (tui Player) certificate all installed apps and games will crash and you will need to install them from scratch. The main problem you will encounter is that all settings and data related to those apps will be deleted. To fix it use Tongbu Assistant Backup and Restore function. Our step-by-step guide to save and restore apps settings will help you.

1. Click on Welcome Tab Backup & Restore button.
2. Connect your iPhone to PC or Mac and click Create backup in Tongbu Assistant.
3. Click Backup button to create backup of app and game data.
4. After Tongbu Assistant will complete the backup process you will have access to the file to restore when needed.
---
We recommend you also to check Tongbu alternative software. In our software hub we offer apps like popular Panda Helper, Tutuapp, or TweakBox that can be installed from mobile browser. 25PP, vShare Helper, Tongbu Assistant, Tutu Helper, and Cydia Impactor allow you to sign and install apps and games on iOS 12. 25PP is available in Chinese language, but we prepared quick guide how to use 25PP, that will help you to navigate the interface.
Software review

Kuba
Tongbu Assistant Review
Tongbu is a great platform to download apps and games on your iOS device. This was the first application that allowed to fix not working apps installed bypassing AppStore. You can still use Tongbu to download millions of Apps, and Games for free. Tongbu Assistant is available only as Desktop software and you need to have a PC or Mac to run it. After you download Tongbu Assistant, and install it on your Desktop you will have options to manage your iOS device. You will have access to tools like clear trash, U Disk, Backup and Restore, Real time log, Contacts, and more. Tongbu was my favorite tool, but now in era of Panda Helper, or TutuApp I prefer to not run my Mac to get things done. Any way if you are looking for solid software, I can recommend you to get Tongbu Assistant download, install it, and use Tongbu on your PC or Mac.