Download Stremio directly from the developer.
Stremio review
Stremio is a free app to watch movies, TV shows, series, live television from your desktop. You can discover, organize and watch video from all kind of sources on any device. There are also add-ons for Torrent streaming, YouTube, Netflix and Twitch.tv support.
Feature highlights from Stremio include an option to see what movies, series or videos you didn't finish and continue watching them, get notified of new episodes and releases, browse through the recommendations you will get based on your viewing habits. You can discover new movies, TV shows, series and channels to watch and browse by category, genre, rating, recency, etc. or simply type a name to find.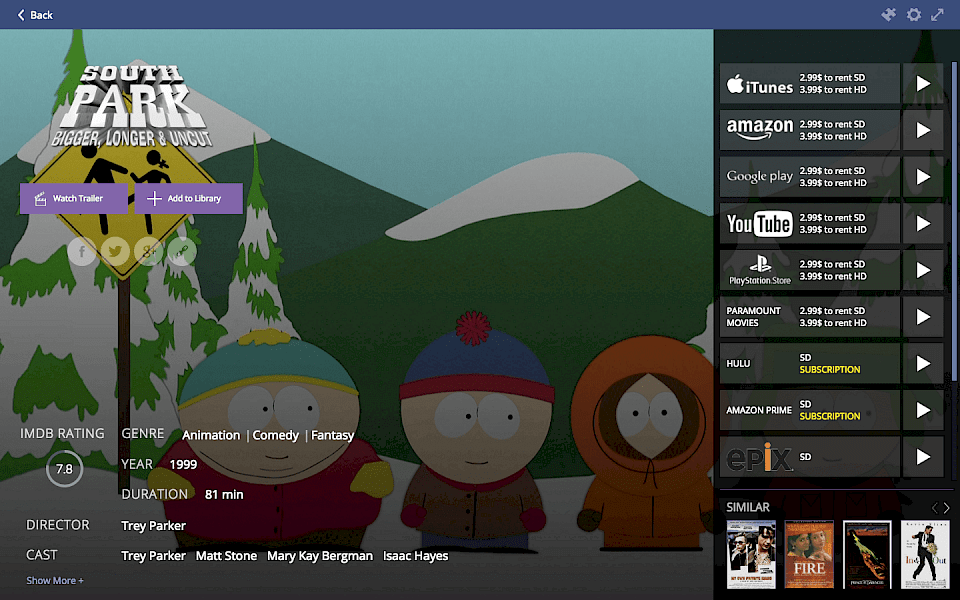 Stremio library allows you to add any title to your library with a single click. You can find your way around your content, neatly arranged by type, recency, or alphabetical order. There is also a calendar visualization of all the movies and series you add to your library so you will never miss your favorite show or movie. You can even export Stremio calendar and sync it so you always know when a new episode or a premier goes air.
Stremio can also rent movies from popular services including Amazon Prime, Google Play, iTunes, YouTube or PlayStation.Store. Every movie description includes IMDB rating, duration, cast, genre etc. You can also watch a trailer. Stremio offers also support for add-ons. You can extend the features of the app by installing plugins like Juan Carlos 2 for torrent streaming support, OpenSubtitles for an option to download subtitles and much more.
Stremio Download
You can download Stremio 4.4.18 for Windows Mac, and Linux.