ZiniTevi for iOS is the new app allowing you to watch movies and TV series on your iPhone, iPad, and iPod Touch screen for free. The app supports also cast to Smart TV, Airplay, Chromecast, Roku, MiBox, PlayStation, Xbox, and PC. Download ZiniTevi without a computer, sideload IPA, or install using TestFlight link.
Install ZiniTevi on iOS
ZiniTevi works on both Jailbreak and non-Jailbreak devices running iOS 13. Same as all other free apps, also ZiniTevi is signed using an enterprise certificate, that can easily get revoked. Use a proxy to run revoked app or install via TestFlight.
1. Open the System app on your device.
2. Select your Wifi Network.
3. Tap on the ⓘ → Configure Proxy → Automatic.
4. Type in the URL field "http://ffapple.com" and "Save".
5. Disconnect Wifi and reconnect to your Wifi Network.
6. Clear Safari history cache.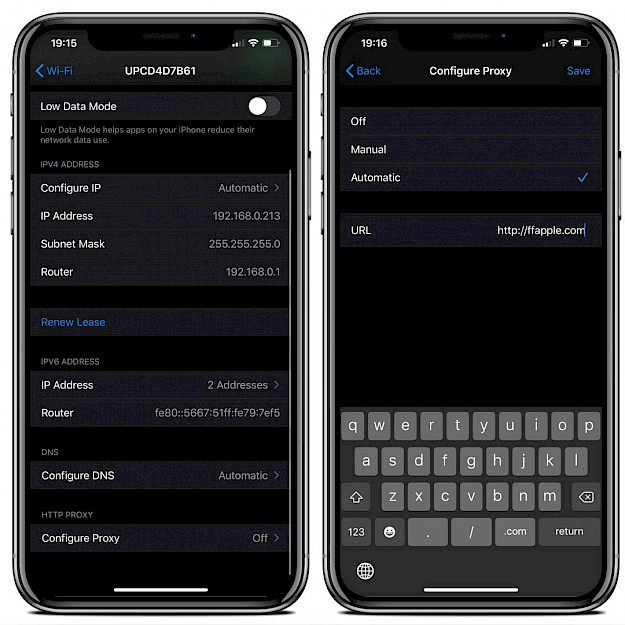 1. Tap install ZiniTevi or ZiniTevi TestFlight (no revoke) from Safari.
2. ZiniTevi app Icon will appear on your Home Screen.
3. Navigate to Settings → General → Device Management.
4. Find the newly installed Enterprise App Certificate and trust it.
5. Run ZiniTevi app.
What is ZiniTevi?
ZiniTevi is a free movie app offering access to your favorite videos and TV shows on iOS for free. The app offers full support for AirPlay allowing you to cast videos directly to any device connected to Apple TV. What's more, the application can also cast videos to DLNA devices or Google Chromecast.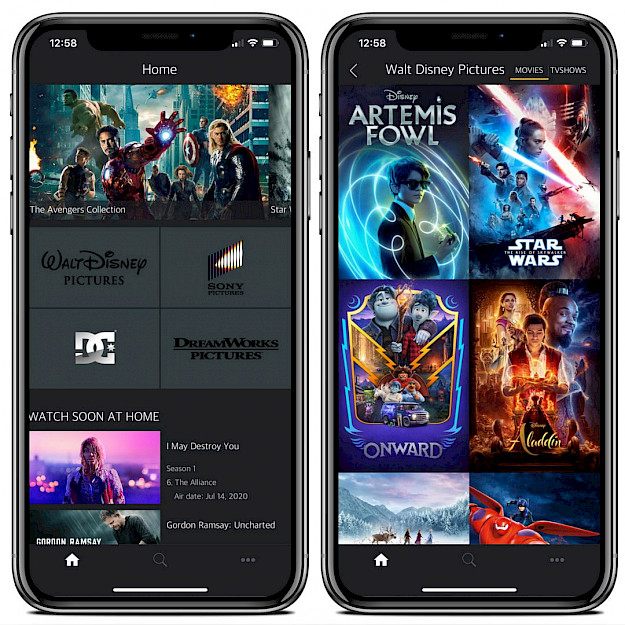 ZiniTevi database offers access to thousands of movies and TV-Shows in 720p and 1080p quality with cast support. Navigate through all the latest releases of movies available in theaters for free. Works with iOS 9 up to the newest iOS 14. What's more, now it integrates Subtitles translation to 150 languages.
What are ZiniTevi features?
play video online and download files for offline view
download multiple videos in the background
add movies to favorites list
save to history list
stream video to Chromecast, Airplay, Smart TV, Android TV Box, UPnP, or DLNA
sync history and favorites list to the cloud (will be updated soon)
subtitles in video
The movie app for iPhone displays ads before playing any video. Every video comes with a short description including cover, release date, length, quality, director and stars, and also some related materials that you can also like. Moreover, ZiniTevi app is also available for Android devices.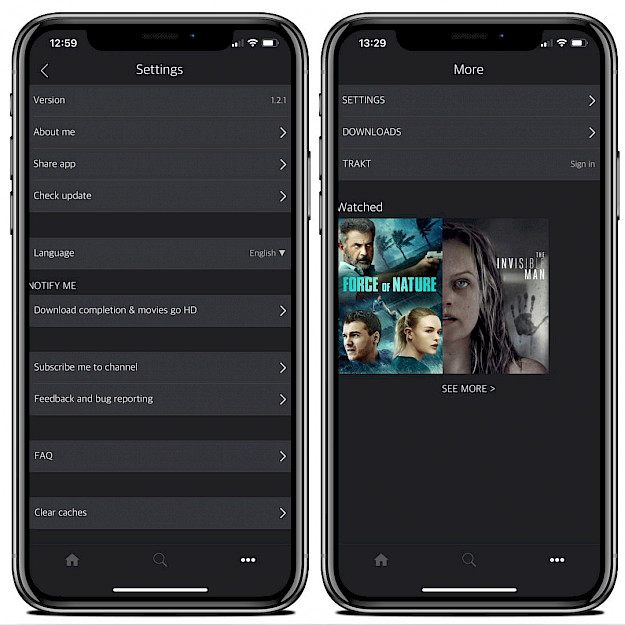 Download IPA
Download ZiniTevi++ without Ads
Changelog
ZiniTevi 1.3.6
Performance improvements
Bug fixes
ZiniTevi 1.3.2 includes
Performance improvements.
Fixed several app problems on iOS 14.
Integrates Subtitles translation to 150 languages.
ZiniTevi Version 1.2.9
Implement RealDebrid Service
Download directly from the stream list
Fixed several app problems on iOS 14
ZiniTevi 1.2.8
Fixed casting video to Roku
Change serial position components on UI player for flexibility
Fixed Airplay screen mirroring
Always getting yer latest season of episodes
Version 1.2.3
Bug fixes
Search filter to narrow your results
Recent feature keeps track of recent videos that you have watched
How to install ZiniTevi with AltStore
AltStore can activate max 3 apps on your iPhone using the free certificate. Every 7 days after installing ZiniTevi, you need to resign the app and send it to the AltServer (running on PC or Mac), which installs the resigned movie app back to your device using iTunes WiFi sync (works also using a USB cable).
1. Download AltStore and install the app on your PC or Mac.
---
Or use any other Cydia Impactor alternative for Windows or macOS.
---
2. Open Safari and download ZiniTevi IPA (10 MB) or ZiniTevi++ IPA.
3. Lunch AltStore and navigate to "My Apps" section.
4. Tap on the + button available form the left-right corner.
5. Select downloaded ZiniTevi.IPA file to install.
6. AltStore will start installing ZiniTevi++.
7. The ZiniTevi ++ app will be available from your home screen.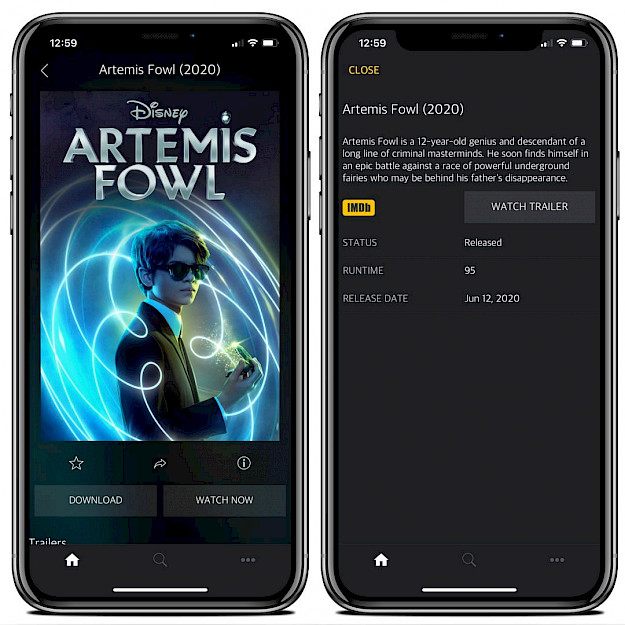 Frequently Asked Questions
Why ZiniTevi isn't working?
ZiniTevi as all other 3rd party apps is using an enterprise certificate to be installed on your device. Those certificates are monitored by Apple and they get often revoked. It means that you can't install apps until the developer provides a new certificate.
How to fix ZiniTevi?
If ZiniTevi is not installing or if it crashes when you try to open the app it's probably related to the certificate that was revoked by Apple. You can try to reinstall the movie app or try to add a proxy that will allow you to run revoked apps on iOS.
Why TestFlight isn't working?
If you try to install ZiniTevi on your iPhone using the TestFlight invitation link it may not work for one of two reasons. There is a limit of users that can access the beta program of the app. When it's reached you can't install the app. Apple could remove the test program. The TestFlight program works for 90 days. After this period you need to reinstall the app.
Is ZiniTevi safe?
Using ZiniTevi app on iOS 13 is absolutely safe when you download or install it from trusted sources. There is no need to jailbreak your iPhone or use a computer. All movies available via the platform are illegal.
Is ZiniTevi legal?
Using the ZiniTevi on iOS is absolutely legal, but streaming or downloading video files is not. Obviously, when you watch copyright content without paying for it it is illegal. ZiniTevi app is something like a pirated version of Netflix.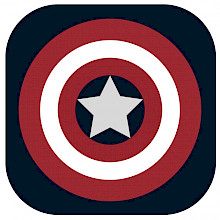 Best alternatives for iOS
1. MediaBox HD
MediaBox HD is a great alternative for ZiniTevi packed with a lot of unique features allowing to play movies on mobile device or TV. The app supports DLNA receivers and AirPlay offered by Apple TV. All titles come with trailers, download and play options, and VIP users have access to soundtracks.
2. Popcorn Time iOS
Popcorn Time iOS is a free application allowing you to stream and watch movies, and the latest episodes of popular TV series from your mobile screen. The player aggregates links to torrent files with video. From the main window, you have access to movies and TV series bookmarks.
3. ToonsNow
ToonsNow is a free ZiniTevi alternative with a catalog of cartoons, anime movies, and TV series featuring a total over 13500+ videos and raising. The app supports Standard player for playing MP4 or MOV files, as well as VLC player for MKV, AVI file formats compatible with AirPlay.
4. MovieBox
MovieBox is the successor of Showbox that offers a lot of great features including an option to read news related to the movie industry, watch upcoming movie trailers, add TV Shows and movies to favorites, play movies, and TV shows, and follow new releases of your favorite shows.
You might also like