Zebra Package Manager for iOS 13
kuba - Sunday, 8 September 2019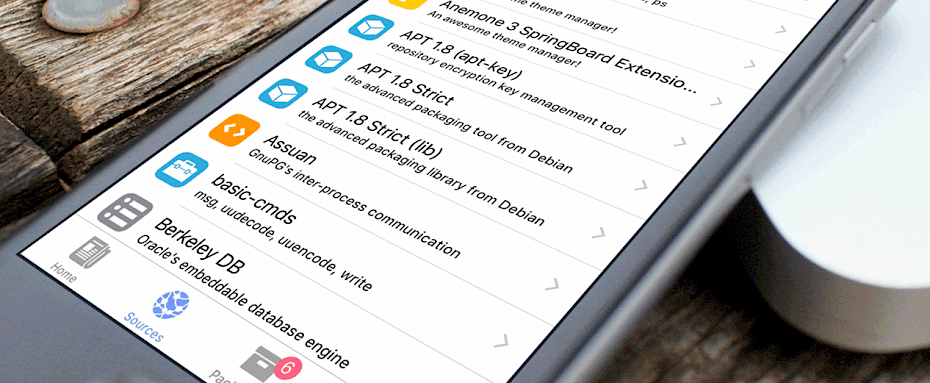 Zebra is a basic package manager that offers all features you need to download and install your favorite jailbreak apps and tweaks from repositories. It is pretty fast and it was designed to work on iOS 8 up to iOS 13. Zebra can be installed for free from the official Cydia Repository.
Zebra Package Manager is a great Cydia alternative app available for iPhone, iPad, and iPod. You can add new sources, view available packages and upgrades, add tweaks to wishlist, manage stores, and search for apps and tweaks. With every next release, the app offers much more features to enjoy.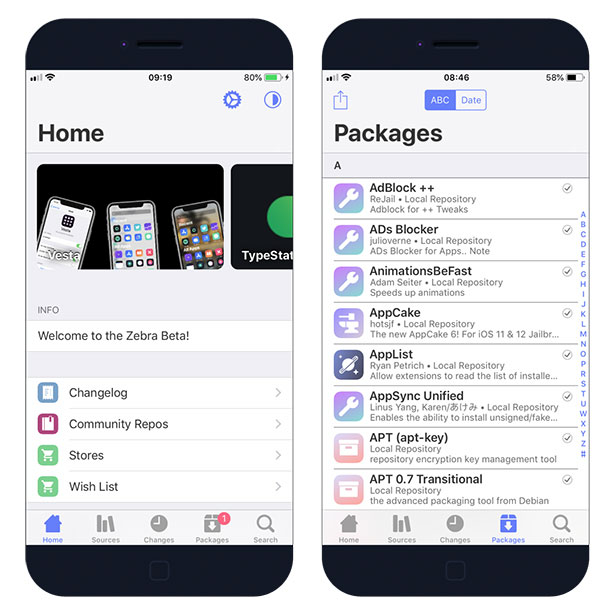 Zebra is completely open-source and located on GitHub. This source can be added to Cydia on your iPhone or iPad and it is included by default with Zebra to provide future updates. Zebra also contains support for paid packages using the Sileo API and recognizes repositories with app stores.
Managing sources was never easier. The package manager offers an option to add one repository a time, or multiple from a text list. This will definitely speed up setting up the app. Moreover, there is also an option to import Cydia Sources with one click to Zebra Package Manager app.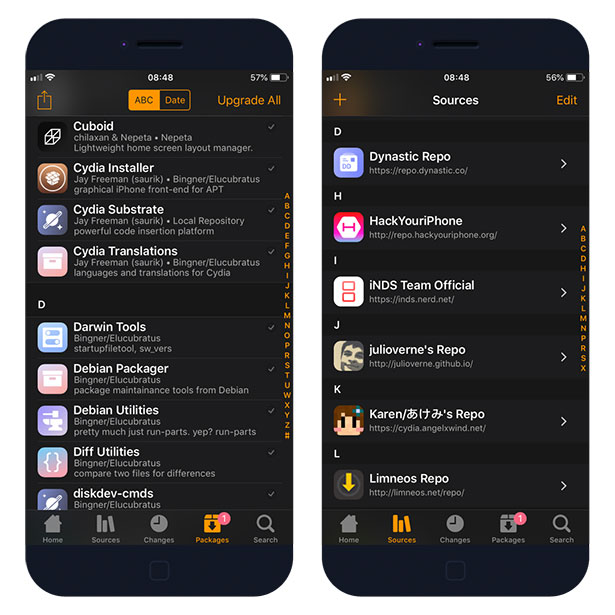 Zebra is available in dark and normal mode. From Settings, you can switch tint color (blue, orange, white), change the app icon, select the dark mode (default, OLED, iOS 13), and clear image and keychain cache. The Home Page can also display jailbreak news and list of featured packages.
How to install Zebra
You are just a few steps from installing the tweak from Cydia Sources. To add Zebra Repo to your list of Cydia Sources follow our step-by-step guide.
Step 1. Open the Cydia app on your device.
Step 2. Tap Sources → Edit → Add the official Zebra Repo.
Step 3. Switch to Search Tab and enter Zebra.
Step 4. Tap the Install button.
---
Or download Zebra IPA file and sign it using Cydia Impactor (Windows, Linux, Mac) and sideload the app. We provide a full step-by-step guide on How to use Cydia Impactor to install IPA files on iOS.
Step 1. Download Cydia Impactor, and unzip the file.
Step 2. Download Zebra.IPA (6 MB).
Step 3. Open Cydia Impactor and navigate to Device → Install Package.
Step 4. Select Zebra.ipa version 1.0 beta 23 file to install.

Step 6. Enter your AppleID and app-specific password to sign apps not provided by Apple.
Step 7. Add the certificate to trusted from Settings → General → Device Management.
Impactor allows you to install max 3 apps on your device. Every 7 days after signing, you will have to connect your iPhone to your computer and repeat the install process, however, you do not have to delete the apps.
Changelog
Version 1.0 beta 33
The auto-lock timer is now disabled while the console is performing package modifications
Add a "transfer from Installer" option in the "Community Repos" page
Fixed a dependency issue when removing packages
Fixed a localization issue in the Featured Repo Blacklist
Fixed a visual bug on the packages tab when OLED dark mode is enabled
Fixed a crash in the application's delegate when trying to override the UI style on a device < iOS 13
Fixed a crash in a package's depiction page when trying to separate an author's email from their name
Fixed a few visual issues relating to large titles in the Packages tab
Fixed an inconsistency when checking to see if the default Zebra repo was installed
Fixed a syntax issue in the dependency script
Fixed a crash when trying to determine a task's terminationStatus when it never started
Fixed a crash that occurred when trying to Upgrade/Downgrade/Reinstall Zebra when there was another package in a different queue
Version 1.0. beta 28
Zebra will now warn you when you attempt to remove Essential or Required packages from your system. Only remove these packages if you are sure that you know that they are safe to remove. Zebra warns you about these packages as it may put your jailbreak in an unusable state if you remove them.
Fixed a crash when trying to detect whether or not an installed .deb contained an application.
Fixed a bug where two packages from the same repo that contained the same original filename would not be installed properly
Fixed an issue when trying to open Cydia Share API URLs
Fixed a bug where packages on iOS 10 and below wouldn't be properly detected for Respring/uicache
Fixed a crash when trying to compare versions of packages
Seconds will no longer be shown for packages when sorting by date in the Packages tab (or a repo view)
Fixed some packages not showing their proper icon in the Queue
Fix a dependency/conflict searching issue where some packages would be removed even though they don't depend on the package
Fixed a bug where the Queue Bar would not be properly themed
Fixed a bug where the tint color in the navigation bar would not change on the Sources, Changes, and Packages tabs
Fixed a bug where the text color in the search bar on the search tab would be unreadable in dark mode
Fixed a bug where the refresh indicator would be black in dark mode and be hard to see
Fixed a bug where the refresh indicator would freeze if you switched a tab while refreshing
Attempts to fix a bug where Zebra would improperly detect your jailbreak
Version 1.0 beta 26
Fixed a bug where the Queue Bar wouldn't go away after installing a package
Fixed some non translated section titles
Fixed a bug where packages that were marked as conflicts were removed without actually being installed
Several crashes to do with not running UI updates on the main queue
Zebra now has a control dependency to restrict access to iOS 10+
Fixed a crash when trying to log into a repo
Fixed a crash when adding a NULL package to the Queue
Fixed a crash when creating a repo without a Release file
Fixed a crash when trying to obtain the author's email if there was no author
Probably a few other crashes that I forgot about
Version 1.0 beta 25
Re-organized settings page to better support translations
A confirmation dialogue will now appear when trying to clear the Queue
Package depiction pages are now localized
Automatic crash reporting
Improved the updating of the Queue bar package count
Changed layout of Queue navigation bar so that localized text appears better
Some missing localization strings
Fixed a crash when trying to log in to the Chariz repo
Fixed Queue badges not showing up with swipe actions
Fixed Queue bar not showing for swipe actions
Fixed refresh popup every time that repos are refreshed
Fixed a UI bug where the "No Search Results" cell was able to be removed
The Queue will popup but won't automatically appear for swipe actions
Version 1.0 beta 23
A new default repo, https://getzbra.com/repo, has been added to your sources.
Fixed a bug where if empty whitespace was at the beginning or the end of a search term no results would be shown.
Fix a bug where Zebra would crash if an item was removed from the wishlist.
Fix a crash on the Changes tab.
Version 1.0 beta 22
Fixed layout issue in the Console
Fixed a crash when 3D Touching a news cell (again)
Fixed an issue where you would not be able to see swipe actions if using dark mode and white tint
Fixed an issue where repos wouldn't display their names and icons properly
Fixed an issue where BigBoss/ModMyI/ZodTTD could not be added to Zebra
Fixed an issue where BigBoss/ModMyI/ZodTTD would duplicate on every refresh
Fixed an issue where paid packages from Dynastic could not be downloaded
Version 1.0 beta 21
Option to turn off "live search" for older devices
New Queue UI
Improved overall reliability
Fixed an issue where BigBoss, ModMyI, and ZodTTD would not be imported from Cydia or Sileo.
Fixed an issue where Zebra wouldn't always be able to match downloaded filenames to their respective packages
Fixed an issue where the "Add to Wishlist" option was not showing up in the package depiction page
Fixed 3D Touch for News links in the changes tab
Fixed an issue where BigBoss, ModMyI, and ZodTTD could not be added in multi-source mode with another non-distribution repo