If your primary method of communication is mainly SMS and iMessage using the iPhone, then we have a perfect newly released jailbreak tweak for you that is known as WebMessage and was developed by iOS developer sgtaziz. What is unique about this tweak is that it is both a tweak and an application that can be downloaded on your iPhone.
With WebMessage, you can easily turn your iPhone into a messaging server by simply installing a special client on the server. Once you do that, you will be able to read and reply back to SMS and iMessage conversations quite easily using your personal computer regardless of it being a Mac system or not. WebMessage supports three desktop operating systems such as Windows, macOS, and Linux. You can download this computer client from the Github page and after installing it, the jailbroken iPhone can be linked to it using the iMessage tweak's preference pane.
As per the developer, WebMessage uses WebSocket and REST API to work this tweak. Apart from that, you also need to make sure that the jailbroken iPhone and computer are on the same Wi-Fi network as the WebMessage client. If they cannot be on the same network, then the tunneling support that is included with the client can be used. Currently, WebMessage offers the following features to the users:
Send and receive the messages in real-time
Send attachments from your PC without having to transfer it to your phone
SSL encryption with your own privately generated certificate
Native notifications
Password protection
Always-running daemon
Downloading attachments ability through client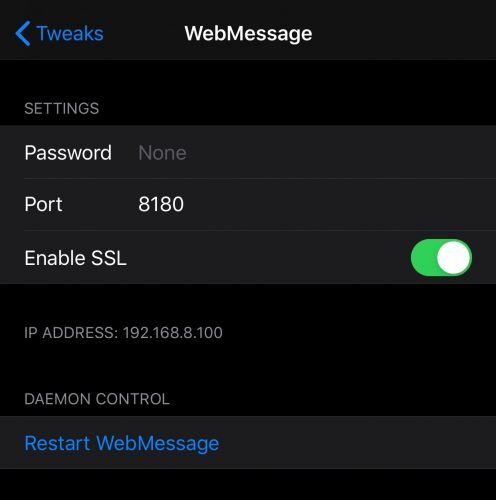 You would also find it good to know that the developer is planning to add more features in any future update. This includes things like read receipts, reactions, and other features that usually iMessage users are aware of.
This isn't the first or the last tweak to make it possible for the users to forward the messages from their iPhone to their computer. There was an older extension known as Remote Messages Client that has a similar functionality like the WebMessage but this extension hasn't been updated since the release of iOS 9 so, it is not a feasible option anymore.
You can use WebMessage on jailbroken iOS 12, 13, and 14 devices although iOS 12 devices haven't been properly tested like the iOS 13 and 14 devices. If you are interested in trying out this tweak, then you can download it free of cost from the sgtaziz repository using your favorite package manager. In case you don't have this repository added, you can add it using the following URL:
https://sgtaziz.github.io/repo
One thing to remember is that you would need the complementary computer client to use this tweak which can be downloaded on your PC via the developer's Github page. Moreover, since this tweak is fully open source, you can check it out and make any configurations that you might need to.
Are you planning to try WebMessage on your PC or are you satisfied with the native iMessage app? Do let us know in the comments below!
You might also like