The WatchOS 8.1.1 update has rolled out to fix a major bug on the Apple Watch.
Apple says that the latest update to WatchOS 8.1.1 will resolve the charging bug on Apple Watch 7.
Before updating their watches to WatchOS 8.1.1, users weren't able to fast charge their Apple Watch 7 and were really disappointed as it was one of the main features of the Apple Watch 7, but now Apple rolled out the WatchOS 8.1.1 update to clear that bug.
Here's more about WatchOS 8.1.1:
The News:
Apple released watchOS 8.1.1, which contains an important bug fix for the Apple Watch Series 7. This minor update does provide a significant fix for Apple Watch Series 7.
Three weeks after watchOS 8.1 was released to the public, the new update is now available. WatchOS 8.1.1 fixes the charging issue with the Apple Watch Series 7. You can find more information about the charging issue below.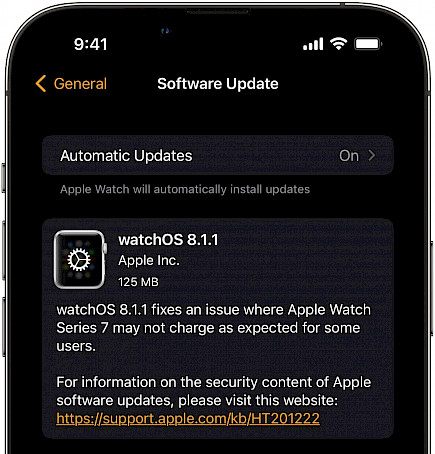 Although we haven't seen any major problems with the Apple Watch Series 7, there have been some issues with charging. The Apple Watch Series 7's most important new feature is fast charging. Some users complained that it didn't work properly.
WatchOS 8.1 was a significant update as it added many forward-facing features. The update included support for sharePlay and Fitness+ group workouts. Continue reading to learn how to download the latest watchOS 8.1.1 for Apple Watch Series 7.
How to install WatchOS 8.1.1?
To install watchOS 8.1.1 on your Apple Watch, it must have at least 50% battery life. It also needs to be connected to a charger. Keep it within reach of your iPhone. WatchOS 8.1.1 is available for the Apple Watch Series 7.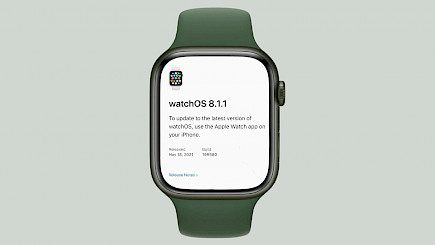 All other models will not receive the update in the Settings app.
Click on "General."
Click on "Software Update"
Then, the app will be looking for updates.
If there is an update, we will be able to see the release notes, and below the release notes, you will see the option to download and install. Now, tap on it.
WatchOS8.1
Apple also released software updates for the Apple Watch and Apple TV HD. WatchOS 8.1.1 and TVOS 15.1 bring SharePlay to Apple's smartwatches and set-top boxes. WatchOS 8.1 adds support for group workouts via Apple Fitness+ via SharePlay and enhancements to fall detection.
WatchOS 8.1 includes the following improvements and bug fixes:
Fall detection for Apple Watch Series 4 and older has enhanced algorithms that detect falls during exercise and an option to enable fall detection during training.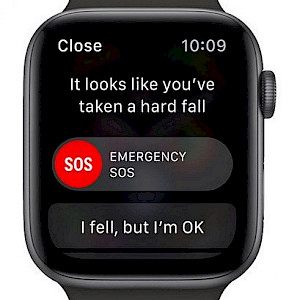 COVID-19 card compatibility allows you to present validated immunization information to Apple Wallet.
Fitness+ supports SharePlay, which allows subscribers to invite up to 32 people to work out together via FaceTime using an iPhone, iPad, or Apple TV.
Winding-up
And those were all the major bug fixes that came with Watch 8.1.1.
This is all for today. Stay tuned for more interesting news and updates. Good Day!

You might also like