The best thing about jailbreaking your device is that you are not limited only to features built into your iPhone by Apple. Volumizer is a paid jailbreak tweak that allows you to set a volume level per-app basis on any iOS device. Download Volumizer tweak from official Cydia Repo for 0.99 USD.
What is Volumizer tweak?
Volumizer tweak allows you to increase the volume in certain apps and leave others at a lower volume level. iOS doesn't provide volume-tuning features out of the box, but when you jailbreak the device you can install Volumizer by iOS developer SynnyG and improve the iOS volume level experience.
Using the tweak is really easy. After installing Volumizer, a dedicated preference pane is available in the Settings app. From here access all configuration settings for the tweak. Toggle Volumizer on or off, invert the volume buttons for landscape mode, toggle a default volume level system-wide.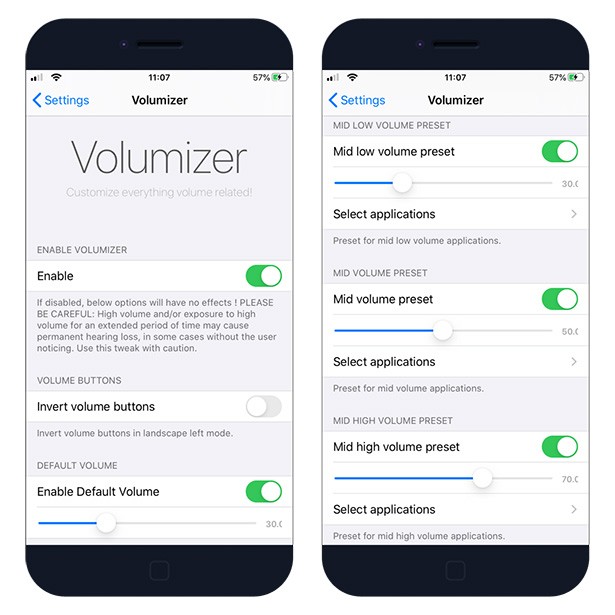 Additionally, you can configure the tweak to allow the volume to reset after closing an app where a custom volume level has been set, configure a low volume level preset and assign it to specific apps, set a mid-low/high volume level preset and assign it to any apps. The tweak works with iOS 7 - iOS 13.
Volumizer tweak works with system applications and those installed by the user. This is one of the best tweaks with the ability to configure a preferred volume level for selected applications. Listen to music at 70% volume, but lower the volume when you watch YouTube videos at 25% in public.
The invert volume buttons in landscape left mode the volume down sets the volume down button turn the volume up and the volume up button turn the volume down when the handset is oriented in landscape mode. Settings go to normal after the device has been oriented in portrait mode.
Be careful using this tweak. High volume and/or exposure to high volume for an extended period of time may cause permanent hearing loss, in some cases without the user noticing. Use this tweak with caution. Volumizer can also restore the volume level when an app set preset is closed.
Will you install Volumizer on your pwned handset? Leave a comment on why use this tweak.
How to install Volumizer Repo
The tweak works on both unc0ver and checkra1n jailbreak tools running on iOS 13. To add Volumizer Repository to your list of Cydia Sources follow our step-by-step guide.
Step 1. Open the Cydia app on your device.
Step 2. Tap Sources → Edit → Add the official Volumizer Repo.
Step 3. Switch to Search Tab and enter Volumizer.
Step 4. Tap the Install button.
Step 5. The tweak can be configured from Settings → Volumizer.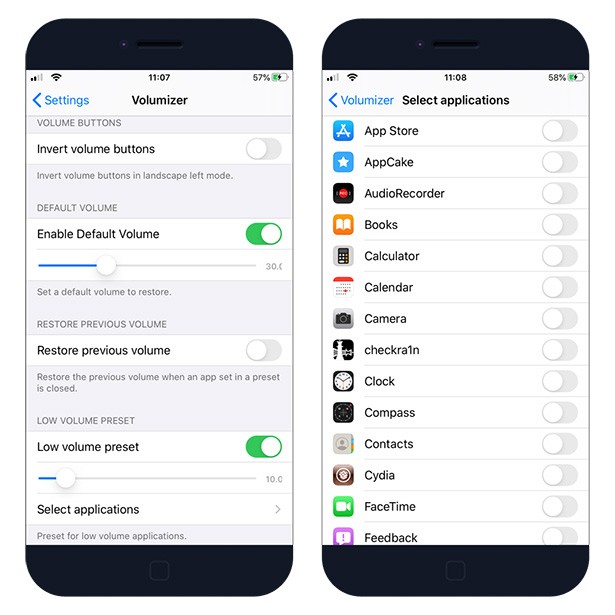 Changelog
Version 1.2
Bug fixes
New beautiful setting page
Version 1.1
Fixed applist dependency issue
Fixed Invert Volume Buttons feature
Fixed bugs caused by negative volume value with the invert buttons option activated
Added an option to block any automated music change when there is a now playing app running to avoid hearing issue
Added an option to modify the number of volume buttons steps
Added a muted preset
Fixed default prefs management
Improved prefs changes handling
Reorganized settings page for better readability
You might also like