The default Volume Hud look in iOS 10 till iOS 12 isn't as exciting to use as the one updated in iOS 13. When you are running a jailbroken device you have more options installing one of the best Volume Hud tweaks for iOS. Discover some amazing volume HUD replacement for iPhone.
Volume Hud indicator displays the actual volume level on your device. Installing some tweaks you can not only change the design of the component but also add new features like the option to interact with the screen control. There is also an option to use on older devices Volume Hud from iOS 13.
Some of the presented below Volume Hud tweaks offers also an option to change the look of iOS Ringer Hud control. Cydia tweak are compatible with iOS 12 and iOS 13.
iOS 13 volume hud tweaks
1. Ultrasound tweak
Ultrasound is a beautiful iOS Volume HUD tweak for jailbroken devices. Supports iOS 11 and iOS 13. Change almost every aspect of the volume HUD using this great jailbreak tweak. Install Ultrasound from the official Cydia repository. The volume HUD is optimized for iPhone X and higher.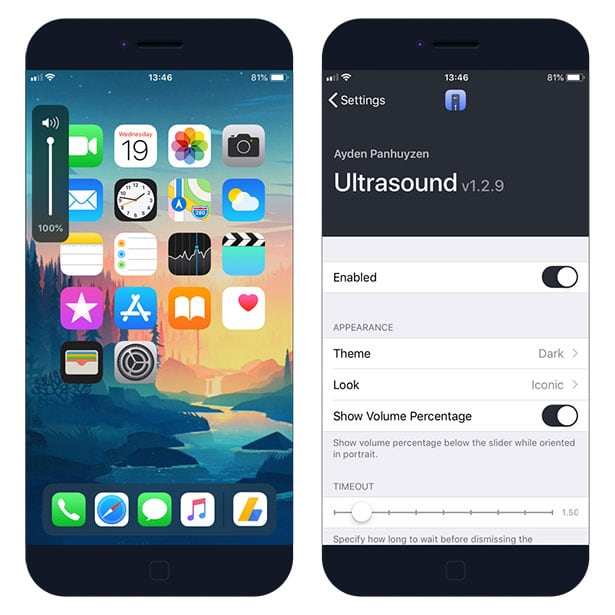 ​​​​​​
Ultrasound tweak allows you to see the volume level and percentage and adjust it while the screen is off. It seamlessly animates in and out of OLED Mode as you wake your device, and combined with OLED's true black pixels. Moreover, customize Ultrasound tweak with multiple themes and styles.
2. 13HUD tweak
13HUD is the iOS 13 volume HUD style for jailbroken devices. It looks and feels great on your iPhone, iPad, and iPod Touch. 13HUD tweak shrinks after several volume button presses. Moreover, you can fine-tune your device's volume level with touch instead of with button presses.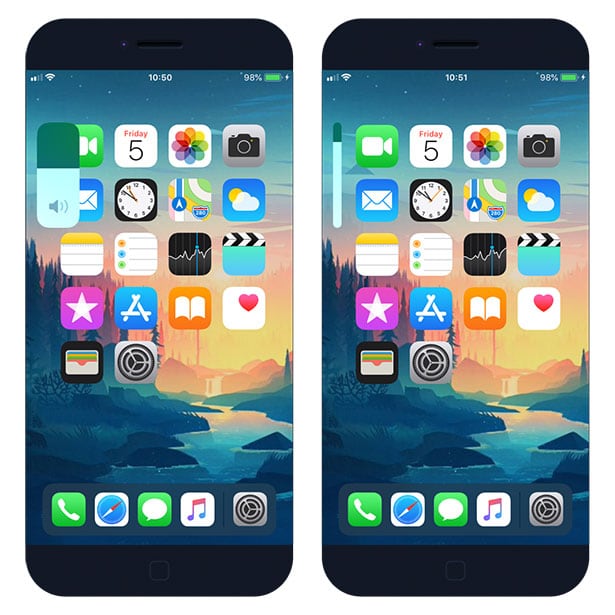 After installing 13HUD, you'll find a dedicated preference pane in the Settings app. Configure a custom top padding, height, timeout period, collapse timeout period, and hide or show the ringer indicator. 13HUD does not currently implement iOS 13 ringer HUD, only the volume HUD.
3. Sonus12 tweak
Sonus12 is an amazing volume HUD tweak (compatible with iOS 12 - 10) with appearance, animation, size, and position customization options. Change the height and width of the slider/bar, vertical position (x-position), horizontal position (y-position), overlay padding, and overlay margin.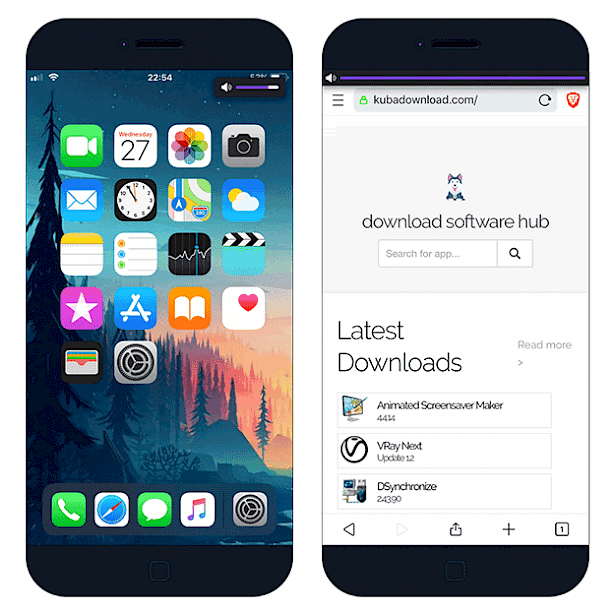 You have full control of the volume hud tweak. Change slider colors, disable overlay backdrop, overlay color, overlay shadow, overlay blur, overlay border-radius, show volume percentage, hide ringer indicator icon, display media indicator icon, display only one or change indicator icon color.
4. Melior tweak
Melior jailbreak iOS tweak refreshes the lock of iOS volume HUD created by Apple and adds some new useful features. You can control the volume level by pressing the hardware buttons or by swiping up or down on the interface. From the app setting, you can change the position and look of the HUD.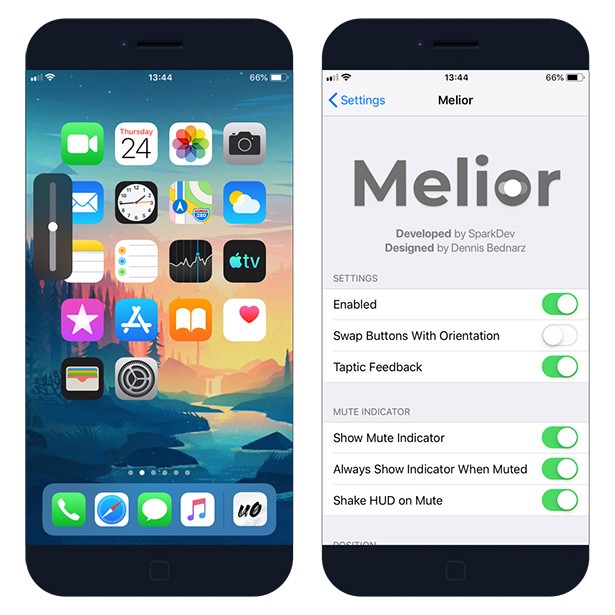 The alternative volume HUD is highly customizable. You can adjust widget position, change the background color, slider min track color, slider max track color, mute glyph color, swap buttons with orientation, hide mute indicator, shake HUD on mute and more.
5. VideoHUD tweak
VideoHUD jailbreak iOS tweak changes the lock of iOS volume HUD created by Apple and adds new fell to the system. Control the volume level by pressing the hardware buttons and enjoy the small, modern look of volume control. VideoHUD tweak is compatible with iOS 11 and iOS 12.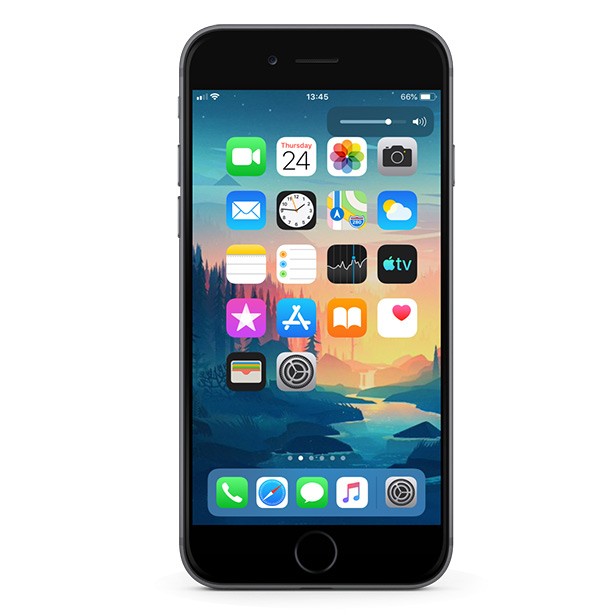 In VideoHUD there are no options for configuration available. This is a simple install and replaces jailbreak tweak. To disable it you need to uninstall it from Cydia packages. If you are searching for similar and free volume replacement for iOS we can recommend you to try Melior.
6. Aerify tweak
Aerify is a free Volume Hud tweak that adds more control over the look of the indicator on iOS 8 - iOS 12. Set HUD background color, HUD blur effect list, Volume bar shadow opacity, Volume bar width selection, changed sliders to segmented to be easier to use, and volume bar thinner.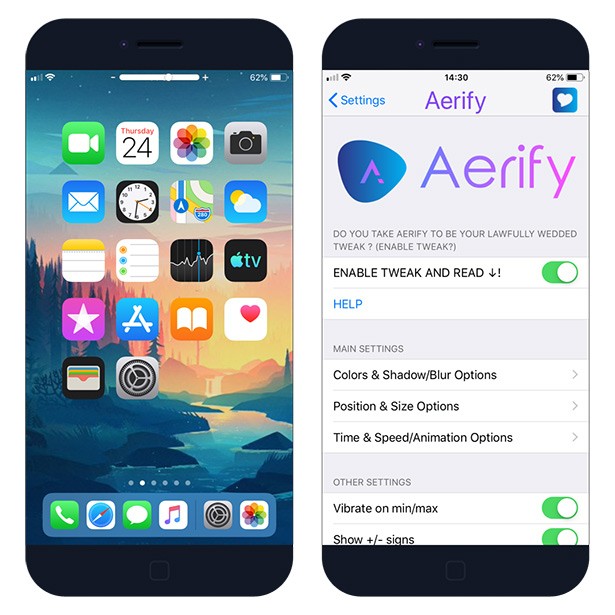 Pick colors, animations, positions, show speed, hide speed. Aerify tweak is a highly customizable system-wide volume HUD tweak for iOS 9 up to iOS 12 and with iPhone X support. Download the Aerify volume hud control tweak from the official Cydia Repository.
7. SmartVolumeControl2 tweak
SmartVolumeControl2 brings 13 different volume HUD looks, each one built and designed to offer aesthetic changes, usability improvements, and more. Most presentation styles are smart and touchable. Set your device's volume level without having to press any hardware button/switch.
SmartVolumeControl2 allows you to pick among 4 skins on most view styles to match your favor or theme. Choose among Light/Dark/Darker or Black(OLED mode). The volume hud tweak is available for about $3 but you can also access the free license.
8. NintendoSwitchHUD tweak
NintendoSwitchHUD is a free volume hud tweak inspired by the one available on Nintendo Switch. The Volume Hud tweaks works on iOS 10 - iOS 12.4 and offers support for arm64e (A12) (iPhone XS, XS Max) devices. After installing NintendoSwitchHUD, you'll find the preference pane in the Settings app.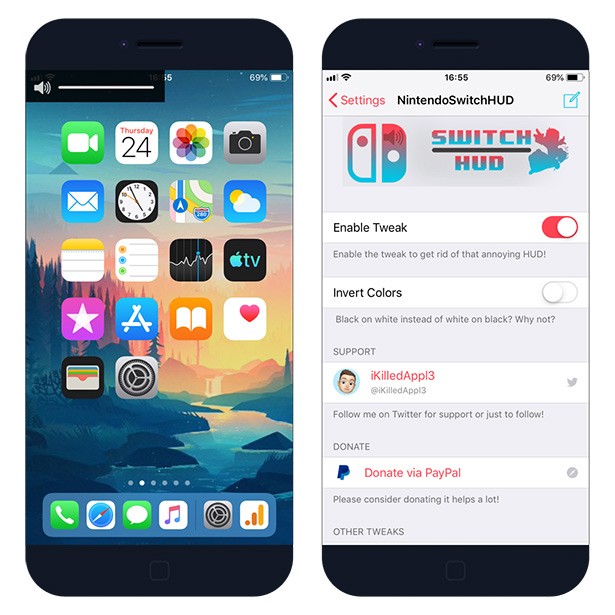 iKilledAppl3 developer provided only two options. From the Settings app, you can enable or disable the tweak or use the inverted colors option. Install the newest version of the jailbreak tweak for free.
9. Ringer13 tweak
Ringer13 volume hud tweak is an iOS 13 inspired Ringer HUD developed for iOS 12. This will allow you to see the content on screen without a huge obtrusive HUD popping up, every time you change your ringer status or ringer volume. It offers also an option to use the same banner styled volume HUD.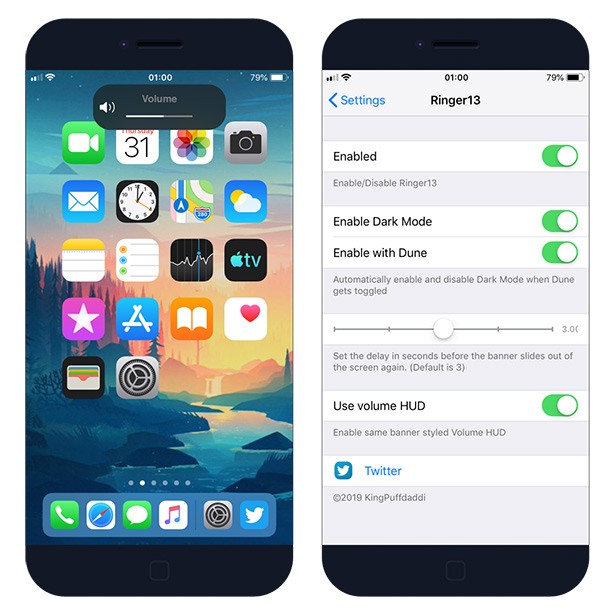 Moreover, Ringer13 tweak works in dark and light mode. Configure the tweak from the settings or activate automatically with Dune. There is also an option to customize the delay before the banner slides out and a Killswitch to easily enable or disable the tweak. Buy the Ringer13 for $1.29.
You might also like