Velox Reloaded is a great tweak that brings widgets to iOS home screen. Activate Spotify, Reminders, Weather, Notes, YouTube, Calendars + other widgets and access all information from SpringBoard. The jailbreak tweak works with iOS 13 - iOS 13.3.1 and it is available from chariz repo for $3.99.
---
What is Velox Reloaded?
Velox Reloaded is a jailbreak tweak by @ApexTweaks that adds new system widgets with intuitive functionalities directly to your iPhone or iPad's Home screen via the very same grid-space that is used to display app icons. Pin your favorites iOS widgets to the home screen and install Velox tweak.
When you think about iOS widgets, the system is very limited allowing you to display useful information only if you will swipe over to the Today page. LockWidgets tweak is an addon to display widgets directly on the lock screen. Now, Velox Reloaded can do it on home screen.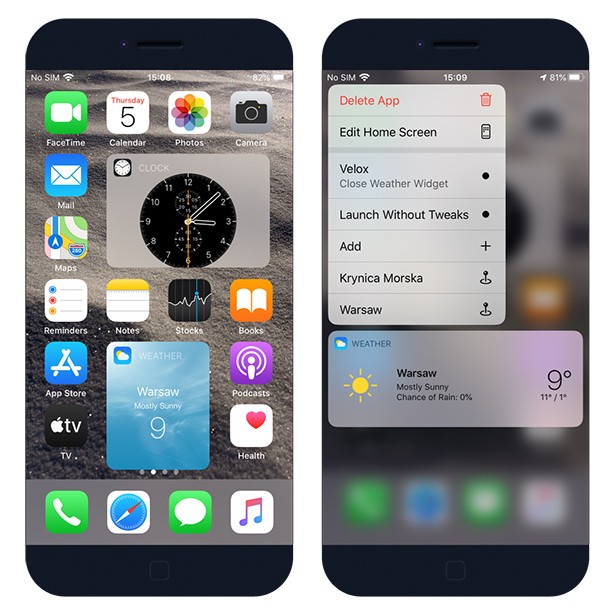 Velox Reloaded uses the native app interfaces to display widgets on the home screen. For example, the Weather widget uses the animated Weather app background and shows a quick synopsis of the weather outside. The Clock app, on the other hand, displays an ornate watch with the current time. If an app supports notifications, Velox Reloaded can be configured to display those notifications as a widget instead if there is no native widget available for that app.
Use 3D Touch or Haptic Touch gesture on the app icon to activate widgets using Velox Reloaded. From the contextual menu tap on Open widget Velox. Tapping on it provides you an interface where you can preview the Velox widget and choose one of three sizes for the widget.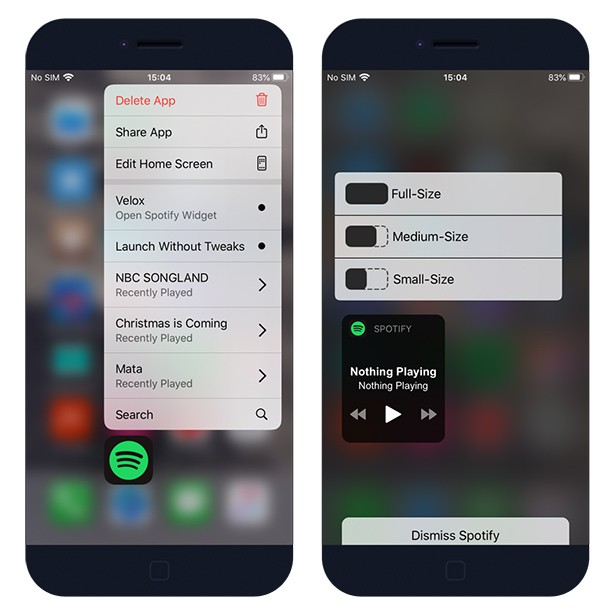 To remove the widget from the home screen simply use the 3D Touch or Haptic Touch gesture on the widget in question, and you will find an option in the contextual menu to disable it. After you install Velox Reloaded, you'll find a dedicated preference pane in the Settings app.
Velox Reloaded supports the following widgets FaceTime, Calendar, Photos, Phone (Favorites tab), Files (Documents), Apple Music, Settings, Notes, TV, Reminders, Weather, Activity (Fitness), Spotify, Watch, Clock. In the near future, the app will offer more than 20 additional custom widgets.
From settings access options to enable or disable Velox on demand, disable loading widgets after a respring, disable app icon badges when widgets for a specific app are enabled, push icons back to their original state after closing a widget, and also disable widget visibility while scrolling your Home screen to conserve RAM. Install Velox Reloaded via your preferred package manager.
Velox Reloaded Repo
You are just a few steps from installing the tweak from Cydia Sources. To add Velox Reloaded Repository to your list of Cydia Sources follow our step-by-step guide.
Step 1. Open the Cydia app on your device.
Step 2. Tap Sources → Edit → Add the official repo Velox Reloaded Repo to Cydia.
Step 3. Switch to Search Tab and enter Velox Reloaded.
Step 4. Tap the Install button.
Step 5. The tweak can be configured from Settings → Velox Reloaded.
---
If the Velox Reloaded tweak is crashing the SpringBoard on iOS 13 you can fix this issue installing IconState (Nepeta) and IconSupportFix (Muirey03) packages.
---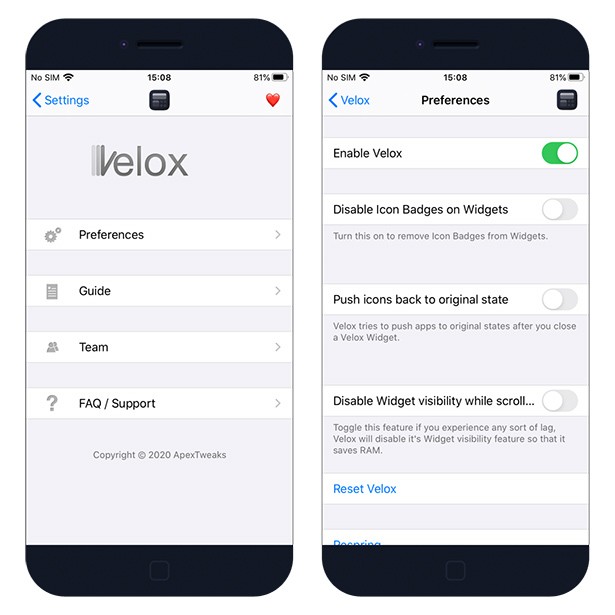 Will you be installing Velox Reloaded tweak? Tell us why or why not you would like to use the app in the comments section below. If you have problems installing the tweak let us know as well.
Changelog
Version 1.1.1
Fix for scrolling lag
New Velox Caching
Various Bug fixes
Added new Loading option
Weather widget bug fix
Improved touch support!
Fix Stocks & Whatsapp widget
More general fixes (duplication error, etc.)
Version 1.1.0
New Velox Settings Widget Switcher
Improved Weather & Music Widget
Completely rewritten Widget System, RAM & Battery optimised!
Introducing new Widget Loader!
New Velox Icon & Widget states! Create multiple backups of your home page icons & widget layout
Velox is now Fully Dynamic, its size size changes according to rows/collumns
Introducing full support for your favorite homescreen layout tweak! (Homeplus, et al)
Introducing Icon 'Widget' recycling, Velox is now as twice as fast as before!
Fully fixed widgets disappearing after respring (Velox Loader)
Many many more fixes…
Version 1.0.1
Home+ Compatibility
Performance update & Battery optimisation (especially for A12/A13)
Fixed RTL bug (Farsi, Hebrew, & Arabic languages)
Fixed widgets disappearing after respring
iPhone SE Compatibility
iPad Compatibility
Springtomize Compatibility
Fixed compatibility issues with FloatingDockPlus13
Fixed random crash occurring while opening/closing widgets
Fixed bug where icon label would stay on screen while scrolling
Fixed dragging folders & widgets
Fixed bug where icons couldn't move out of Folders
Failsafe improvement
You might also like