After releasing iOS 14 at the end of last year, Apple also introduced a new widget system where the users could place the specialized widgets beside the app icons on the Home Screen instead of cramming it all into the separate Today page.
Most of the iPhone users wish for a Home Screen-centric widget so this upgrade was a dream comes true for a lot of users. But one thing to remember is that jailbreakers have been able to enjoy Home Screen widgets for a long time now, all with the help of Velox Reloaded and other similar jailbreak tweaks.
Although iOS 14 offers a novel widget experience to the users, there are many who believe that it can be further improved and Velox Reloaded 2 by iOS developer Apex Tweaks aims to do just that. This jailbreak tweak is perfect for users who have jailbroken their iPhone or iPod on iOS 14.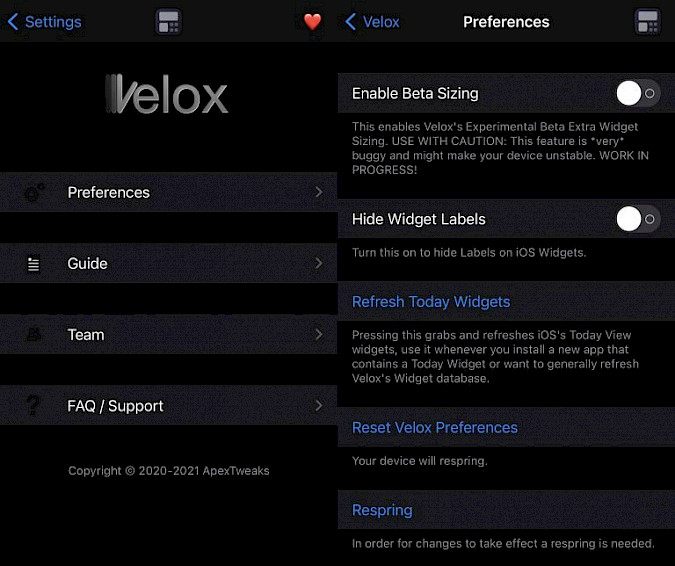 Last year, Velox Reloaded was released for iOS 13 and was mainly focused on getting fashionable widgets to the Home Screen directly – something that is possible for iOS 14 to do natively. So, Velox Reloaded 2 needed something to up the game that iOS 14 wasn't capable of doing and thankfully, it does that. This jailbreak tweak expands on iOS 14's widget features and gives more widget size options to the users than Apple.
We also like how this jailbreak tweak seems to integrate with iOS 14's native widget interface and one can enable the tweak's widgets and set them up similar to how they can do with iOS 14's widgets. Once you install Velox Reloaded 2, you will get a dedicated preference pane in Settings where you can configure the tweak. Here, you can do the following:
Enable the option to choose a custom widget size
Hide labels from the Home Screen widgets
Refresh Today widgets
Reset to the default settings
Respring to save the changes made
You can resize the widgets right from the Home Screen by using the Haptic Touch gesture on the widget. When you do this, you will be shown a menu with the different widget size options to choose from and you don't need to remove and re-add the widgets as you need to do in case of iOS 14.
If you are interested in trying out Velox Reloaded 2, then you can simply purchase it for $2.99 from the Chariz repository via favorite package manager. Also, if you already have the Velox Reloaded for iOS 13 installed on your device, then you can install Velox Reloaded 2 on iOS 14 at no additional cost. One thing to keep in mind is that Velox Reloaded 2 is only compatible with iOS 14.
Are you planning to upgrade the widget system in your iOS 14 with Velox Reloaded 2? Let us know in the comment section below!
You might also like